Portfolio is a website creator/editor designed specifically for creating a portfolio. The simplicity and boldness of the name married up well to the design and values of the product. And so it is 'Portfolio', which soon became 'Adobe Portfolio' to fit with Adobe's suite of products.
Adobe Portfolio is a new Adobe product that replaces an existing product called Behance ProSite. Basically it's a product that allows you to quickly and simply create a website to showcase your work, and customise it to suit your style and needs. It comes free with all Adobe Creative Cloud plans and syncs with your projects on the Behance Network.

– Andrew Couldwell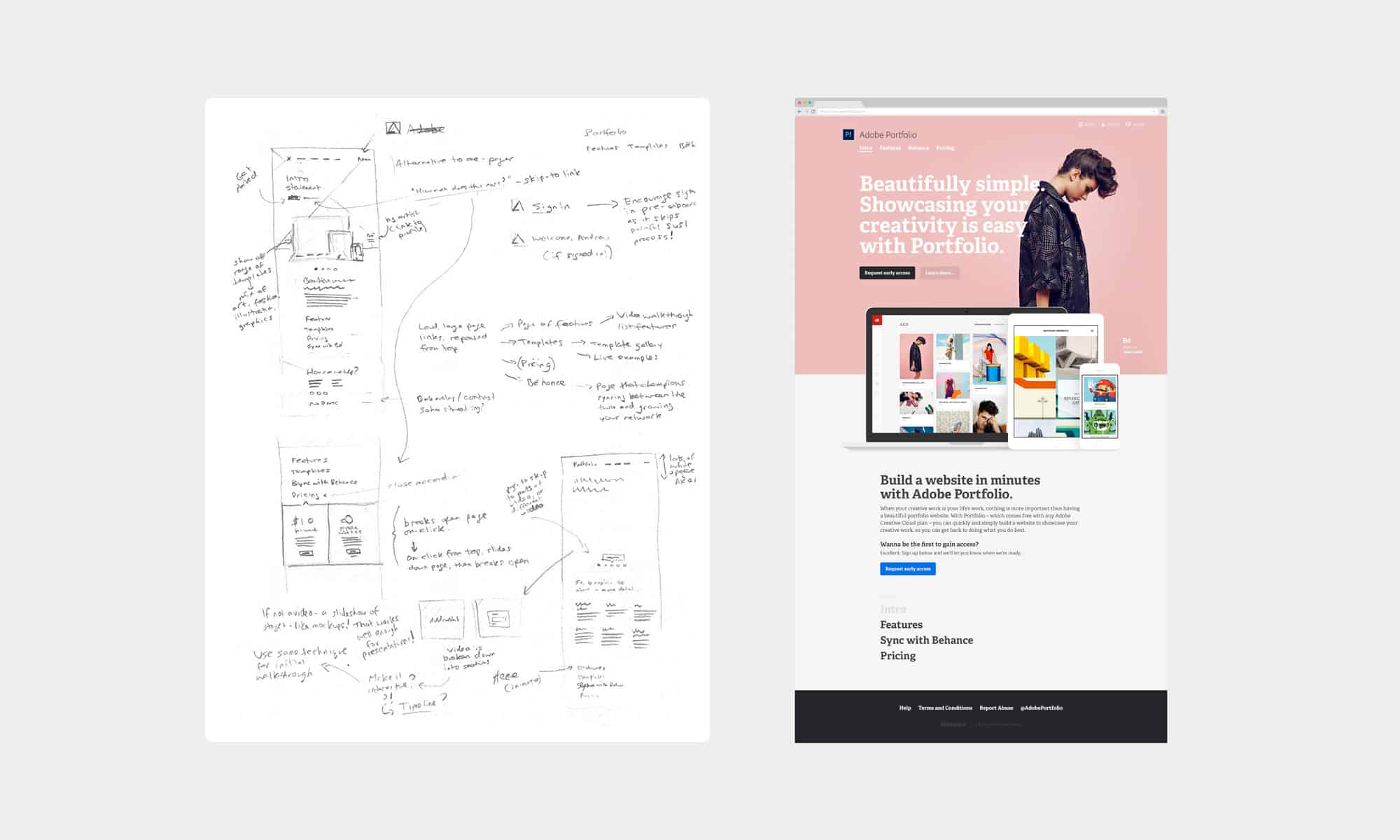 There's simply too much to say on this subject. But basically it went through various stages of development. The project started with concepting and designing the website editor (product) itself. Once that was in a good place and being built. We re-focussed our attention to the marketing and branding needed to promote and onboard people to the product, which is what this marketing site project showcases. If you're interested in an extensive look at the process of this whole project, then please read: https://medium.com/@andrewcouldwell/designing-adobe-portfolio-ffa1358e4913

– Andrew Couldwell
I used Photoshop. I mean, it's an Adobe product! Haha 😉 The concepting work was all done with a sketchbook and pencil though. I'm a big believer in getting back to basics, away from the distractions and limitations of computer software.

– Andrew Couldwell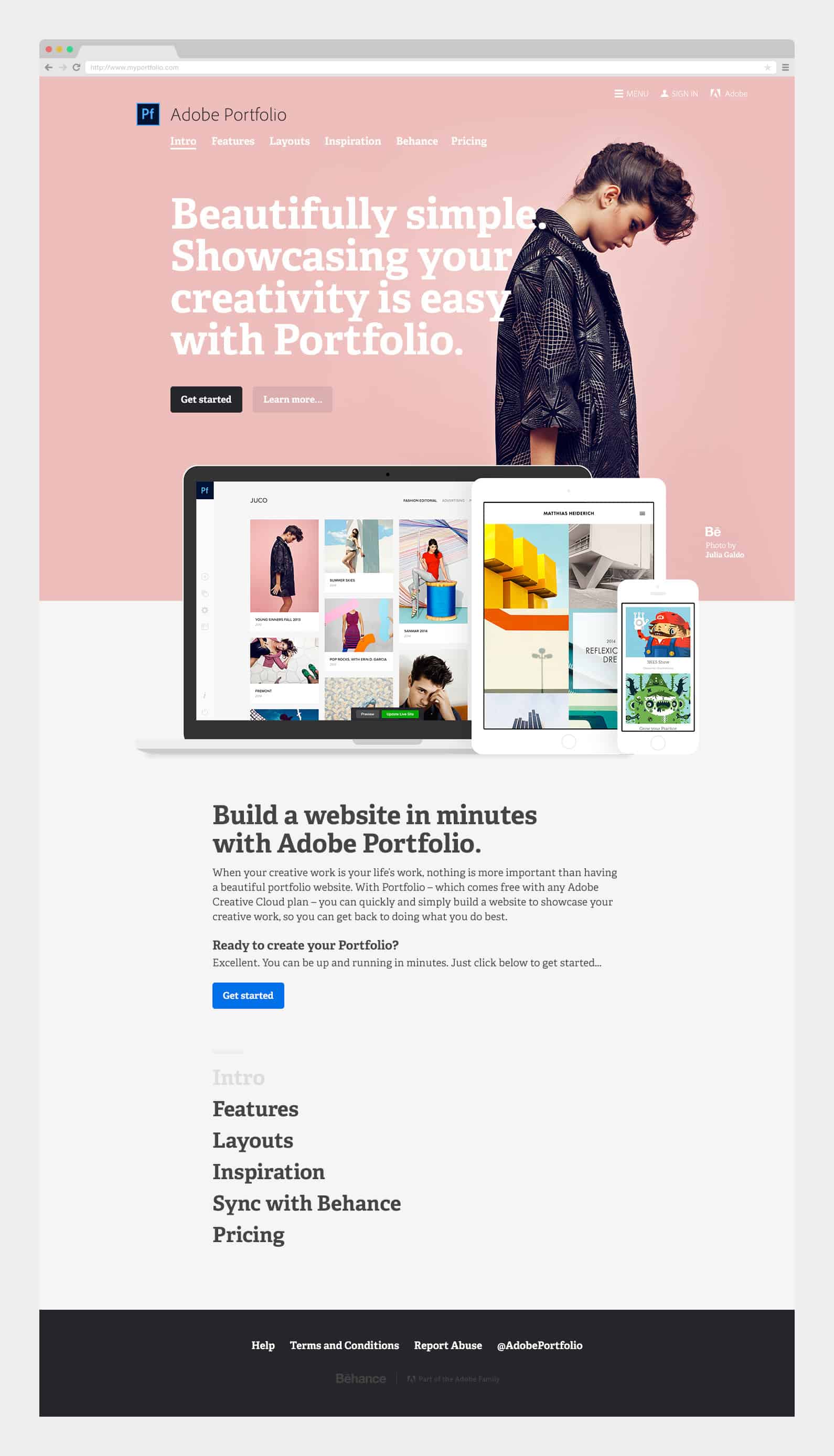 Portfolio is an Adobe product. Adobe has it's own brand identity. But Portfolio very much has (and needed) its own identity and personality. Portfolio is not a corporate product (so to speak). It's white label. It's yours, to make your own. It's friendly, simple and approachable. The brand, marketing site, onboarding, copywriting and messaging throughout the user experience all attempt to convey this through the language used, typography, grid, imagery and colours.

– Andrew Couldwell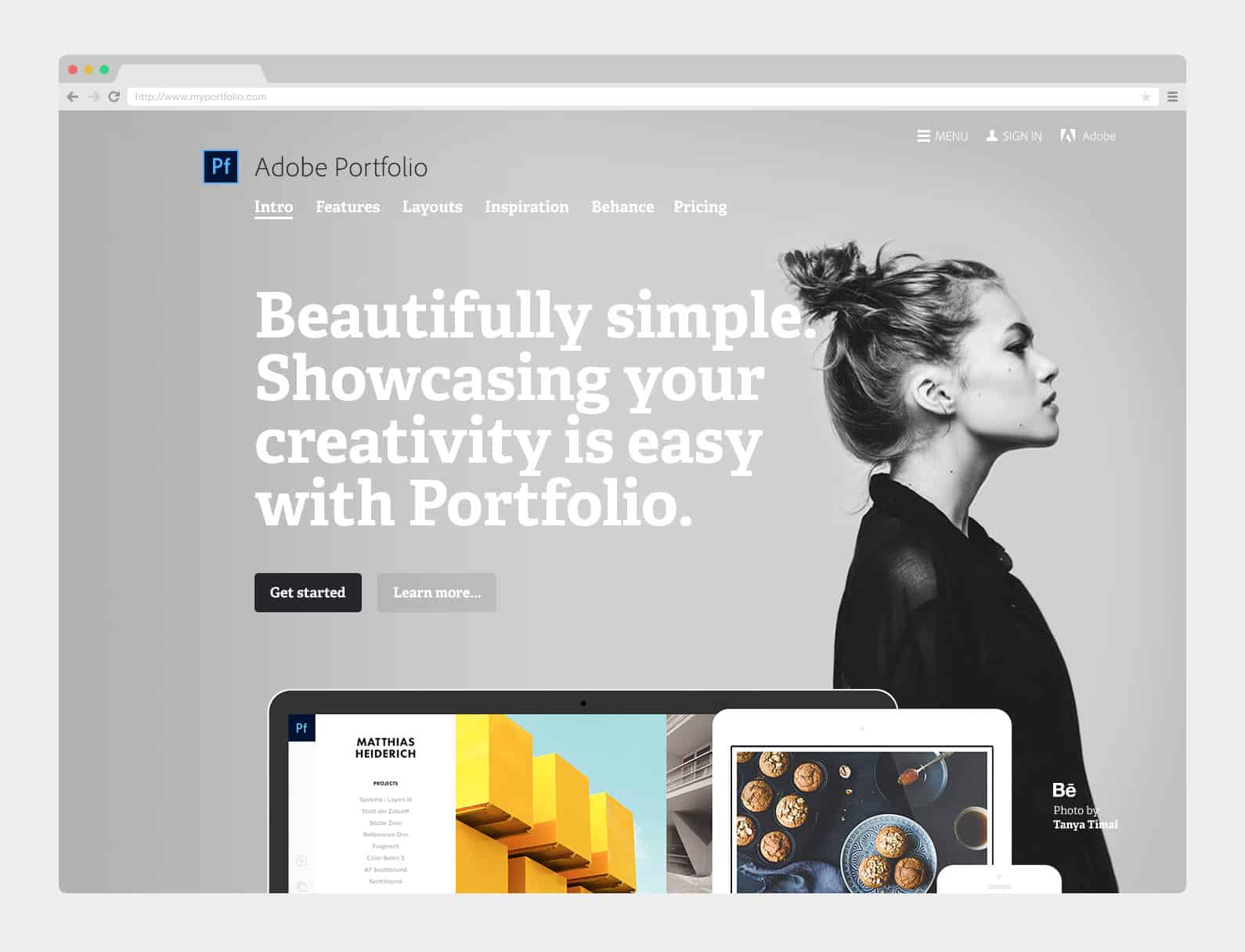 Actually, hardly any, save for tweaks. I went through many sketches and initial ideas as part of the sketchbook/exploration stage, but once I moved the designs from sketches to Photoshop, the layout and grid worked well, and the ideas I had about fonts and colours all translated well from concept to design. See the attached image, which is nice because it shows how my sketch marries up well to the final design.

– Andrew Couldwell
About Andrew Couldwell
Andrew Couldwell is a British designer, a Yorkshireman more specifically. He moved to the United States in late 2014 to join Behance/Adobe to lead the product design/creation of their new Adobe Portfolio product. He's a digital designer who works on anything digital and/or interactive from websites, to apps, to installations. In recent years, he has moved moved more into product design. UX is central to everything he does, he likes to build/code his own freelance projects whenever he can. He was a freelance designer for years, working on projects for charities, agencies and brands, including projects for Red Bull, Nike, MTV, NASA, Livestrong and Believe.in. Also, he founded a personal project called Club Of The Waves many years ago, which showcases surf artists and photographers — this is a real passion of his and a project he aims to evolve soon. You can find more of his works on his Behance profile or website.