Alcatel Watch is affordable yet very capable smart watch with great battery life and support for both Android and iOS platforms. Denys Nevozhai, a multidisciplinary self-taught designer from Ukraine was responsible for the interaction, visual and motion design of the device. Read on and enjoy!
Alcatel wanted to produce an affordable and easy to use device for beginners. It had to be simpler than Android Wear so non-techies could use it without learning. Another important requirement was better power efficiency as opposed to Android wear. These were the factors that made us build an OS from the ground up. I joined the company and took over the Watch project when the hardware was fixed. A round display with a flat bottom, one side button and one front button was what I had to work with. The screen is 240×204 px cut at the bottom. The cut is a technical limitation, added to balance size, energy efficiency, brightness and cost.

– Denys Nevozhai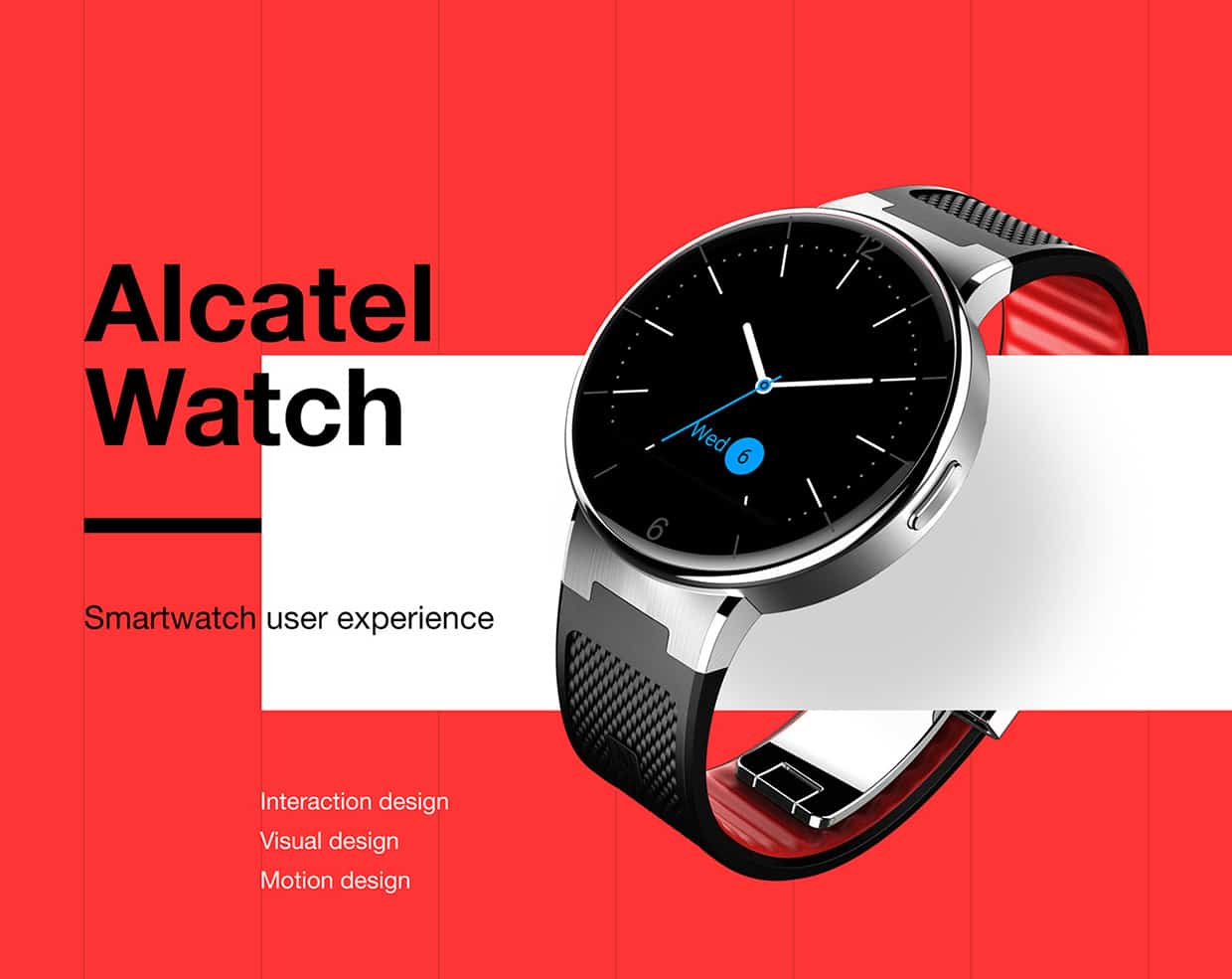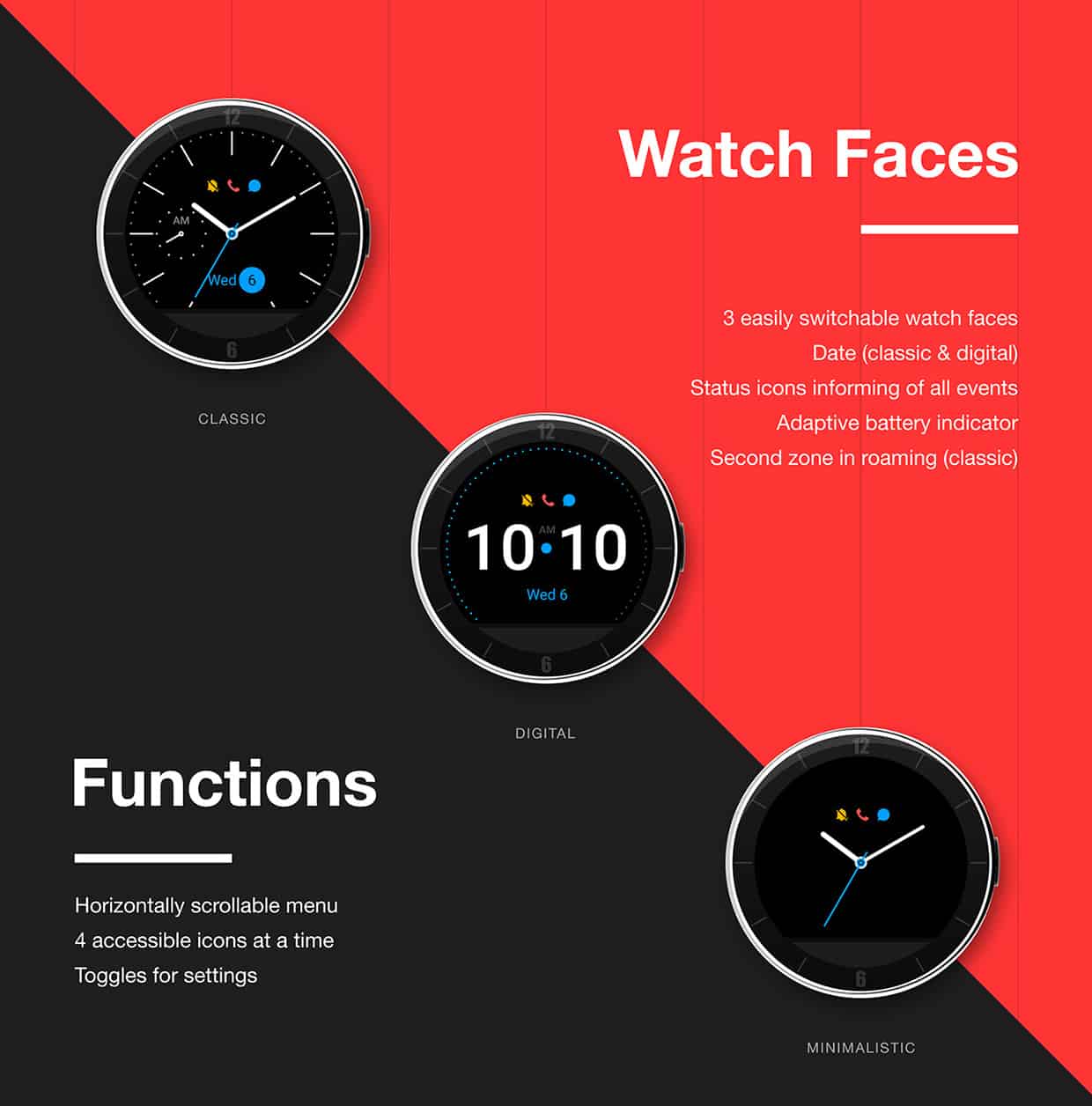 The research team provides us with a competitor analysis, focus group data on user expectations, pain points and feature popularity. The direction was set. Alcatel Watch buyers are:

non-geeks
occasional athletes
appreciative of personalisation
not willing to pay much
first time smartwatch owners

Originally the feature set included:

Android support
push notifications from a phone
calendar
alarm and incoming call notifications
activity tracker (pedometer)
sleep tracker
heart rate monitor
compass
stopwatch
phone's camera control
phone's music player control
selection of watch faces
"find my phone" function
adjustable screen brightness
mute switch
Bluetooth and NFC

– Denys Nevozhai
I was looking for ideas from user research our company made, from Android Wear, from concept projects on Behance and dribbble. When I was designing watch faces, I came up with a big mood board of watches I like, but it wasn't that helpful as most of cool mechanical watches are very complex. In my project I stove for minimalism and didn't want anything skeuomorphic.

– Denys Nevozhai
There were many challenges. The project had a deadline and lot of money and resources invested in, so top management wanted everything perfect and fast. At the same time the device is entry level, hardware is power efficient, so I couldn't achieve everything I wanted. UI performance could be better. As I just moved to China and worked with Chinese engineers and project managers directly, I had to explain/draw everything super precisely and from different point of views to eliminate any misunderstanding.

– Denys Nevozhai
I tried a lot of different options for most of screens, a lot of iterations. Fundamental UX model was completely revised after we had a working prototype and found serious flaws during user testing.

– Denys Nevozhai
About Denys Nevozhai
Denys Nevozhai is a multidisciplinary self-taught designer from Ukraine, currently living in Shanghai with more than 12 years of experience if various digital design fields. He started as a designer of outdoor advertising, then switched to web, then focused on user experience design, then moved to mobile design, then grew up to Alcatel Watch project. He worked in different type of environment. Big corporations such as Barclays Capital, bootstrapped startup and freelance from home. Now with all the experience behind his back, he has to say he prefers middle size companies with feeling of ownership and less bureaucracy. You can find more of his works on his Behance profile or website.