Couple years ago Ivan Zaichenko graduated from The Kiev National University of Building and Architecture. The most part of studying he wasn't sure about what exactly he would do. At some moments he was freaking out, he even thought about dropping out from the university. The thing called "creative approach" was always difficult for him. Because of those naïve misguiding thinking like "talent" and "giftedness" Ivan was always thinking that he's out of his element. He started to work since his second course grasping for any chance.

About the third or fourth course I started to realize that the meanings of "talent" as well as "mediocrity" are a myth – factitious notions which exist for excuses. There are only cause and a result. A qualitative result depends on a long-term sitting on a chair and intense work. The rest is all irrelevant!
-Ivan Zaichenko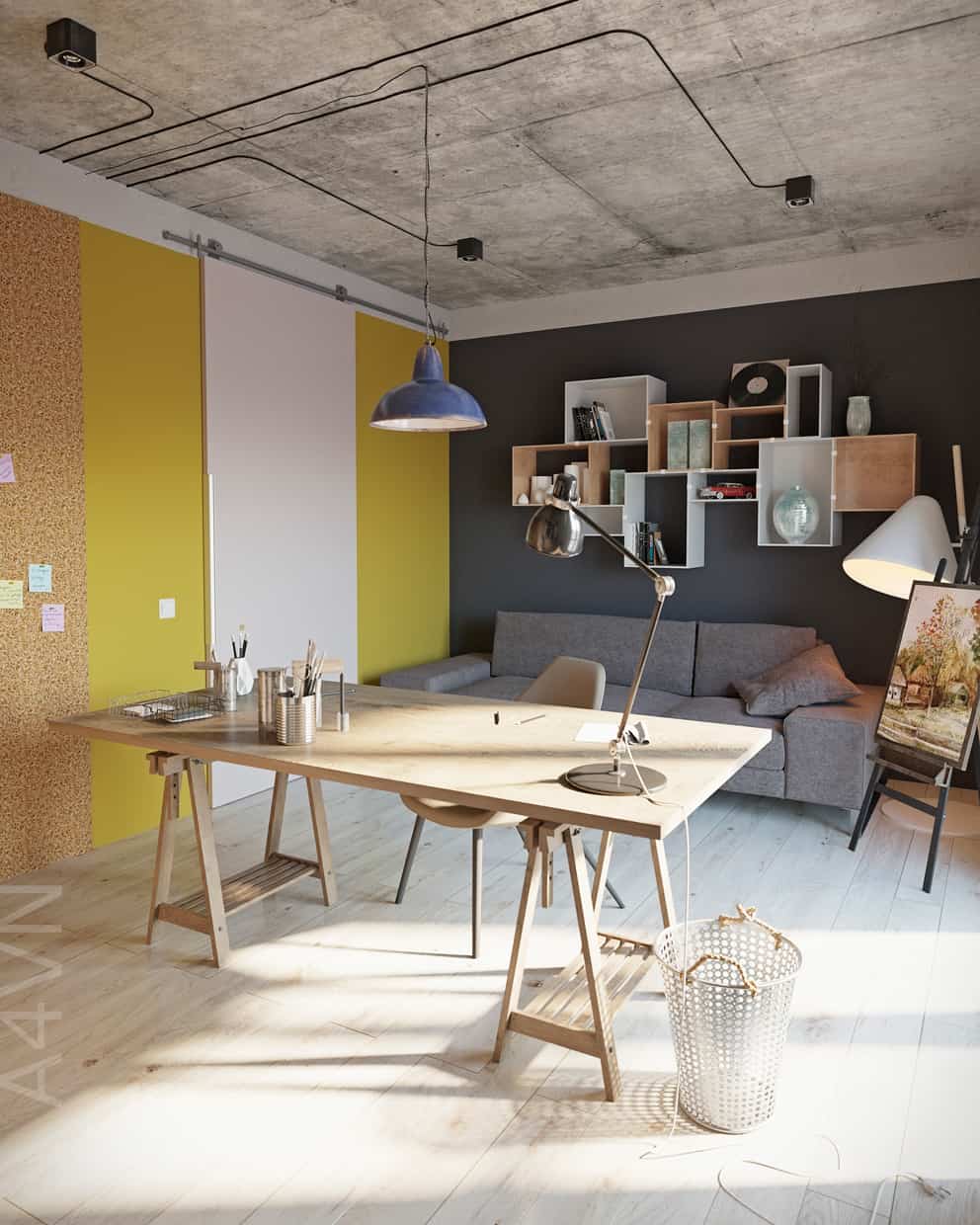 First attempt of startup we made integrally with my groupmates at the end of 6'Th course. Everything has changed since that moment. During one year I have learned more than for all years of the university. As a part of the project team I had many different projects – from one-roomed flat to schematic design of a huge residential compound. Now I am engaged in promotion of my own studio. For the question what did I conclude from my last years in architecture, I would say that everything is much easier than it seems. It is so easy that it's very hard to come to this conclusion. The more difficult occasions you get through, the easier you look at things (include architecture and design). Keep it simple. ) "Less is more"- maybe the most oft-repeated quotation in conversations with architectures.
-Ivan Zaichenko
The best projects come out when you are on the same wavelength with the client. Using the example of "Artist's apartment" I can say that I found common ground with my employer from the very beginning. And my first sketches hit the nail on the head. I was given a free hand except the budget, of course.) Svetlana is an artist who saw the world. And her perception of her future interior was identical to my view for design in general. I like it when it's honest, texturally and homey. But, unfortunately, it is not always so. One can say that Sveta is the type of "ideal client" who every architect dreams about.
-Ivan Zaichenko
I don't know if it's well or bad but I don't have any idols. At all. This is not a snobbish phrase. I really cannot be delighted with one interior or project of one designer, or listen to one song for a long time. Down the line, I notice that the projects I used be delighted with are not drawing awe and admiration any more. All trends in design and architecture are expanding at an exponential rate as the humanity at large. Twenty years ago it was possible to say that works of some architects are your ideal for a full due. No one would ever call into question the authority of such legends as Le Corbusier or Frank Lloyd Wright. But for all that both of these legends belong to their historical period. Despite this, there are some contemporary architects whose methodology and style of work I like.
-Ivan Zaichenko
Here is about advice. Just lately I broke off a habit of giving advices to anybody. In fact people don't need it.
-Ivan Zaichenko
About Ivan Zaichenko
Ivan Zaichenko is a an Architect & Interior Designer based in Kyiv, Ukraine. He is also the current CEO of Archivan Projects. See more of his works on Behance or his Facebook Page.