Photographer Tomáš Vocelka's project "Austrian winter (Zugspitzarena)" was created for a Czech news website iDNES.cz, especially for its Travel section. Zugspitzarena is well known Austrian winter resort. Anybody knows it as a perfect place for skiing. However, Tom's intention was to show it a little bit different – as a beautiful snowy landscape, which you can enjoy even if you don't have a ski.

For example you can discover the untouched nature with your snowshoes and walk on lonely paths through knee-high powder snow and enjoy the tranquility. My intention was also to show, that
hiking is not just for the summer. Mountains are really beautiful during winter and there is over 60 kilometers of winter hiking trails in the Zugspitzarena. Most of my images were taken from the hiking trails or from the paths for snowshoers.
-Tomáš Vocelka
Style… It's a tough question. I am trying to be a landscape photographer. I love simplicity, even on the edge of minimalism. I prefer very simple compositions and color palette reduced to 2 or 3 colors (for example white – blue, white – blue and touch of yellow, white – pink, or even monochromatic light blue – darker blue). My inspiration comes from multiple sources. At first it is work of Henri Cartier-Bresson (composition of his images is stunning) and work of Italian master of color photography Franco Fontana. But my inspiration comes also from works of many great landscape photographers, which I met on the 500px website.
-Tomáš Vocelka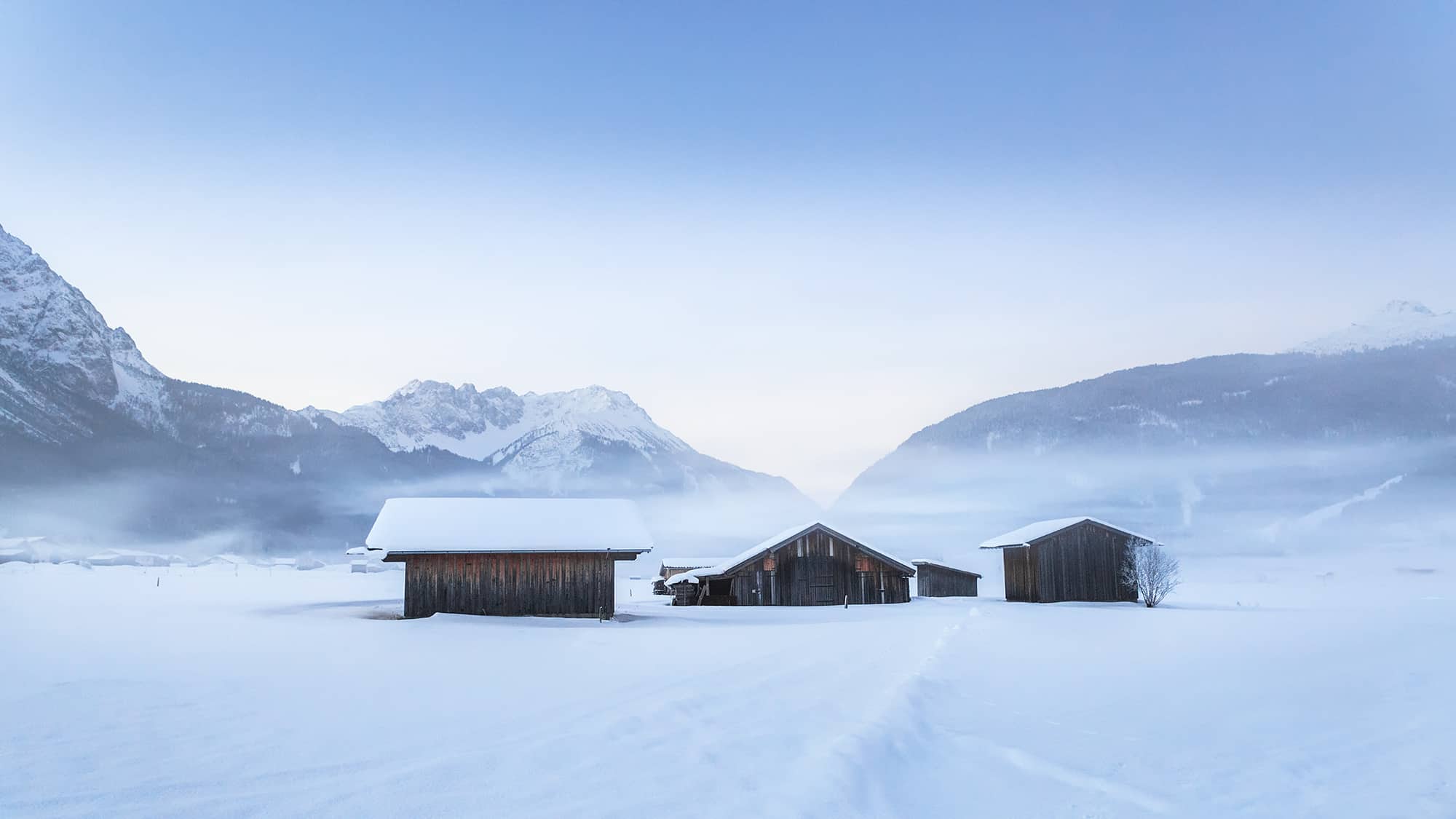 My first advice is: If you want to take beautiful landscapes, wake up early in the morning, before the sunrise. I know, it hurts (especially if you aren't an early bird) but it is really important. You can't find better light, then in the early morning. My second advice is – composition is essential for a good photography. First think about it, then take a picture. And a third advice – always think of your safety. No photo is more important than your health or your life.
-Tomáš Vocelka
My favorite gears are: full frame DSLR camera Canon 6D, Tamron 24-70mm f/2.8 and Canon 70-200mm f/4 lenses, Ray Masters neutral density filters, Adobe Lightroom and Adobe Photoshop.
-Tomáš Vocelka
About Tomáš Vocelka
Tomáš Vocelka is a photographer, journalist and news editor based in the Czech Republic (Europe). He work as an editor at the biggest Czech quality newspaper MF DNES. As a photographer Tom contributes to the Czech press agency (CTK), you can also find a few of his photos in the Associated Press service (at AP Images photobank). Tom's images have been published in several Czech newspapers, magazines and on the websites. His photos were also awarded at the international photo contest Photo Annual Awards 2014. He have had a camera since he was a teenager, now at 50-years old, he's still taking pictures. He started taking pictures thanks to his father Vladimir, who taught him a lot about photography. Great Czech photographer Gustav Aulehla (a big Leica enthusiast) also explained taught him a lot of things – he showed him Henri Cartier-Bresson's work, which he adores. He started his journalism career as a photographer in the small regional newspaper. Now he's writing and editing stories, and photography is his hobby, not a profession. Tom prefers landscape and travel photography now. See more of his works on Behance or his webiste.