AWEM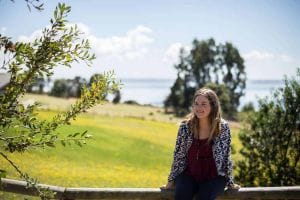 Awem is a set of three wooden plates with copper tops designed for the exhibition "Celebrating Nature" at the Salone Satelite 2017 (part of the Salone del Mobile di Milano).
The name "Awem" comes from the Mapudungun (chilean native language) and it means "to be amazed".
*Pictures by Facultad de Diseño Universidad del Desarrollo, Ignacio Infante.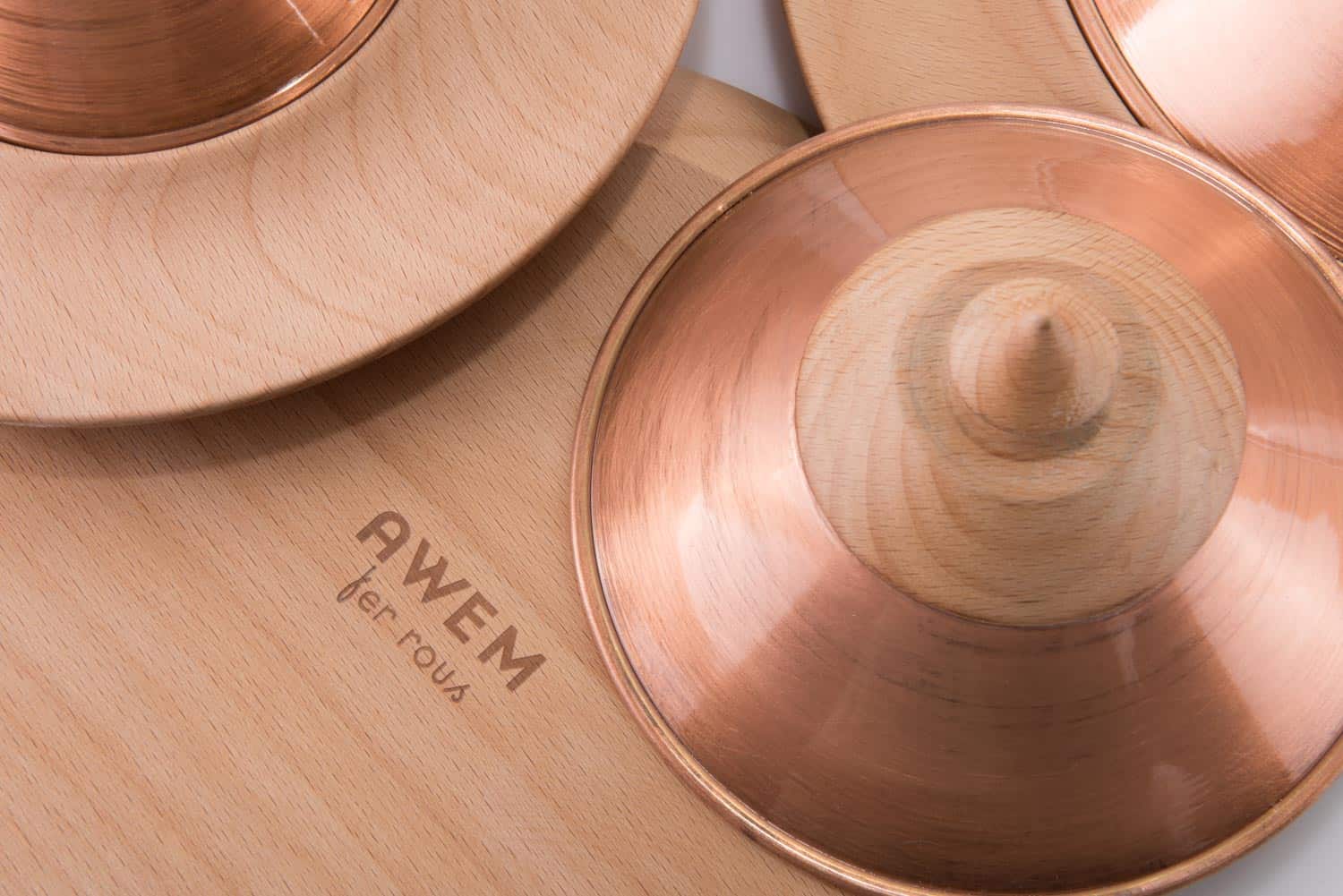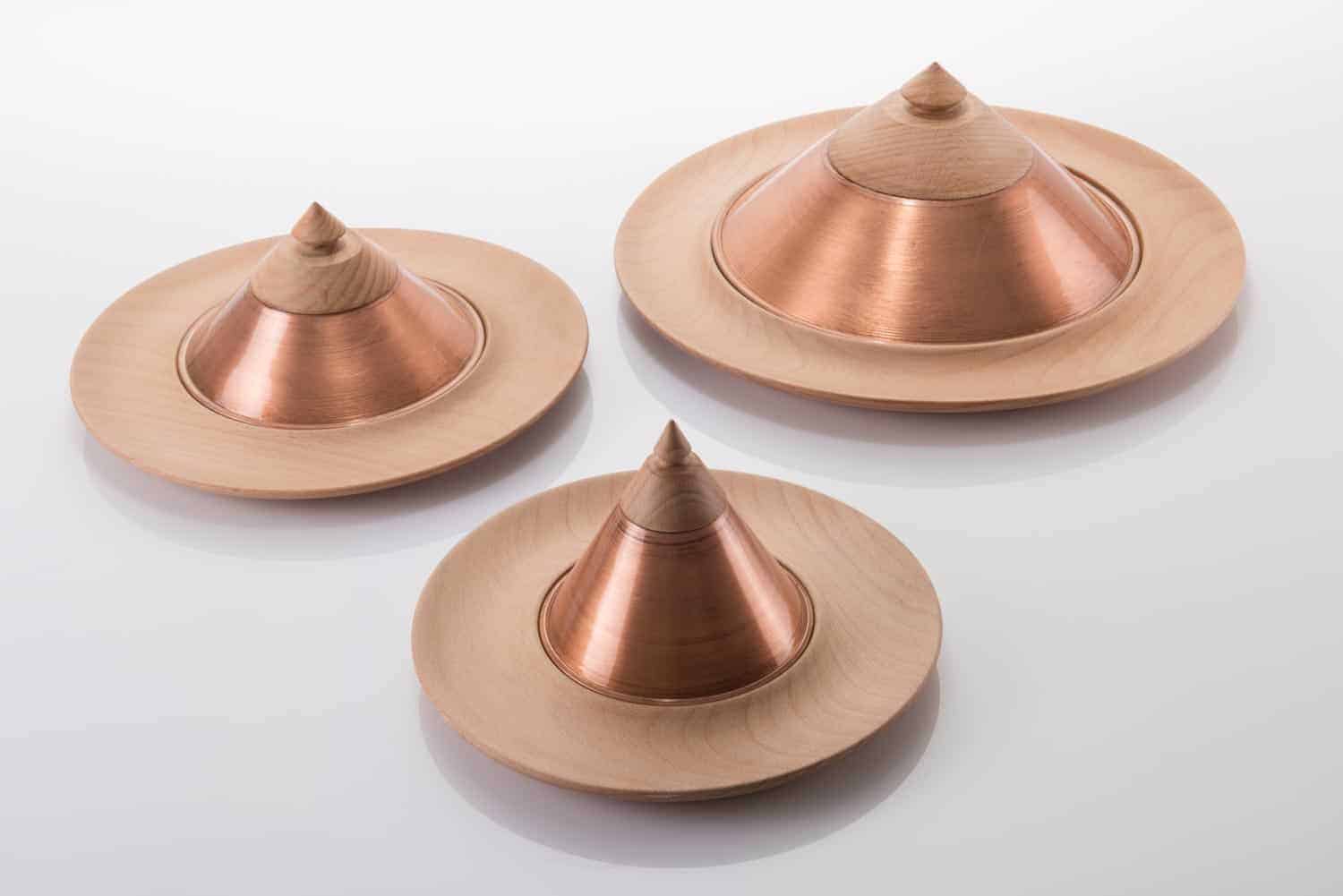 Awem was a project for the University for the Objects Design Class and the process lasted an entire year. Our Design school received an invitation to be part of the Salone Satelite, at the 2017 Salone del Mobile in Milan, so they created a contest to pick projects from students to be exhibited there.
The idea was to create something around the concept of "celebration around the table", which meant to design something to be used during a meal (such as plates, jars, food containers, etc). The only requirement was to use chilean native wood and chilean metals (which are copper, silver or bronze).
First, I designed a big round Rauli wood plate with a laser cutted bronce part in the centre, to support hot meals. I was not sure about using bronze, so I learned about copper's properties (some of them are that it keeps the heat and is also antibacterial) so I decided to change bronze for copper and instead of using the metal part to support the food, I would use it to contain it. I also change the Rauli wood to South American Haya, because Rauli's reddish color would not stand out next to the copper.
And from a completely 2D slice of copper I change it to cone shaped tops that would keep the food protected, hot and would also create a different feeling in the user when receiving the food, for it would be "hidden" and the user would have to take out the copper top and discover the food and scents it contains.
At first it was just one plate, but then my teacher proposed the idea of making three so it would be one for each course. This way I ended up designing one medium plate for appetizer or salad, a big one for the main meal and a small one for dessert.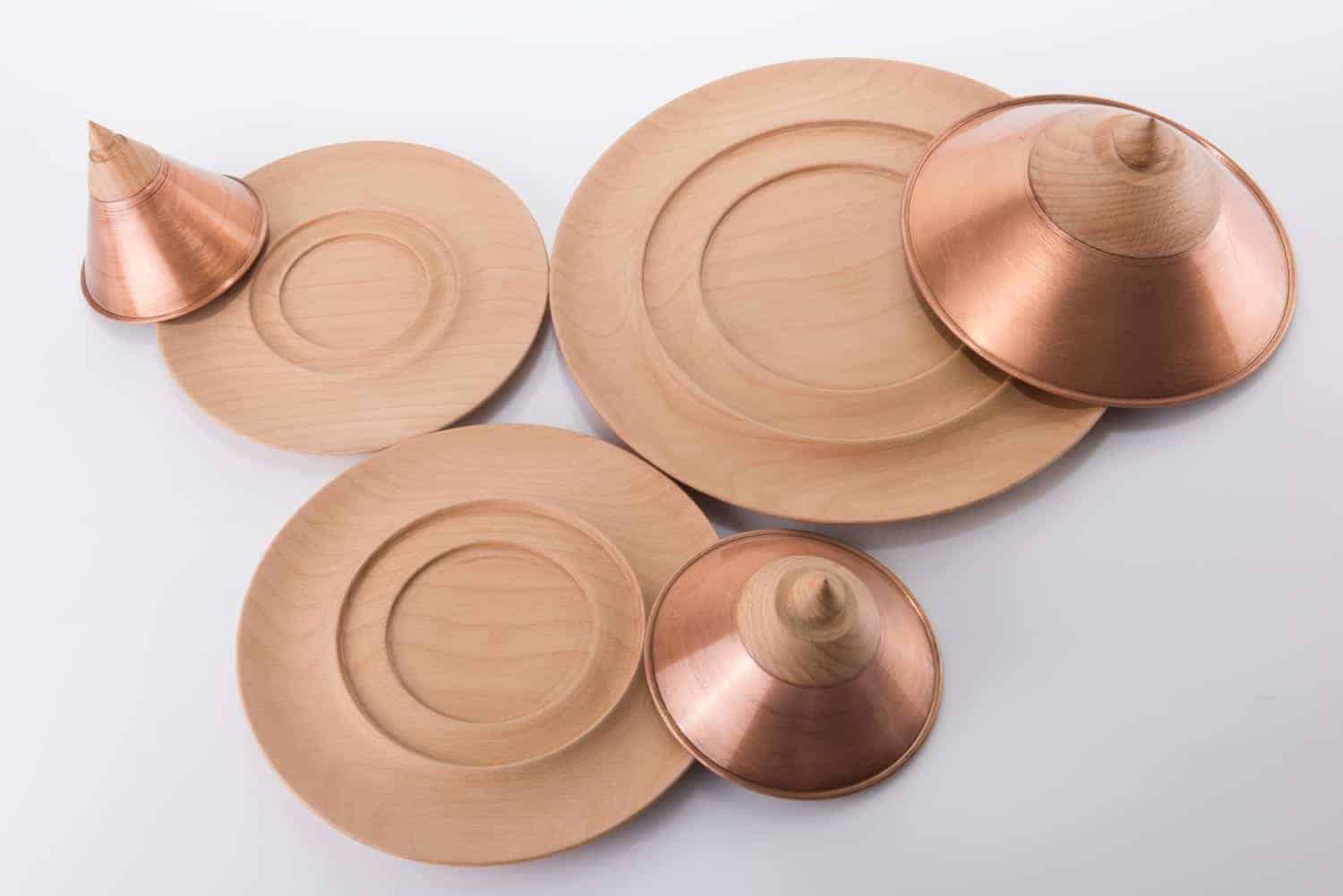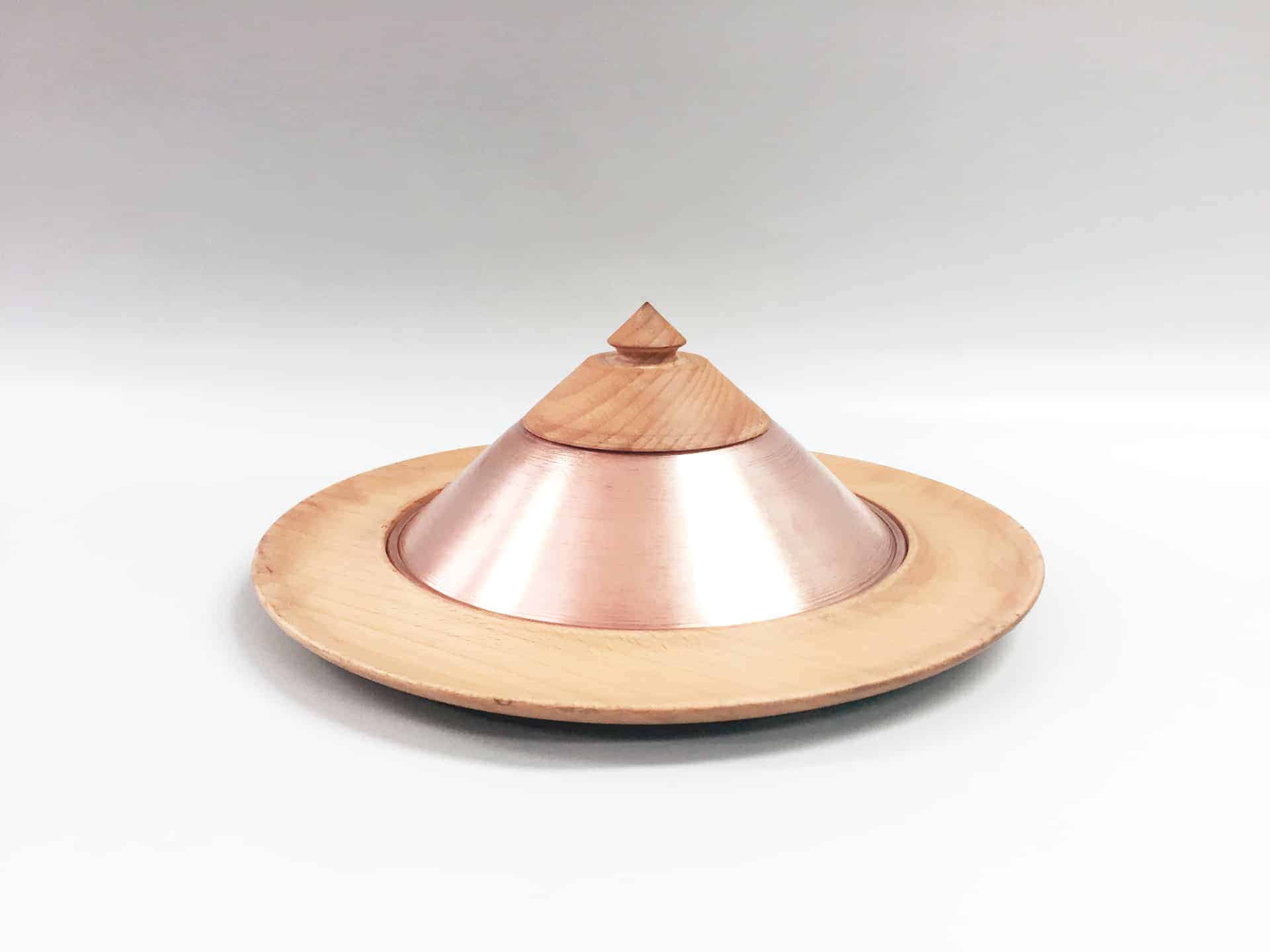 I draw the ideas by hand first and then using the software Rhinoceros.
When the idea was clear, I worked with a wood turning artisan, who made the plates after my designs. I had to join wood pieces and making a big cube for the artisan to wood turn after.
For the copper parts, I used metal lathe turning, where another artisan would get a copper strip and turn it into this cone shaped tops using three different matrixes for each size.
To finish the process, I sanded the wood until it would feel very very soft and sealed it with coconut oil and bees wax.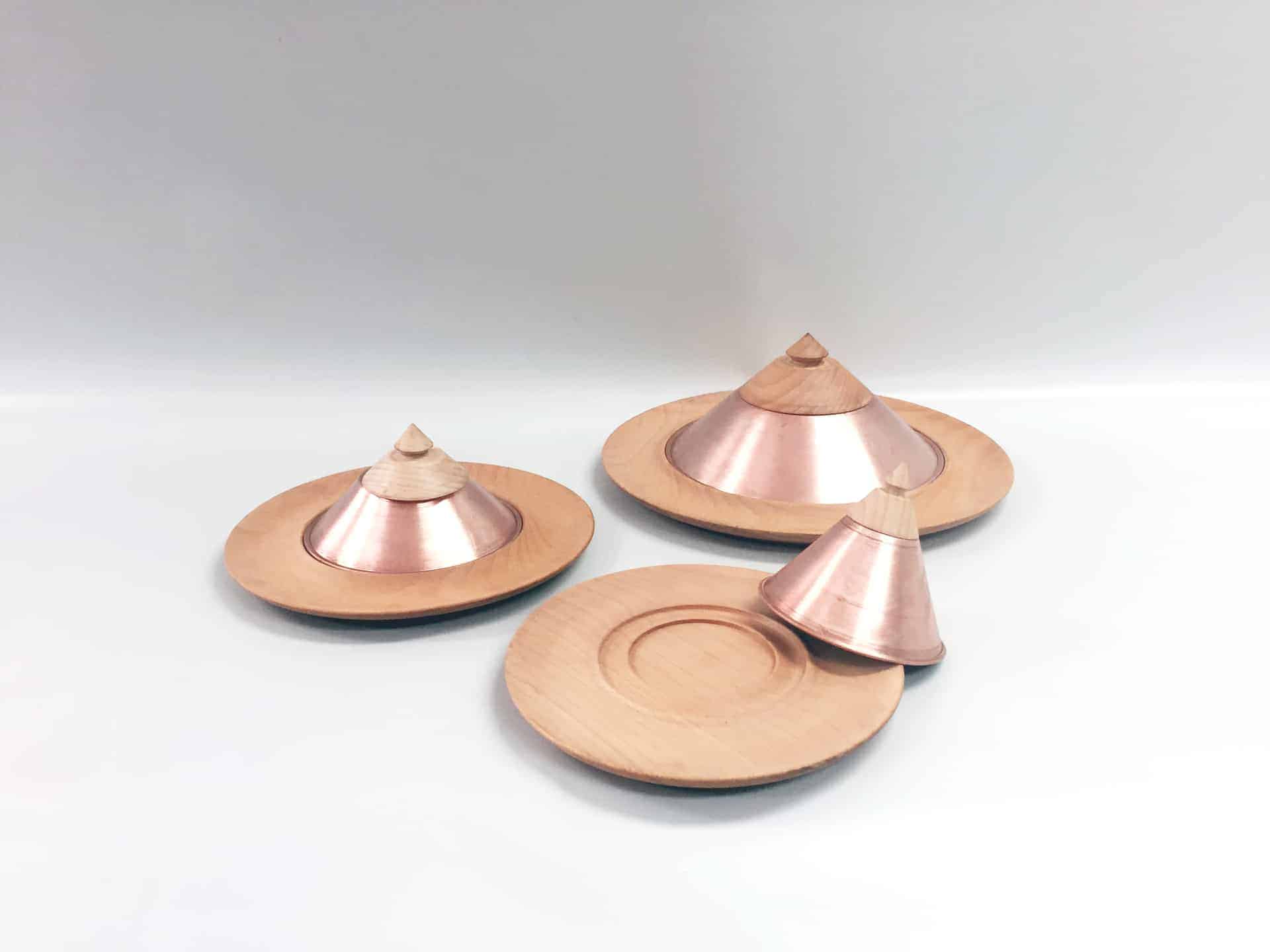 Our whole class created very good designs which where all very well received by our Design School, which is why our dean decided to take all of them to the exhibition "Celebrating Nature" in the Salone Satelite in Milan on April 2017. So besides the fact that I learned a lot in the design process (about wood and copper properties and different artisan techniques), being part of the group of students that showed their projects in such an important exhibition as the Salone Satelite was an amazing experience.
I would like to thank my teacher Yerko Tank, who guided me during the whole process and also I to my Design School team (specially to Alejandra Amenábar, Ian Tidy and Bernardita Brancoli) who made it possible for our class to be a part of "Celebrating Nature" in Milan.