Michigan based designer Fan Wu mostly use a children's illustration style since he really loves creating art for children. However, he often switch to editorial, food illustration, or small gif animation. This illustration is a commissioned work done for "Yuehui" magazine in China. They come up with a different topic every issue and this particular issue focused on Bears. Since it was around Thanksgiving, I wanted to create something fun that could also be used as a Thanksgiving image to help people get into the holiday mood.


One of the things I really enjoy is spending time with friends, drawing, chatting and just having fun. So I thought it would be interesting to do an illustration of kids and various bears "hanging out" in a forest party.
-Fan Wu
I love nature! The variety of plants and animals is fascinating and a walk in the woods can be so inspiring. However, I also love living in a big city and observing the interactions of people on the street. I love to sit in a coffee shop or on a bench and try to imagine the personalities and stories behind the people I observe. It is from those imagined stories that I projected into the characters of this project.
-Fan Wu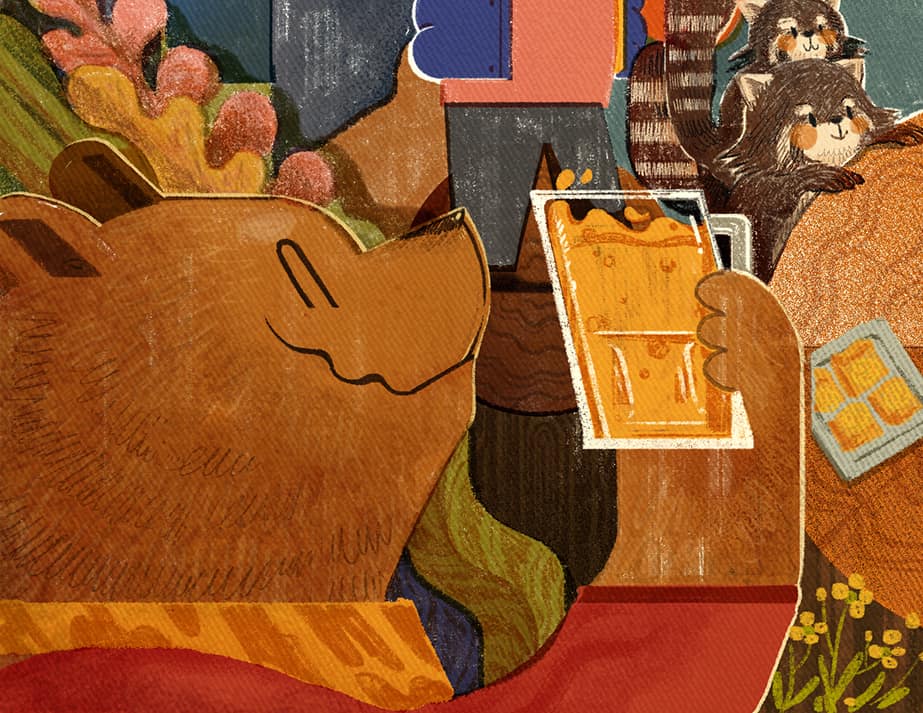 As a child, I watched a lot of Japanese animation and read a lot of manga so my work is obviously heavily influenced by that. But, after coming to America and being exposed to various other styles of illustration, I feel I am slowly evolving into a more varied and professional illustrator.I'm so glad a came to America! Lisk Feng, a super talented New York illustrator, she is like my mentor and inspired me a lot. We first met on the internet when I was in high school and she introduced me to the work of various other talented illustrators and dialogue with me about how she felt about being an illustrator and sources of inspiration. Graphic Design has also become an important inspiration for my work. What began as a part-time interest has grown to a "best friend" status between my illustration and GD work as they grow together and inspire one another.
-Fan Wu
Believe in yourself and what you are doing. Never stop working at what you love the most. It will only get better! (I still have a long way to go 🙂 )
-Fan Wu
About Fan Wu
Fan Wu was born and raised in Beijing, China. Both of his parents have an architectural background so he developed an appreciation for art at an early age. They really helped him grow artistically and with their encouragement, he has been working as a freelance artist since high school. Fan Wu have published several books and have produced work for various clients. He wanted to expand his horizons and chose to attend Kendall College of Art & Design for his Bachelor's degree. see more of his works on Behance or his website.