Between the Modern
The process of intentions identification and concepts generation can be discover comprehensively through understanding a great designers' philosophies and design spirits. 'Between the Modern' is a project which tried to reveal and shape my own style through paying tribute to design masters.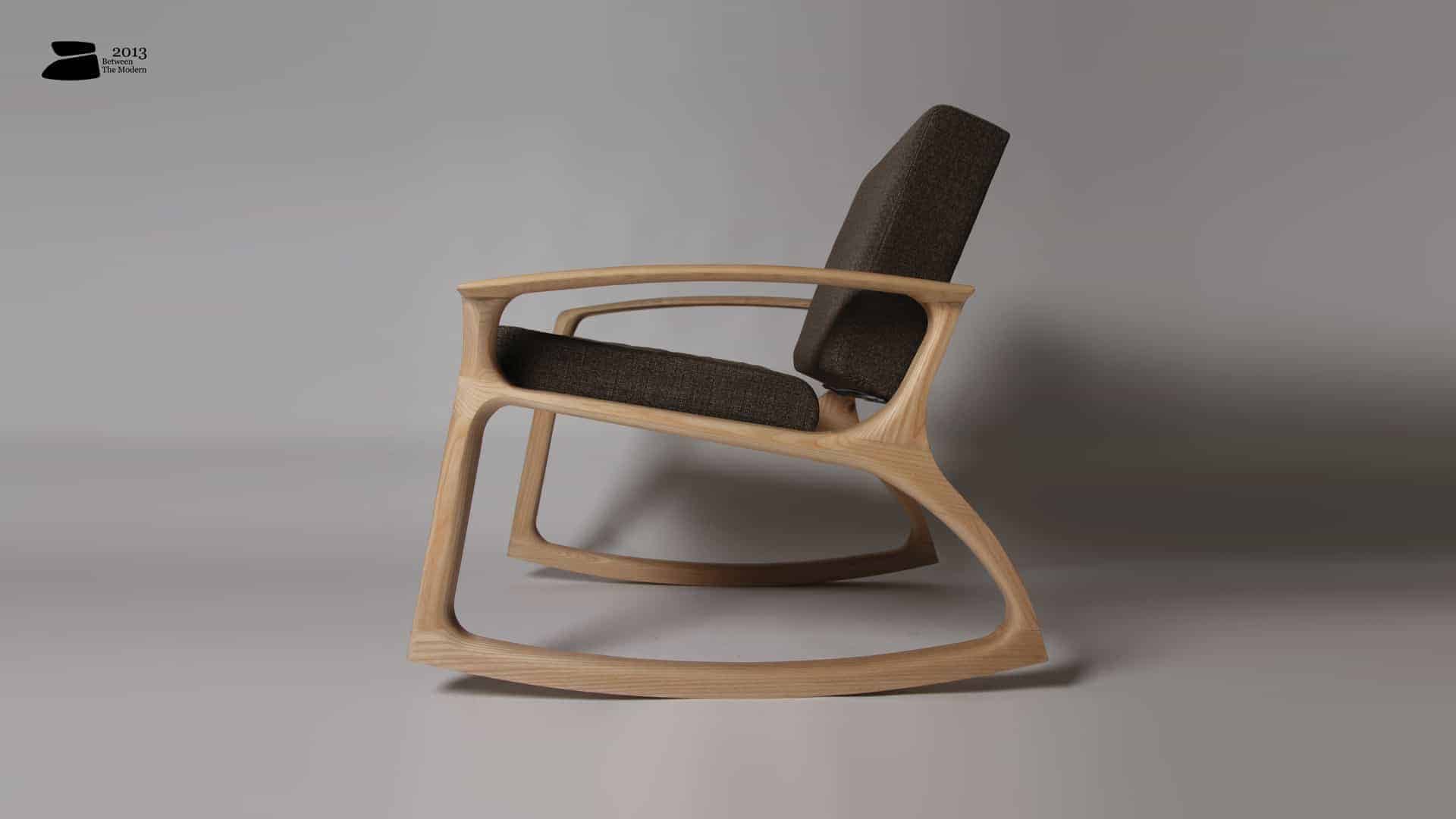 Hans. J. Wegner, who's style is often described as organic functionality works, is the great design being paid tribute to in this project. By analyzing his motivation, structural techniques of his design and the creative spirit of each work, the design conditions then be inducted step by step.
Firstly, 1: 1 scale drawings and woodworking equipment was prepared for cutting out the plate, which is used for ensuring the symmetry of the chair. Ash wood was used as the major timber on the chair. Toughness and straight grains are its main features, which provide excellent condition for making furniture as it could support a considerable amount of weight, and could also be process easily.
While picking timbers, a piece of central-close timber was found, which possessed quite beautiful ink-like layered pattern, dyed with purple color. It was ideally suited as the material for armrest, so that users could further experience the feeling of the tactile impression of wood through the sense of touch.
The model was mostly joined together with planted mortise (Milter). Like its name, the attaching process was similar to planting seedlings, with a dowel and two hole. The advantages of using planted mortise joints are its easy construction and effective connection. In some specific situation, it could also be used in the positions where normal mortise joints will be powerless.
The dowels shaped as oval ridges could be cut with circular saw and band saw effectively, and the depths of the grooves on the chair are generally 2cm, except for the 0.5cm ones on the armrests. Boards for sitting, which connected right and left two sides were joint by traditional stub mortise and stub tenon. They cost relatively more time to make, with chisels carved the timbers slowly, but provided stringer carrying capacity.
The gluing process lasted half an hour. In order to allow the mortise joints to be glued at the correct position, they were grouped and completed at the same time to avoid dislocation. No. 60 to No. 180 sandpaper were used for surface treatment. After polished again and again, the chair gradually revealed its beauty. A layer of protective wood oil was used for the coating in advance, followed by another polishing process with ultra-fine sandpaper, No. 240. The final stage was a layer of beeswax as the uppermost coat.
This rocking chair has been taken to participate young designer's exhibition in Taiwan. Many visitors were interested in the rocking chair as these furniture were rarely be seen in Chinese culture. I opened my chair to visitors, allowing them sitting on it to experience a kind of 'rickety feeling'. It's very nice to hear they said it feels relaxing and comfortable.
The chair won the excellent work prize of official competition and bronze prize of Huai-Te Chu's fifth newcomer award during the exhibition. This is the best proof of positive affirmation from people. I believe the project has achieved its goal as I experienced a growth of self-exploration to reveal and shape my own design style.