Buddy - a 3D printed work companion
Buddy is a friendly, Scandinavian influenced task light for the dynamic worker designed by Mona Sharma, for Gantri. Its rounded, gently tapered profile gives it character and will help out the user just like a 'buddy' would, featuring a pivoting head with dimmable light which can focus down on a specific task, or beam up to provide ambient light - making it a space saving option for an office, living room or more.
Buddy is designed on and manufactured by Gantri - a platform that enables a curated community of product and industrial designers to create uniquely-inspired lights and make them accessible to all. They specialize in cutting-edge 3D printing technology to manufacture their lights using a customized corn based PLA, which they then hand finish using water based marine paints - all at their state-of-the-art facility in California. This process allows for luxury, made to order products that are attainable for the consumer but also sustainable to create and safer for the environment.
It is currently available in Snow, Carbon and Forest shades.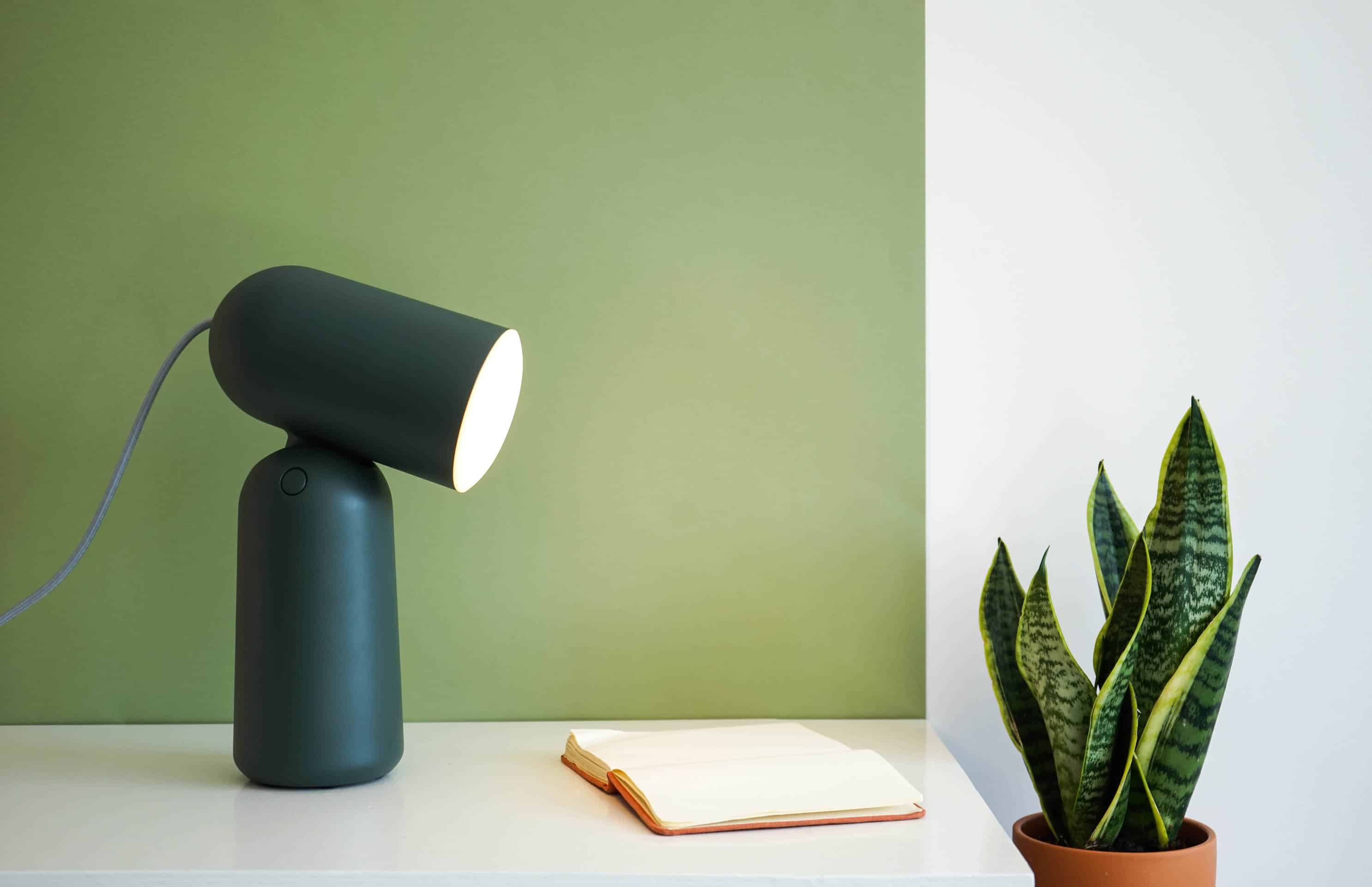 When I first started working with Gantri, at the time, they did not have a design in their shop that was fully adjustable for the user. Although versatile, all of the designs were static. I wanted to change this and create something that could help the user, hence the creation of a working companion. By driving this idea, Gantri realized the importance of this addition and grew their workforce, overcoming the difficulties of moving parts in 3D printed objects - resulting in an innovative pivot design that can now be used by future Gantri collaborators as a stock part. This has opened up Gantri's offering through further innovation in 3D printing and inspirational light design.
Since I wanted Buddy to be friendly and helpful, I looked to Ettore Sottsass and the Memphis movement for bold forms and shapes, as well as Scandinavian styled lighting to keep the overall feel clean and minimal, allowing it to suit a variety of spaces. It is printed in PLA, a corn based material chosen by Gantri for its sustainable advantages.
After research, I developed the design through iterations of sketching, card modelling, 3D printing, modelling in Solidworks and rendering in Keyshot, to demonstrate the concept to Gantri and then develop it further. Gantri also went through many rounds of CAD modelling and 3D printing to consolidate any technicalities - especially the pivot mechanism. The end photography was really hands on, with some editing in Adobe Photoshop and Lightroom.
I received a really positive response from friends and the design community alike. I believe I managed to capture the friendly character Buddy after hearing/seeing reactions and do not have regrets. I would say for next time, maybe consider more the area that your design will be sold in and build a network towards it before launching so that you have a wider reach to people that can actually buy your design. In this case, Buddy is currently only sold in the USA and Canada, whereas I'm based in the UK, so I have few personal connections and have initially depended on popular social pages and Gantri's own following.