Who doesn't love burgers? Greece based graphic designer Sophia Georgopoulou was commissioned to do the visual identity for a burger chain – Burger Nest, a Greek fun restaurant in Loutraki, Greece. Let's see her design.
Burger Nest is a Greek fun burger restaurant that is based in the city of Loutraki, Greece. The visual identity for the restaurant is characterized by its bold black and warm yellow branding and its lively and fun illustrations. The brand's aesthetics are modern, fun, friendly and attractive, adding a sense of trust and conscious consumption to the consumer.
-Sophia Georgopoulou
The inspiration behind the project was the restaurant's name itself "Burger Nest". I cannot personally describe my style. What I can say is that I believe that creativity is the ultimate seed for a great work, but strategy and rational thinking are prerequisites for things to 'click'. Every brand or company has a message and a story that needs to be said. I believe that the combination of passion, creativity and aesthetic simplicity do the job. Be simple and "to the point" and don't create unnecessary noise.
-Sophia Georgopoulou
A fellow designer recently described my work as "bright" something that made me very happy. Inspiration.. My inspiration can be anything really. The lyrics of a song, a nice talk, my friends, a walk in nature, a big smile, the Greek sun. Of course before starting working on a project I do my research so I get inspiration from other great designers and their work, through art books and design blogs.
-Sophia Georgopoulou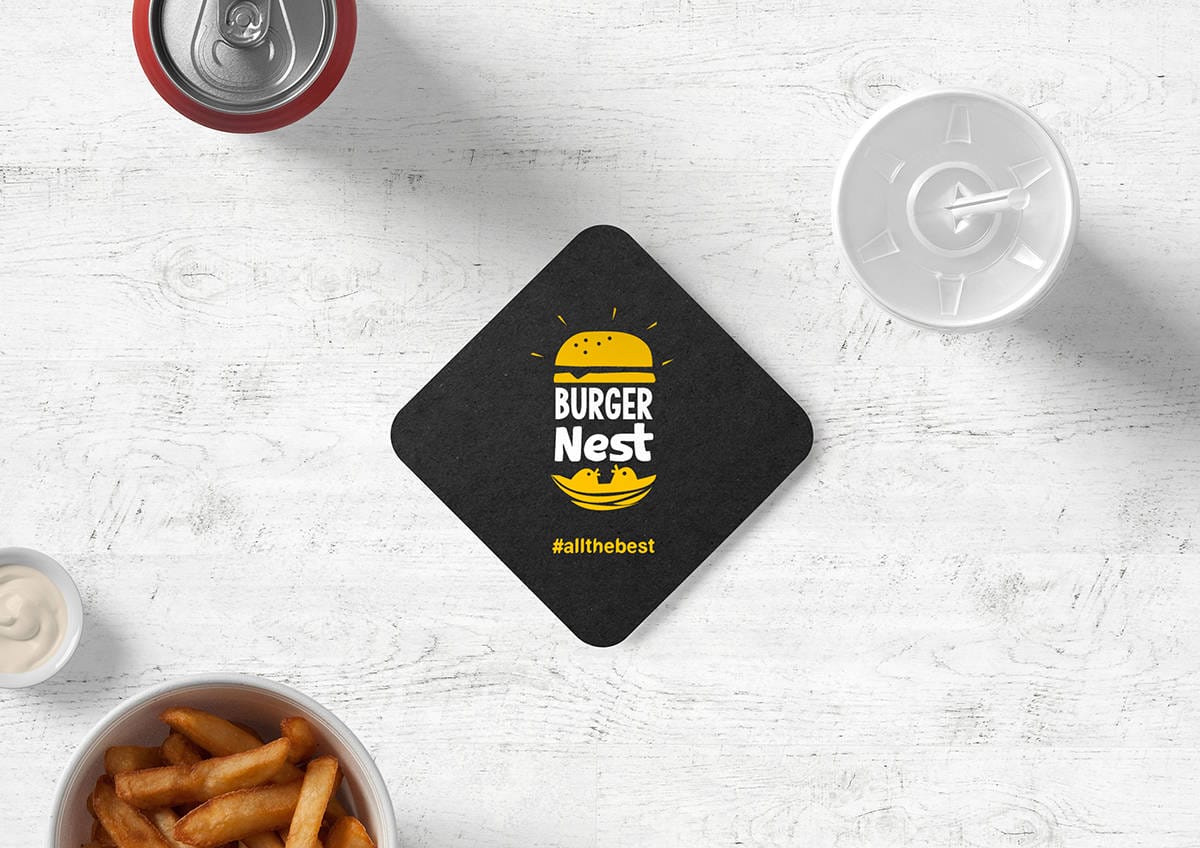 My advice to my fellow artists is to believe in yourself and your talent, get personally involved in the project no matter the size of the client. Don't think of money when you create something. It is a bad influence and it will affect your creativity. Work from your heart! Find your strong points and use them. Focus on the message and on what truly matters to be communicated. Embrace the message by creating emotions through your designs. Don't copy. Get inspired.
-Sophia Georgopoulou
About Sophia Georgopoulou
Sophia Georgopoulou is a graphic designer from Athens (Greece). She studied in London (UK) and has been experienced in the fields of logo design, branding, visual communication, corporate identity, packaging and print. Her personal interests also involves illustration, photography and painting. Creating visual identities for companies and brands of all sizes are her passion, which comes hand-in-hand with a good mix of rational thinking and professionalism. Sophia loves what she do and is very fortunate to do her hobby as a profession. Her ultimate desire and goal is to constantly inspire people through her work and make them see things in a different perspective. Sophia's work has been awarded in prestigious National and International Design competitions and was published in selected worldwide known publications and design blogs about design. See more of her work on Behance or his website.