Patricia Molinyawe's project "CARTOON HEADS" is a personal project which started back when she was in 4th year College. Everything uploaded under this project began with a sketch, even the lettering for the title.

The characters that I draw somehow connects to my colorful, fun yet quiet personality that some people misinterpret. Still, I like the mystery that comes in with the expressions and look of my drawings, and I feel like that makes it more interesting. My goal here is to basically create a collection of head shots with different looks. So far there's only three (3) uploaded and soon I'll begin to upload the rest of it on behance. So watch out for updates.
-Patricia Molinyawe
Something just hit me on the head and I thought "Oh! I know what to do next! ". Then the next day I already started doing the sketches for the project. That's it!. It's fun and surprising actually. Sometimes after doing something not related to art (be it dreaming, walking outside, playing with my grandma's dog) I feel like my brain just suddenly lights up and it hatched an idea. As I go along the project, that's when the meaning comes in. Slowly, I give explanations to my work, no matter how absurd, or weird, or crazy the concept is, it still counts, because at the end of the day it's part of my growth as a person, as an artist.
-Patricia Molinyawe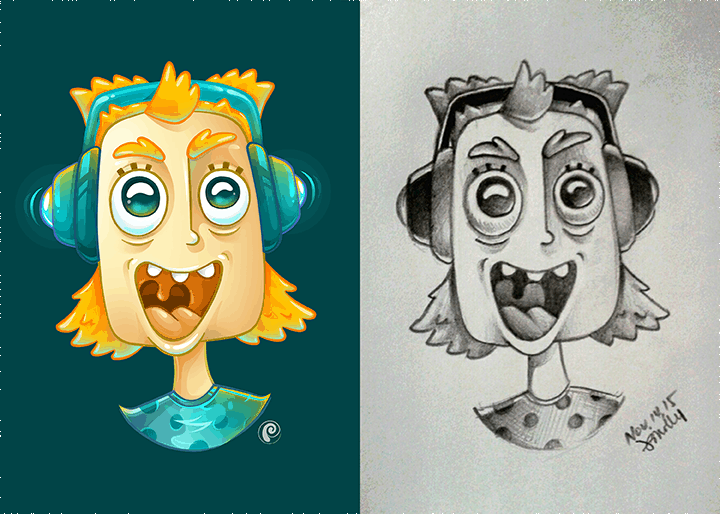 My main inspiration behind the project is the thought of letting people feel the joy of creating something, something that expresses emotion. With me, that is thru design and illustration. I could describe my style in 3 words : COLORFUL, FUN, and WEIRD* (according to my mom) My childhood really has the greatest influence on me when it comes to the style of how I render color to my drawings. Back then, I really love watching cartoons and animated movies. Well even now, I still do so. Food for my IMAGINATION. My family is my inspiration for my career as an artist. Even though both my parents aren't really inclined directly to the field of arts and design, they still support me unconditionally no matter what. They are the reason why I work hard everyday.
About Patricia Molinyawe
Patricia Molinyawe is a Multimedia Artist from Southeast Asia specializing in Graphic design and Illustration. She really likes it when she gets to create something which is really colorful and vibrant, something that'll catch the attention of the people and would even make them smile just by looking at it. One of her goals when it comes to creating art is to make people happy, and so far Tricia's proud to say she has already accomplished it, and willing to not stop. See more of her works on Behance, Facebook or YouTube.