CASA MAJAGUA HOSTEL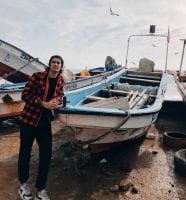 Casa Majagua has a history to which we pay homage; Viviana, a woman from Bogotá and Mario, from Spain; They lived in the community for 10 years, they built this house with their own hands, little by little and managed to build a native wood building on a palafitte with two levels that share 2 sanitary batteries and 3 external showers.
The best of his legacy is the respect and harmony of the house with the community of Barcelona, ​​​​because the challenges of this heavenly place that has a mangrove in the backyard and in front of the best beach in the area, make choose Majagua understand what community tourism is, immersed in the culture of the host community.
Casa Majagua is located on the entire beach of La Barra, after taking a boat from Buenaventura to the Juanchaco pier, you must cross: Juanchaco, Ladrilleros and finally arrive at the beach sector in La Barra.
was traveling through the Pacific of Colombia and I decided to stay longer without money, making some exchanges of knowledge and experience to stay there.
Photoshop.
Through photography, trust is opened. I lived 2 weeks living with the family that took care of the place, very special beings.