Confluentia project is an integration of furniture and Aubusson tapestry. This artwork had won First Prize in the International Contest for Contemporary Aubusson Tapestry of UNESCO, with the theme "Intangible Cultural Heritage of Humanity". The craft of Aubusson tapestry is a centuries-old tradition. It consists of weaving an image, using processes practised in Aubusson, and a number of other localities in the Creuse region of France.
Confluentia project, at the junction between furniture and tapestry, joins in a weaving carpeted furniture and pill rug of Aubusson. Two wood bedside tables embellished with a tapestry are connected by it, creating a new link, a part of space in the space. The object appears as a landscape, in the manner of the Aubusson tapestry of the seventeenth and eighteenth century, it is seen as a flat stretch between two woody reliefs. A domestic landscape creating by the union of two familiar typologies in housing world: side furniture and rug. The tapestry presents an abstract drawing suggesting a peaceful space, like a lake, while being lively by the gush of two headwaters inviting to contemplation. We can see the pattern of a topographical map, by definition, the drawing of a place. A hybrid territory, a micro-landscape between design furniture and tapestry. The user goes inside the landscape, lives the scene and becomes an actor in the tapestry. Thus, the action is not only set-up by the look of the tapestry but also " with, around, on". The interlacing of threads and colors is mixed up to build Confluentia, point of confluence between perception in-visu and experience in-situ.

– Bina Baitel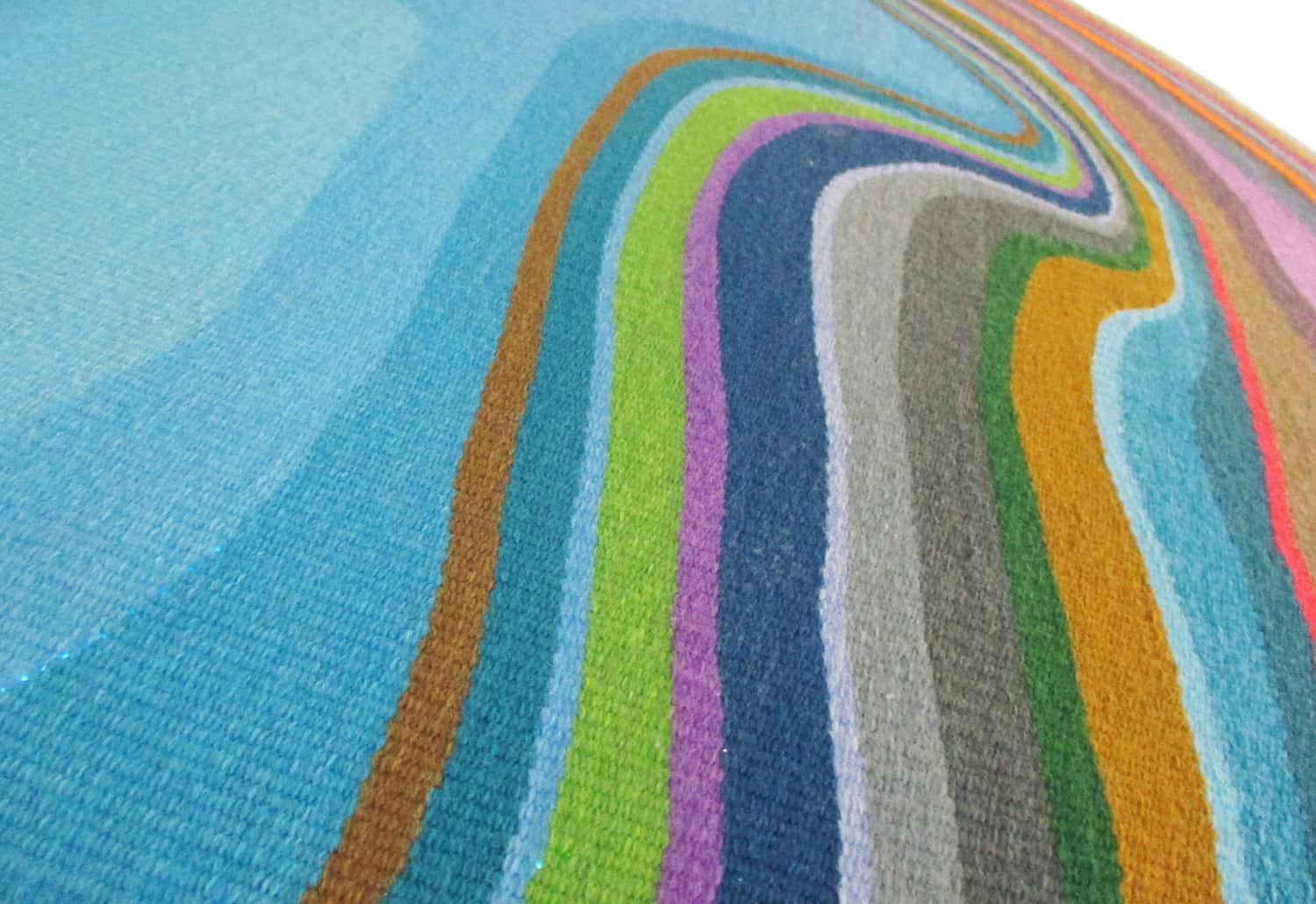 ABOUT BINA BAITEL
Bina Baitel is a Designer and an Architect from Paris, France. She founded her own design studio in 2006, working across a broad range of sectors; including furniture, lighting, architecture, limited edition, consumer goods, art direction, and space installations. She graduated from the National School of Architecture La Villette in 2002. Winner of the VIA Creation Award in 2008 for her Pull-Over Lamp. She also won two prestigious awards — The City of Paris Grand Prize for Creation (2012) and the First Prize of the International City of Aubusson Tapestry organized by UNESCO (2013).
She cultivates experimentation and simplicity to transform concepts into objects and spaces. See more of her work at Behance or her website.