Digital Picture Creation's art director Osman Akbay is now able to pick the project that he wants and this time, it's the Converse redesign concept. A friend of his built an agency and had Converse Turkey as their client, Osman was then tasked to redesign the site.
I started to imagine what kind of design I should deliver. First days always goes like this, I conceptualize the design in my head. I consider the job as a painting and when I feel satisfied with the overall composition I then started to decide the elements. Time to time of course, I make changes due to the design. On the other hand, one of the most important point is the overall spirit of the final delivery must be appropriate to the brand image.
-Digital Picture Creation
I applied a unique layout by using the expanded footer as a top menu and it became very fancy. One of the tricky part of a web design is to think about the banner areas which are mostly out of the page area. Mostly designers cut the image from below in order to fit into banner areas because leaving more space on the top parts of the page is more common way of designing. I applied the reverse on that design and the image starts from the top and keeps flowing to the bottom. By the way, for the banners, bottom part was giving a perfect feeling.
-Digital Picture Creation
Two info boxes placed into the left middle area of the page and while I design and drive the focus into this part by making it look more aesthetic. For listing products I applied kind of similar methods. Comments of the brands were making me feel good at the end, my design was successful and everyone was very satisfied with that. Both Converse and Columbia works were getting appreciation and I was becoming very happy. The agency was also very confident against their clients due to my works. After we deliver all the materials we made a meeting which was kind of shocking. The fashion of the localizing global website hit our project. Our client had to use the global template due to the order came from the global.
-Digital Picture Creation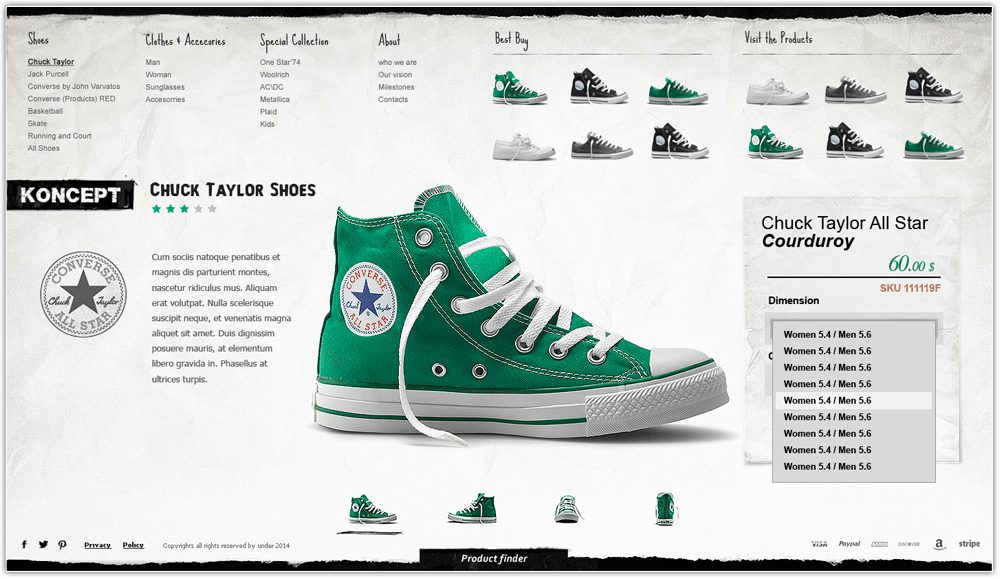 Clients were very sorry because they are unable to use the designs that they loved. Even though they could not make those designs live these are still in the beginning of my most beloved works list. Every work is an exam, even I have done those designs in 2011 responsive and minimal design aspects were applied in those projects of mine. I am not following the trends mostly but after a while those things are becoming the trend and it justifies my work. All my works were build fully with my creativity between the years 2006-2013. I was not using and stock images or materials.
-Digital Picture Creation
There are two advanced agencies that drove me to digital field. Eric Jordan's designer vision affected me a lot because I feel l consubstantial his works with mine. I was mostly focused on 3D designs, painting and website design on those days. I was thinking designs done with the futuristic vision are a cut above the website design. When I first started to work in that field firstborn, f-i, milk and r/ga were the agencies that I like in terms of design.
-Digital Picture Creation
About Digital Picture Creation
Osman Akbay is an Art Director from Turkey. In 2006 he started his professional life. Studied painting and used his talent in digital arts. Between 2006-2013 he signed many art pieces which are getting prestigious awards. Nowadays, he focused on his own artwork instead of working for companies. His main field is UX and UI designs.