CV - Career Viewer iOS App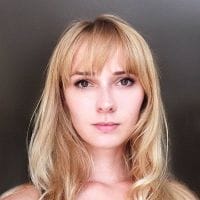 The reason behind the creation of mobile application "CV - Career Viewer" was a will of providing a better tool for job seekers. A tool that would help them stand out among the competition. As both a designer and recruiter I believe that one of the many problems facing people who are willing to change a job is their not only unattractive and template-like looking resume, but the outdated paper form of the document. Strong and fierce competition requires looking for unconventional - out of the box solutions, such as digital resumes and since the mobile phone is one of the daily most frequently used devices the CV took a form of mobile app.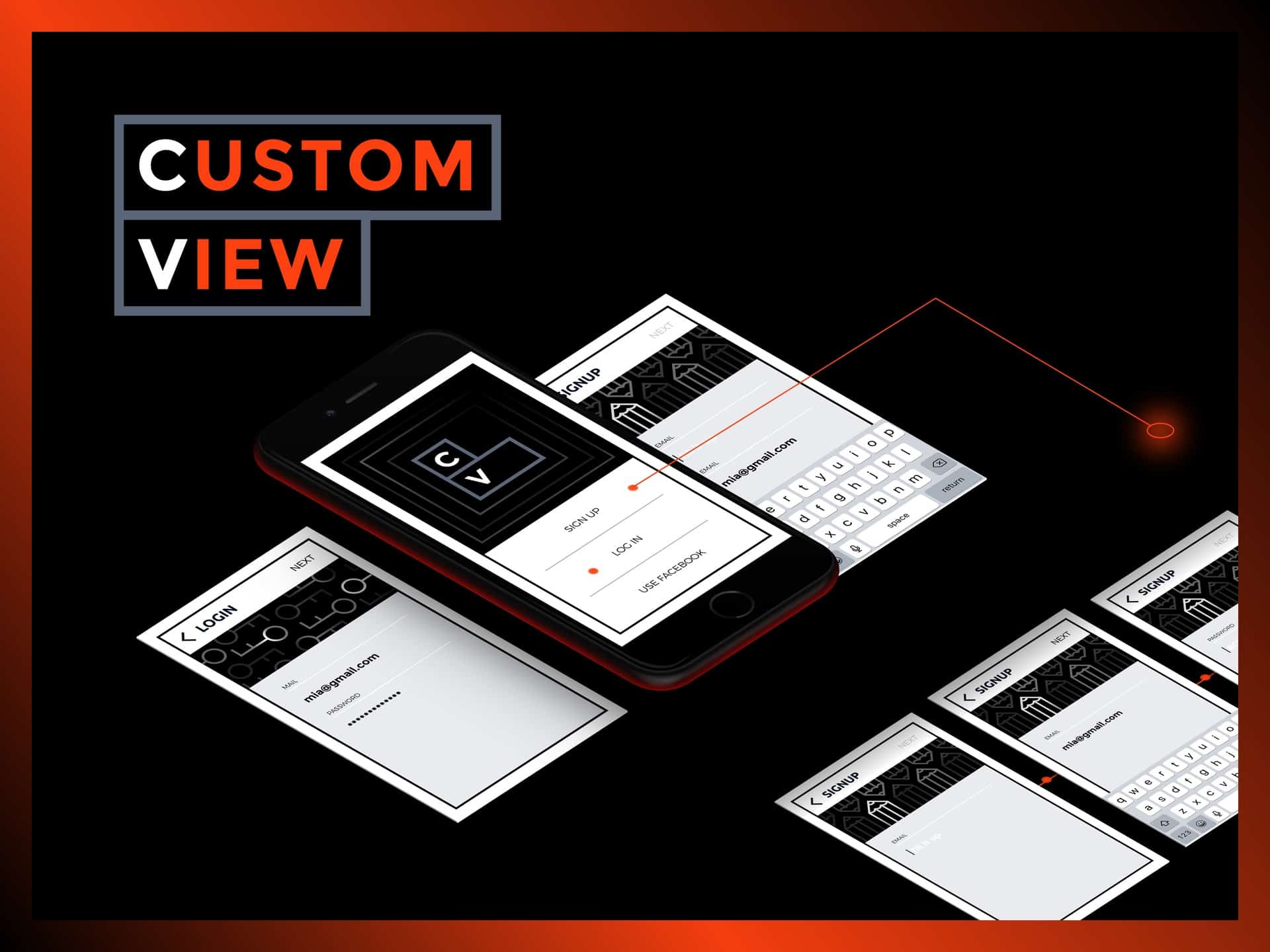 This application was designed for iOS operating system, dedicated for Apple mobile devices. Project came to existence with consideration of UX (User Experience) rules, which are aimed to optimize user's experience with the product, make it pleasurable and intuitive. Interactive prototype shows sign in process where the user is given an opportunity of a classic version of the app or an ability of deep personalisation. In order to make resume custom user can pick one out of 30 graphical themes or choose individual colour scheme, background, images and typography. Prototype shows the flow of filling in the forms by candidate in the predefined fields and the final screens result (classic theme). User, at every stage, has an opportunity to change the style of the resume to fit a particular job offer. He can then share it via the app with a potential recruiter. One of many benefits of digital CV is an intuitive usage, visual diversity and immediate mobile access both for recruiter and candidate.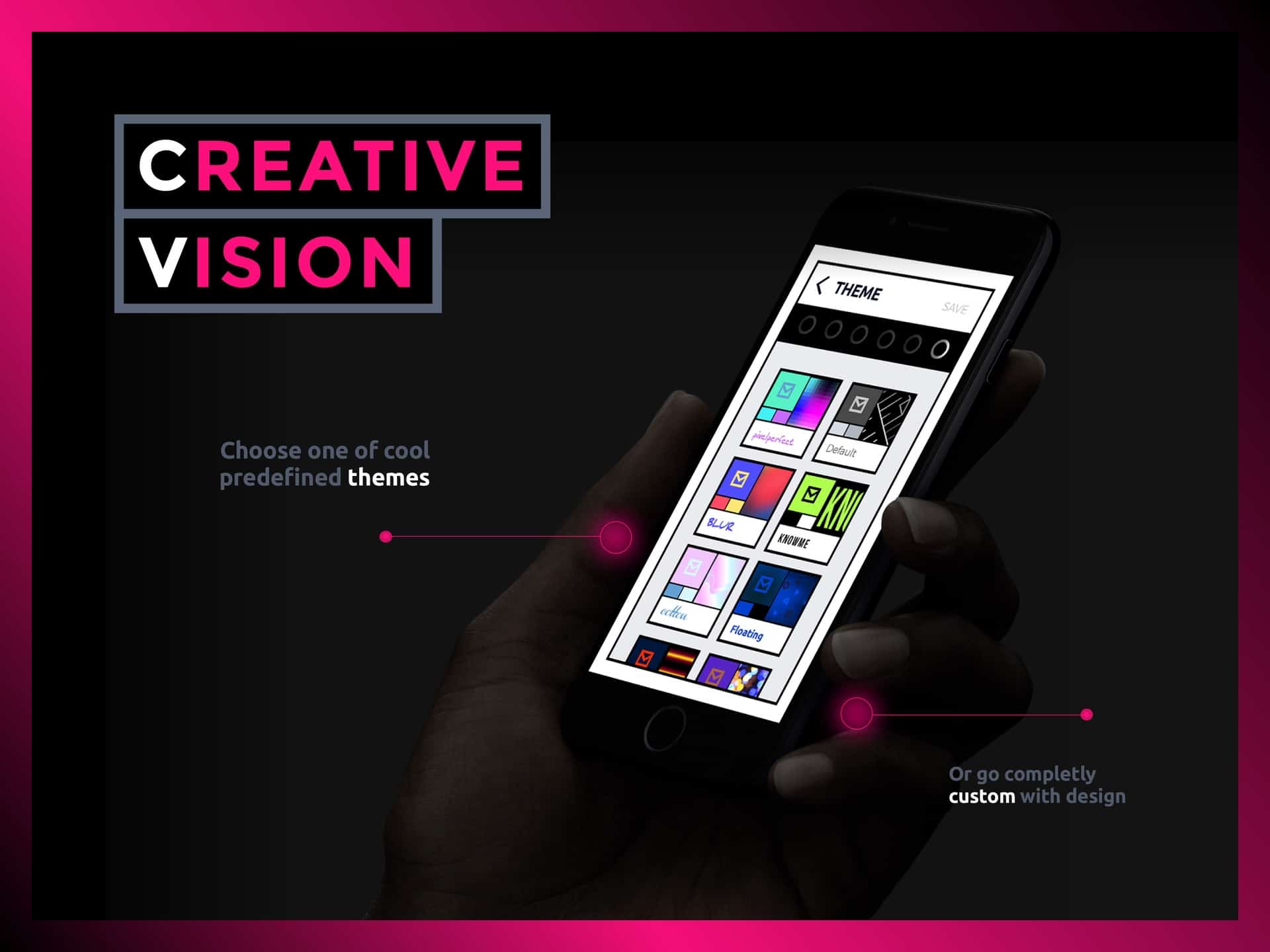 I started with studying the mistakes people did when placing the CV, then I proceeded with creating wireframes in Sketch as well as final design. As the app is in the process of being developed it required preparation of assets that were transferred over to Zeplin. The animations were created in After Effect and Premiere Pro.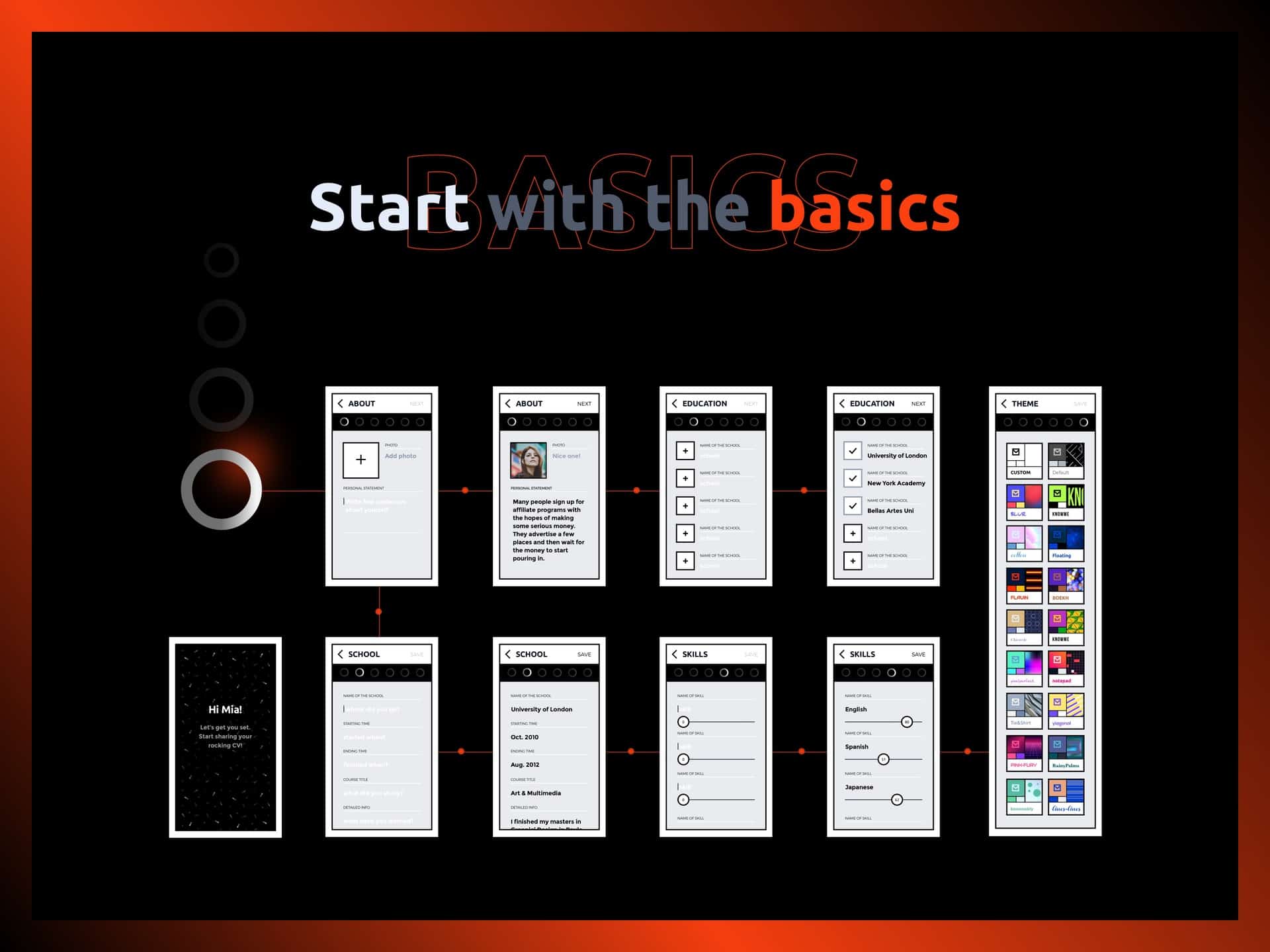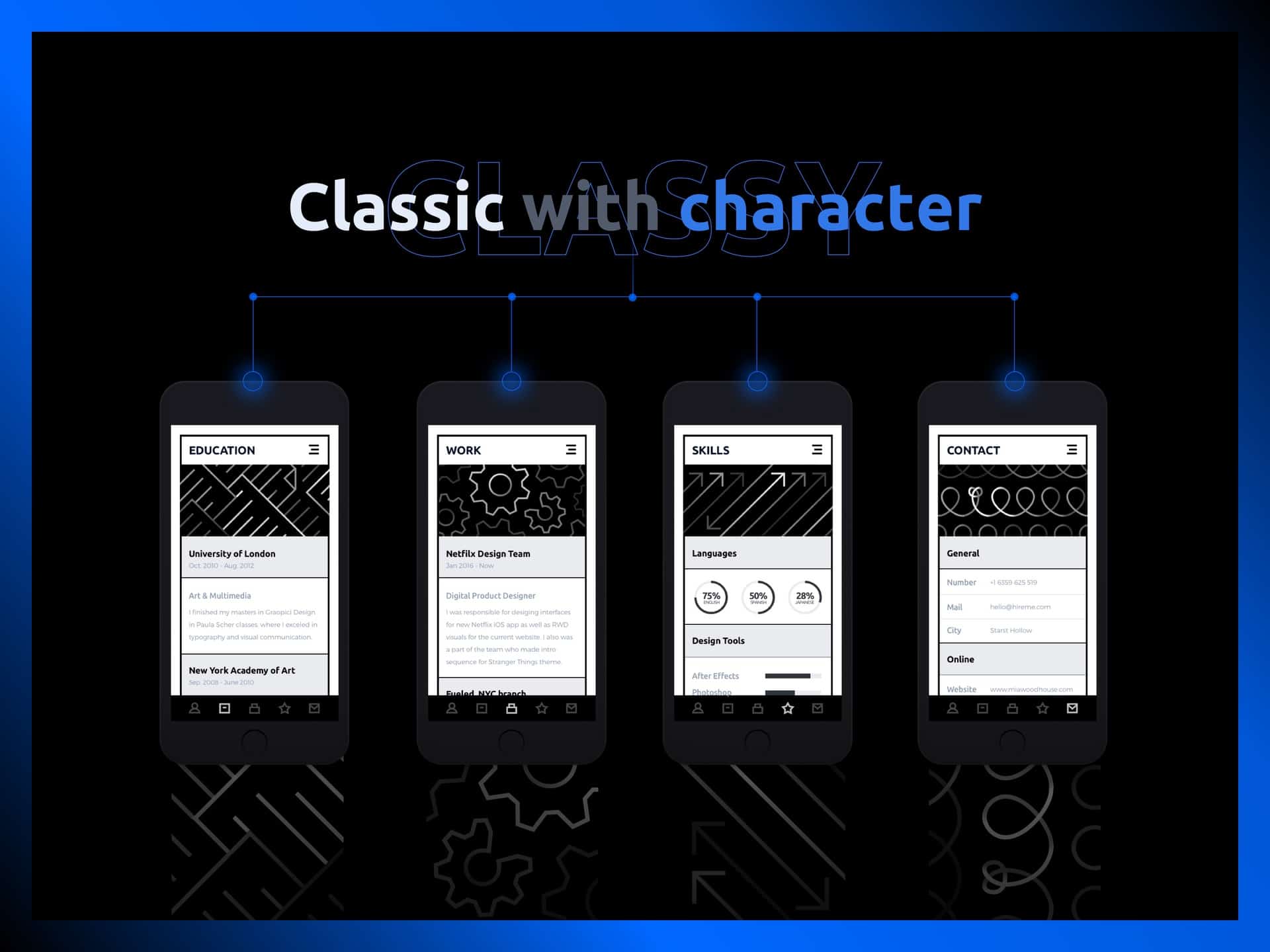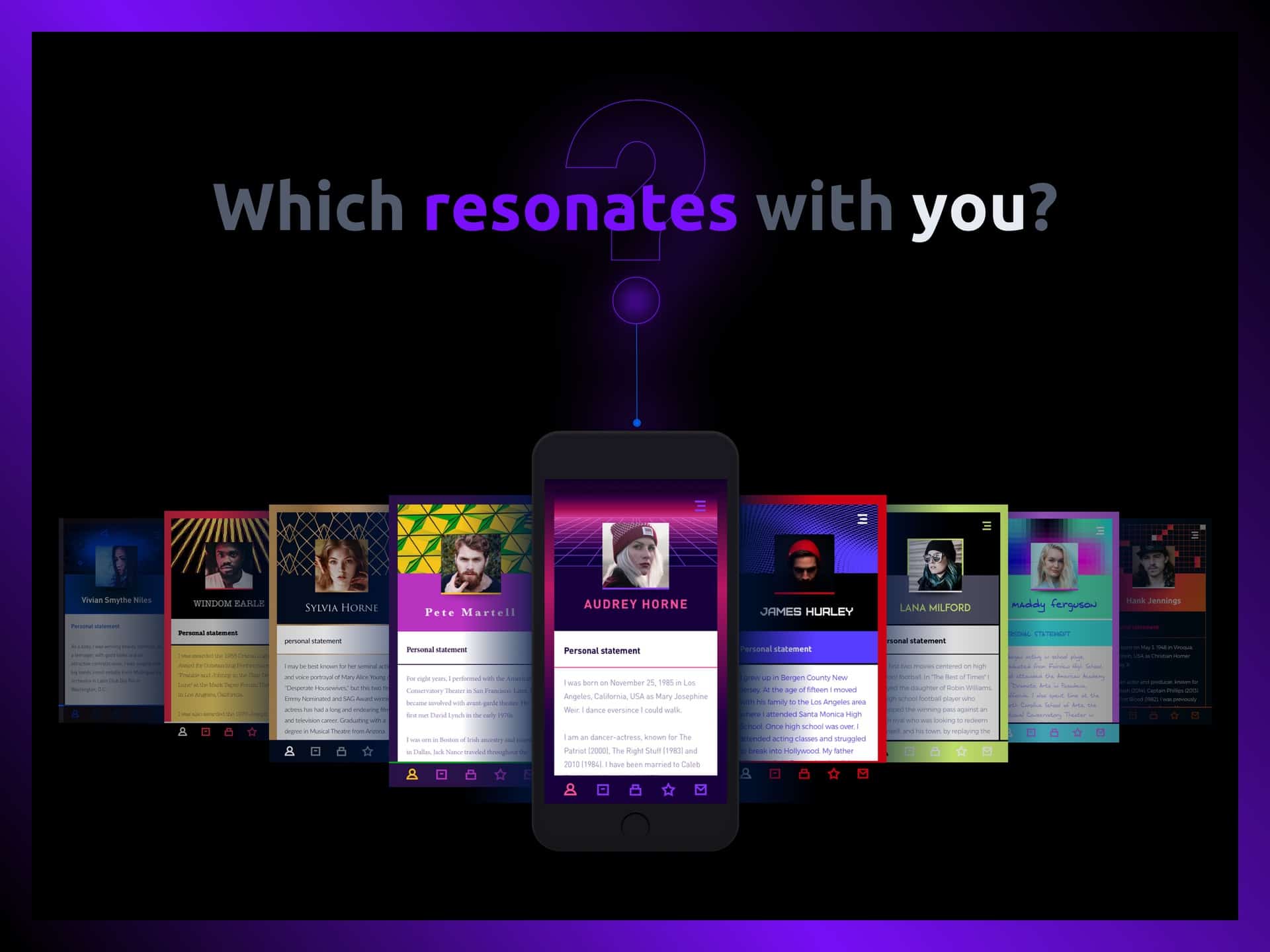 The application was well received as it was something that challenged the way that people think about their resumers. It showed them they can be bald and creative with how they show themselves to recruiters. Sky's the limit now :)
The full case study can be seen:
BEHANCE: https://www.behance.net/gallery/56129423/CV-Career-Viewer-iOS-App
DRIBBBLE: https://dribbble.com/KamilaFigura/projects/576644-CV-Career-Viewer