Dash of Danielle
I designed a fun and approachable brand identity for Dash of Danielle, a personal blog sharing plant-based, healthy, and delicious food recipes.
Since launching the blog a year ago, founder Danielle has reached over 4,000 followers with her unique content and messaging - and she's just getting started!
To further accelerate her growth, Danielle requested a new brand that carefully balances a professional feel that will attract more sponsorships and a lightheartedness that conveys her easy-going and fun personality.
Before designing Dash of Danielle's brand, I spent time understanding Danielle's goals by analyzing her creative brief and performing one-on-one meetings. I learned that creating a polished yet playful brand that illustrated her commitment to normalizing plant-based eating was a top priority. Plus, she wanted to build a brand that not only resonated with followers who already practice plant-based eating but also appealed to those who were interested or just learning about the plant-based lifestyle.
To do this, I designed a thoughtful logo, selected sophisticated typography, and built a vibrant color palette.
The logotype uses the font Esther, a stylish and ligature-heavy serif font. Esther's modulated letters form a polished look while the ligatures add a subtle touch of playfulness. I also included a custom leaf illustration to reinforce Danielle's commitment to sharing plant-based recipes.
Dash of Danielle's color palette is a vibrant take on the main colors associated with healthy eating. A yellowish-green serves as the brand's primary color and a blood orange tastefully compliments as the secondary. The peach and cream colors are soft, neutral tones that balance the entire palette.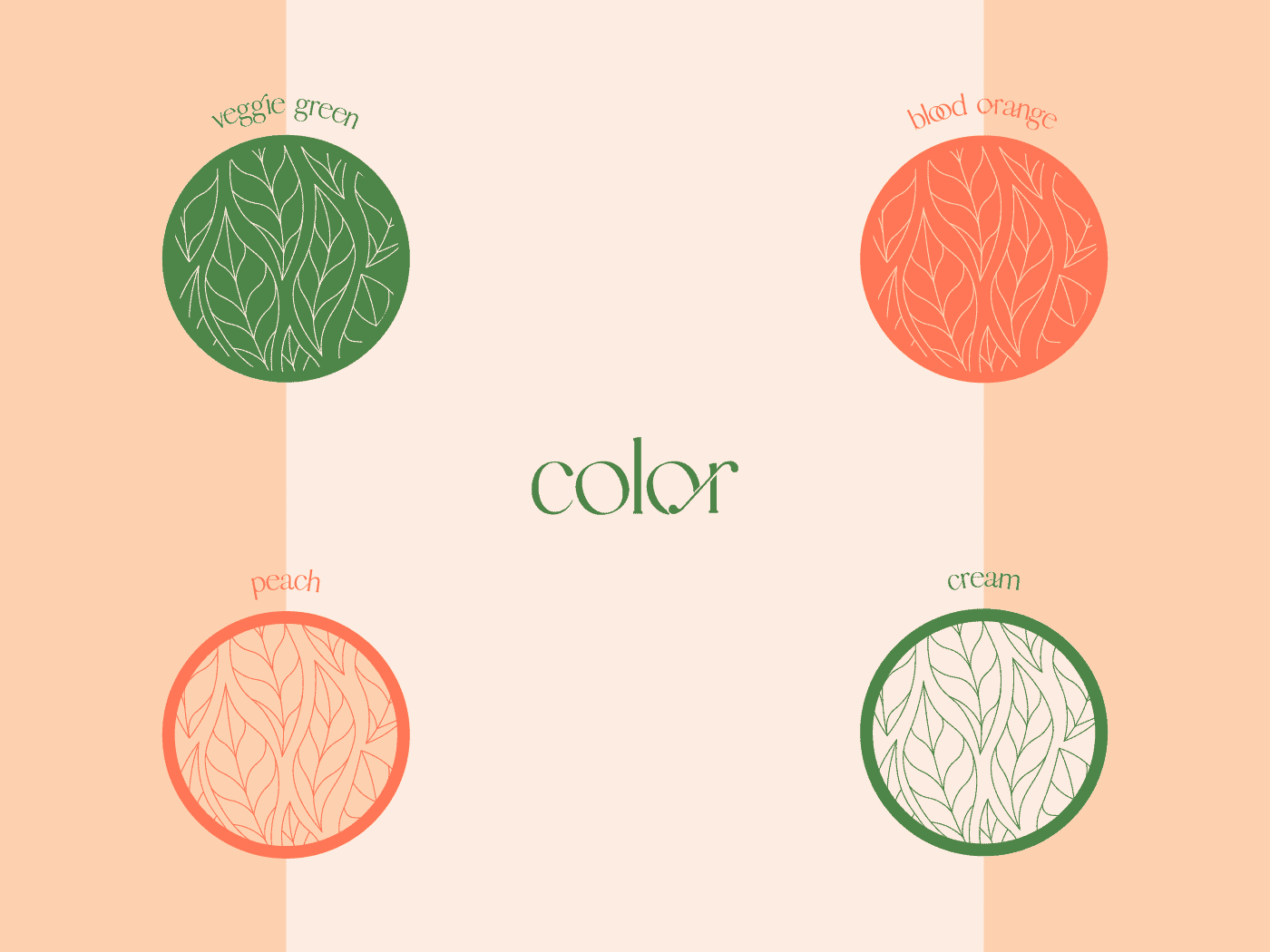 To start the project, Danielle first completed a creative brief where she answered specific questions asking about her motivations, competitive advantage, target market, and goals.
After reviewing Danielle's creative brief and receiving more insight into the brand through conversation, I built a few mood boards in Adobe Illustrator with images and design inspiration from Pinterest, Unsplash, and Behance.
Once Danielle selected her favorite design direction, I built three branding concepts in Illustrator and presented them to her in a PowerPoint presentation. After she selected her favorite logo concept and color palette, I continued to iterate on the designs in Illustrator until we reached a final brand she was proud of.
I used Squarespace to build her website.
Danielle received an exciting response from her followers after sharing her new brand design on Instagram. They loved the design and believed it represented the future direction of the blog. Her followers were also excited by her new website, which Danielle and I launched in tandem with her brand identity.
While completing this project, I learned how important it is to understand my client's target market and competitive advantage when building their brand. Keeping the follower or customer in mind is crucial to building a trustworthy brand that resonates with the targeted audience.
Thank you for reading about my project! Hopefully, you've received some insight that will help you with your future projects.