Digital and Mixed-Media Arts Compilation by Brice Chaplet a.k.a Mr. Xerty
Do you love abstract and bizarre arts? This photo set is a combination of digital arts and mixed-media arts. Each photo has a story to tell! Read on and enjoy our feature for today.
"Not So Quiet", 2015

I've Created this artwork for the beginning of the year after the terrorist attack at Charlie Hebdo newspaper in Paris where I live. With this representation of Buddha flying above a surreal landscape I've wanted to give a message of peace and serenity to all my followers, clients and fans for this New Year.

- Brice Chaplet a.k.a Mr. Xerty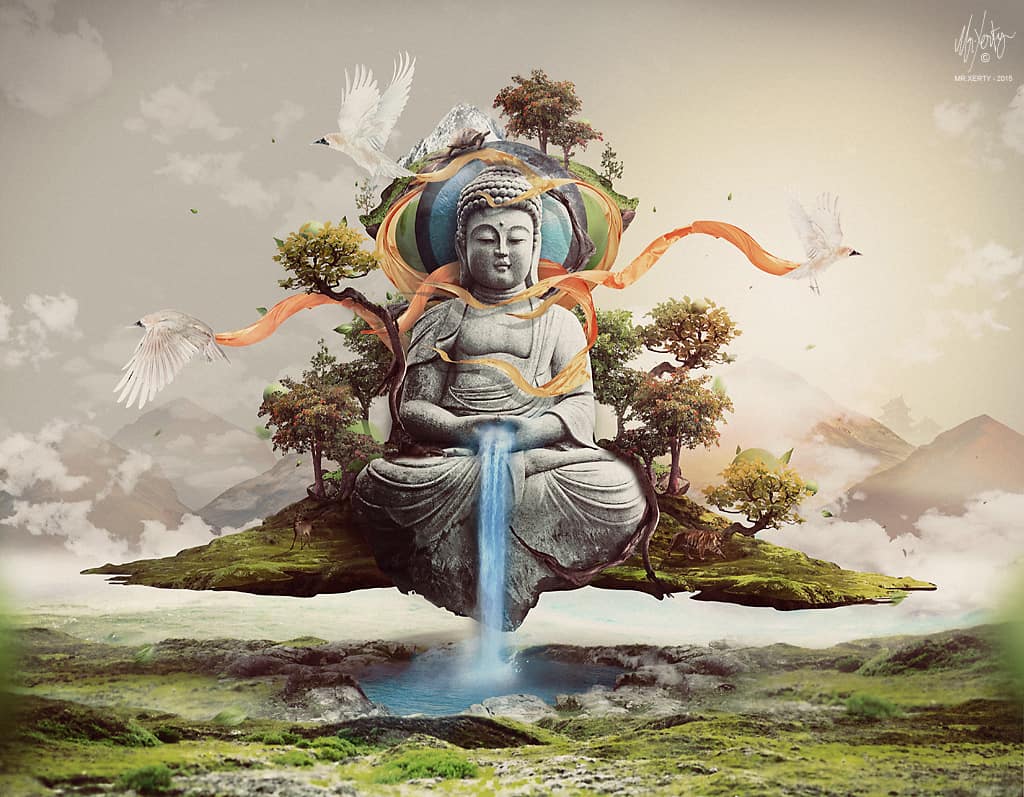 "Crossing-Path", 2015

Here I'm talking about the crucial choice you have to take during your life. But it has not to be interpreted strictly in this way. You can see what you want. Also I've always wanted to create an artwork with a dead bride, a mix of La Santa Muerte and a beautiful blonde girl walking in an epic somewhere!

- Brice Chaplet a.k.a Mr. Xerty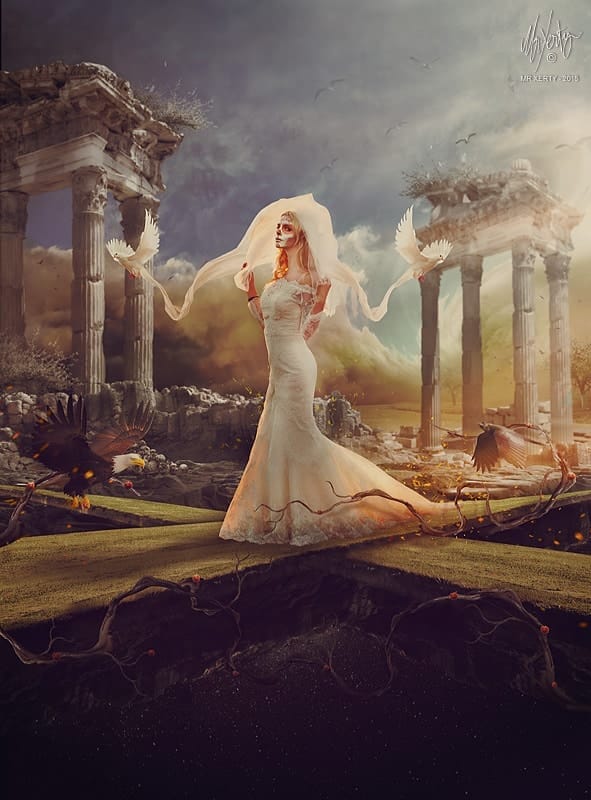 "Mad-Dinner", 2015

When Alice in Wonderland meets American 50's feeling!

- Brice Chaplet a.k.a Mr. Xerty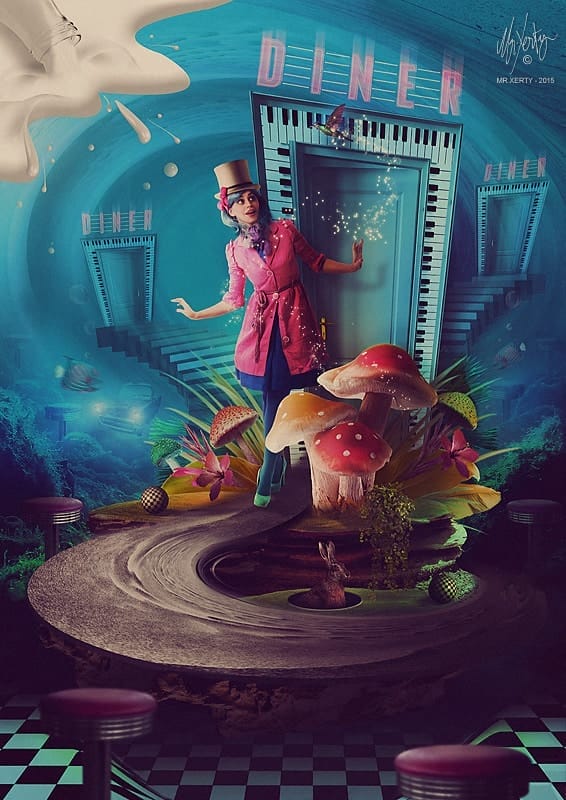 "Modelizm", 2014

It's like a model-making. Inspired by Melbourne City - Australia.

- Brice Chaplet a.k.a Mr. Xerty
"The-Lost-Virgin", 2013

I really want to create an artwork with a similar composition to movie posters like Gangster Squad or the old James Bond ones. The story behind it is inspired by American horror movies and series. The "Dead-soul" type is made with Cinema 4D.

- Brice Chaplet a.k.a Mr. Xerty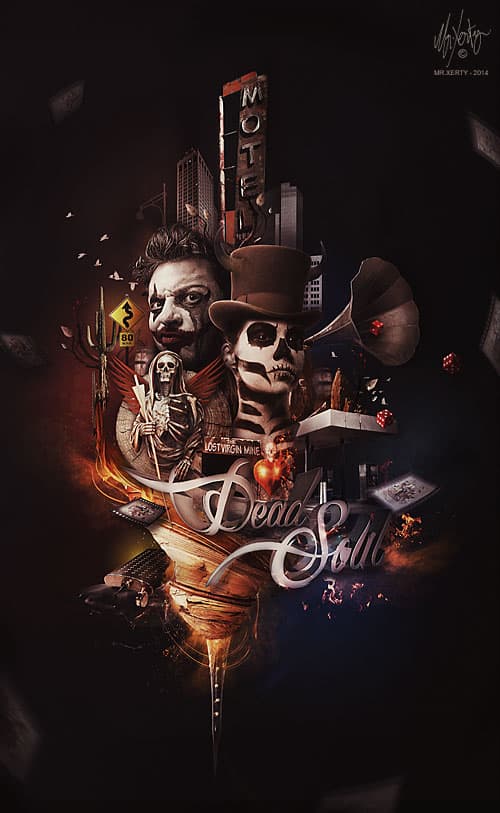 "Thru-Space-And-Time", 2012

Inspired by the surrealist master Salvador Dali. It's like a travel between life and death.

- Brice Chaplet a.k.a Mr. Xerty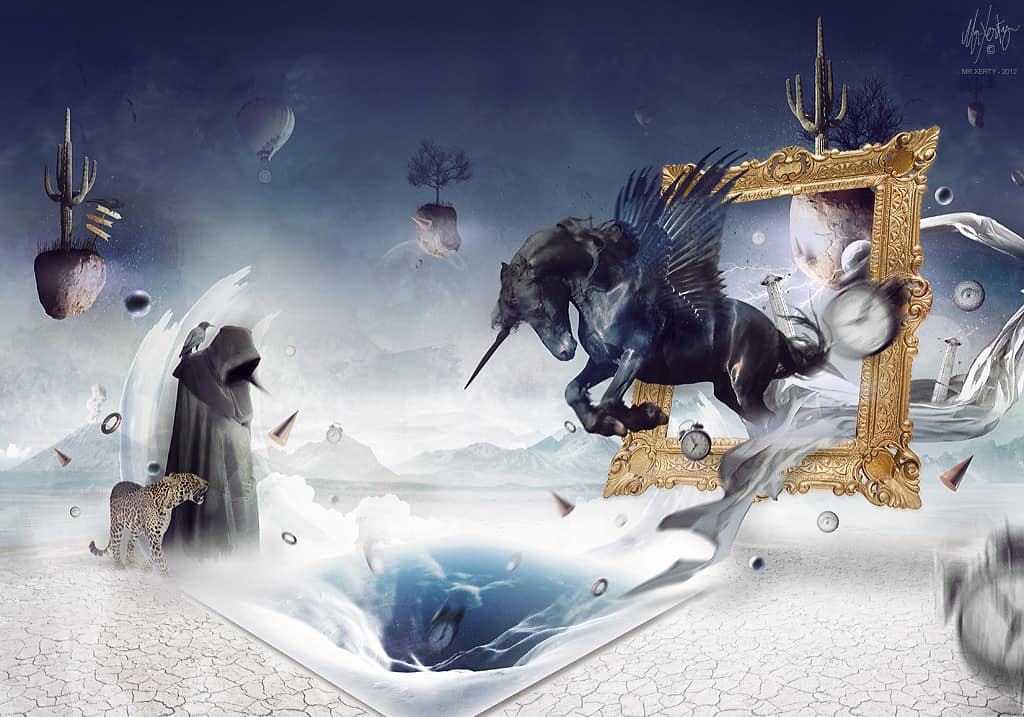 "Panam-Dreamer-Club", 2015

It's something about my hometown Paris (Panam is the slang word for Paris) I'm in love with this city you know. It's also for my little daughter.

- Brice Chaplet a.k.a Mr. Xerty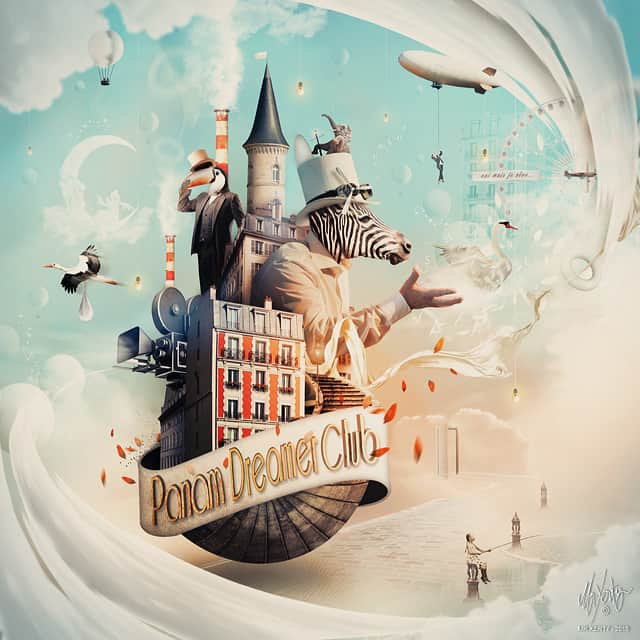 Here's a photo of me.

- Brice Chaplet a.k.a Mr. Xerty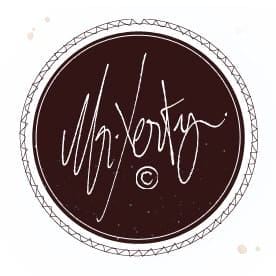 ABOUT BRICE CHAPLET aka MR. XERTY
Brice Chaplet aka Mr. Xerty, was born in 1984, is a freelance Graphic Designer & Illustrator from Paris specializing in digital-art & mixed-media. He has learned his job by himself, experimenting differents techniques like drawing or graffiti writing before touching down with graphic design and Photoshop. In 2007 he decided to made the shift to be an independent artist after proving himself as a Junior Graphic Designer in an automotive company. Since then his works have been noticed and published by several magazines and websites like Digital-Arts, The Printed-Blog, Advanced-Creation, New Web-Pick. His clients have also increased year by year, and he has worked for the one like Sony, Caron, Rodale Publishing and several magazines and independent labels in France. His style is influenced by urban life, underground culture and vintage design. He likes to play with photos, textures and colors which are most of the time mixed with some 3D abstract forms. The result is a crazy and surreal world, with twisted urban landscapes, TV headed man or lovely pin-up. Bon Voyage with Mr.Xerty!
See more of his artworks in Behance and his Facebook page. Check out his portfolio in CargoCollective.