The eyes have potential to be a canvas for greater things. This project of Nevan Doyle, a graphic design student at Oregon State University, seems to have the most impact, and they get the most response. What he likes about them is the variety and depth you can create, whether it's by using a little reflection or by transforming the pupil into a window to something else. Read on and enjoy!
There's not really a theme throughout this project. I prefer not to make overt metaphors in my work, especially not with the eyes, because I think it's important for people to be able to interpret my pieces their own way. Eyes are a very personal subject, so people seem to do that a lot with these.

– Nevan Doyle
The process for these edits starts with photographing my friend Alex while she stands next to a bright light. The light allows me to see the textures and colors inside the iris, which is what makes eyes so unique and intriguing. This also lets me lower the shutter speed so I'm able to get a sharp picture, which can be difficult because eyes move so much. I usually have a concept in mind before shooting, so I can get different angles that fit the idea I have.

– Nevan Doyle
I take them into Photoshop and go wherever inspiration takes me. I mostly just use Photoshop, and Lightroom for final color adjustments.
The hardest part of these edits for me what the extremely short depth of field I work with when photographing eyes so closely. I have to really get creative and comfortable with the Photoshop blur filters so I can create realistic depth in the final piece. I've also learned a lot about reflections during the course of these edits. They've helped me understand more about making the lighting cohesive throughout different kinds of pieces.

– Nevan Doyle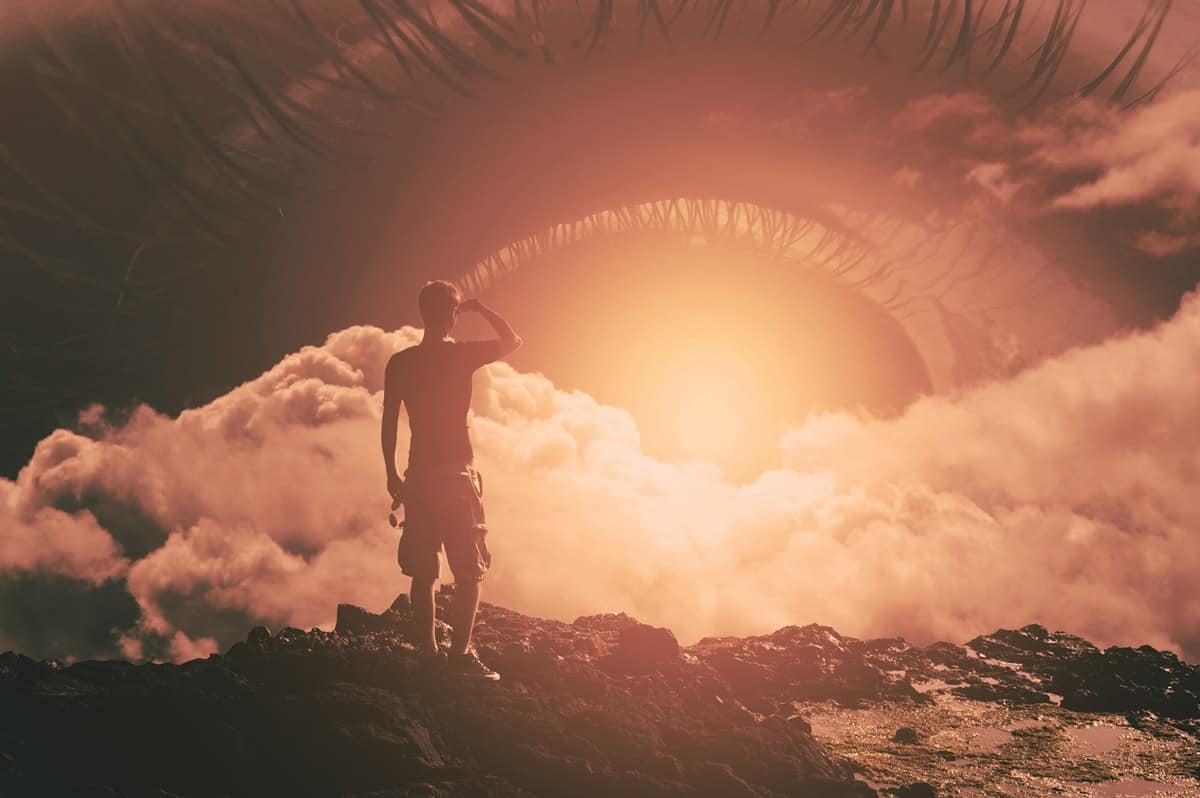 None of the works in the "Eyes" project were made for anyone in particular.They're just personal pieces. People seem to like them, however, and I'm always willing to do commission work, so I look forward to when someone wants to go in that direction!

– Nevan Doyle
About Nevan Doyle
Nevan Doyle is a graphic design student at Oregon State University in Corvallis, Oregon. He works at the design studio at OSU making posters and marketing materials, but on his own time, he does freelance design. He do many works for a variety of different people and companies but his favorite clients are people in the music business. He often make album artwork and apparel for bands and started out making digital edits for Instagram of pictures he took around his hometown of Corvallis, Oregon. After a few years of stumbling around, learning new techniques, and connecting with some really talented people, he's excited to have a brand of his own and to be on his way to do what he loves for a living. You can find more of his works on his Behance profile or website.