An underwater wedding photography is something challenging yet fun for both the model and the photographer. Let us take a look at these photographs which were taken for couple who are art lover at the same time. Read on and enjoy!
This project was made for an art-loving couple whose wedding we photographed just two days before. It was planned as a "trash-the-dress" or "drown-the-gown" shoot, but the bride, Fiona, decided that she would love to use her mother's wedding dress instead. Not only was it sentimental in that respect but the lacy fabric of the dress was also perfect for the delicate approach we took.

– Ilse Moore
I spoke to the couple prior to the shoot about possible ideas and as two deeply spiritual people they wanted to incorporate aspects of their faith into the artwork. We decided to create an artwork for them where they held each other tightly as they fell into the water or rather "fell into life" together. After the short session where Fiona's husband Jeremy joined us, I spent some time with only Fiona to create another series of dreamlike images of her floating and gently "dancing" with the water.

– Ilse Moore
Minimal editing was done to the images and I loved how the water moved and carried her as it highlighted the delicate lace. We did the shoot at night against the pool's natural faded cement background. To create the look of a natural body of water with its gentle and perhaps gloomy green cast, we attached a series of warm lights to a lighting rig we built over the pool. Falling Into You talks about being held and carried by someone who you can surrender to and be completely dependent on for keeping you safe and loved. It's a subtle reference to their relationship with God. For any shoot we do it is important for us to create something that will have value to the client and in this case it was great to work on a project that will have such meaning to them.

– Ilse Moore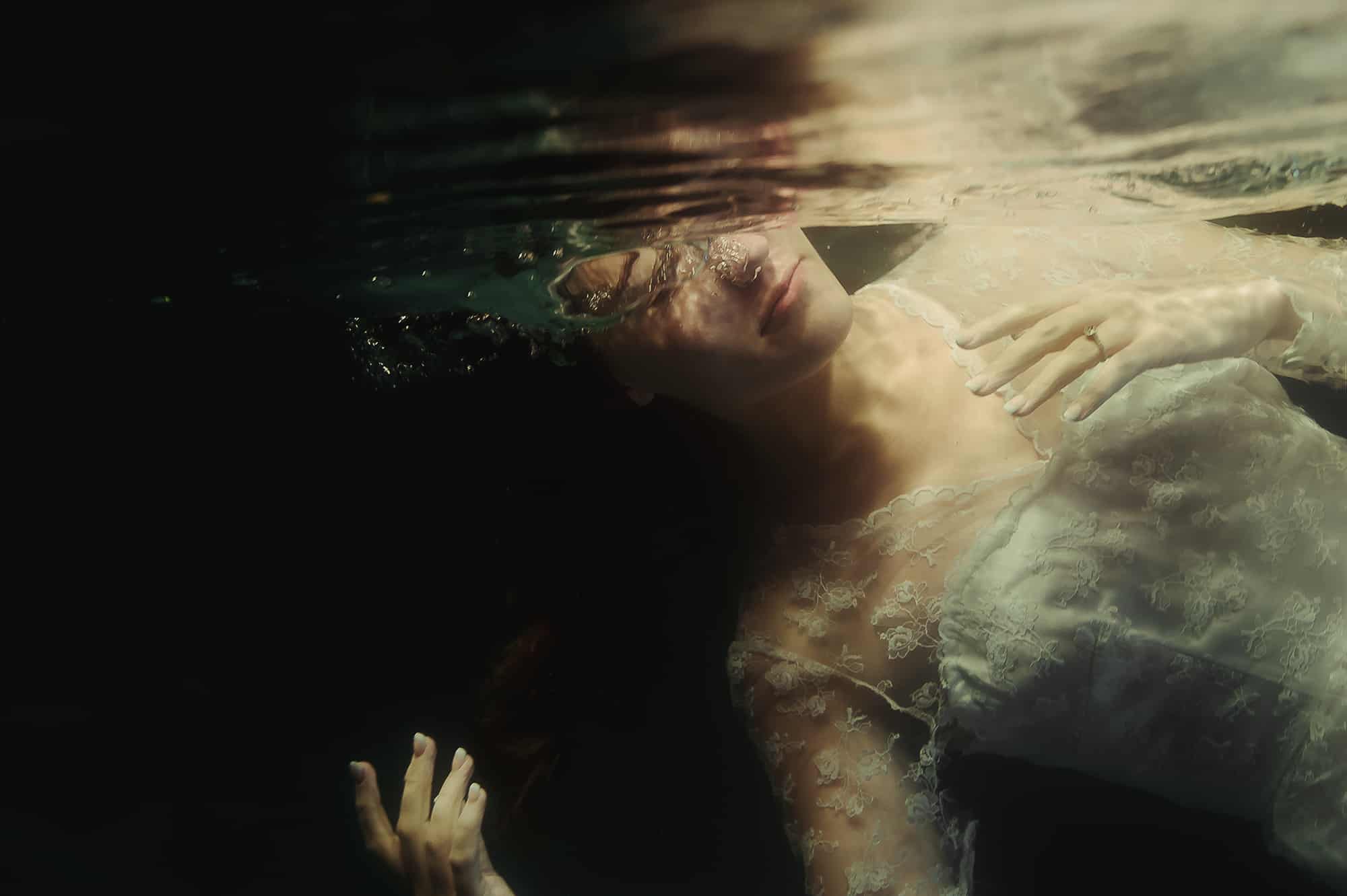 I used my Nikon D4 in a custom built housing and a 50mm lens in order to create the extreme bokeh on the waterline. For wider shots, like the image of the couple falling into the water, I like using a 16mm fisheye lens.

– Ilse Moore
About Ilse Moore
Ilse Moore is renowned in South Africa as an underwater fashion, portrait and fine art photographer. She grew up in Deneysville on a yacht club and has always had a great love for water and watersport. Coming from a creative family, her love of art finally blended with her love of water though underwater fine art images. You can find more of her works on her Behance profile or website.