Today's feature is about a Lithuanian food delivery company called "Food Out". This project includes several items such as basics: business cards, invoice, fun T-Shirt design and the printable version of 100 restaurants menu that will be distributed all over the town. Read on and enjoy!
The brand represents itself with a cool and youthful feeling and this is what I tried to bring in all the items I created. All the designs I created stand out by their simplicity. Less is more. What makes it stand out is the brands colors which are red, yellow and black. These colors are good for making bright contrasts in the whole project. Of course it is important not to over use it and find a balance between these three colors. Which think I managed to do.

– Milda Čepulkauskaitė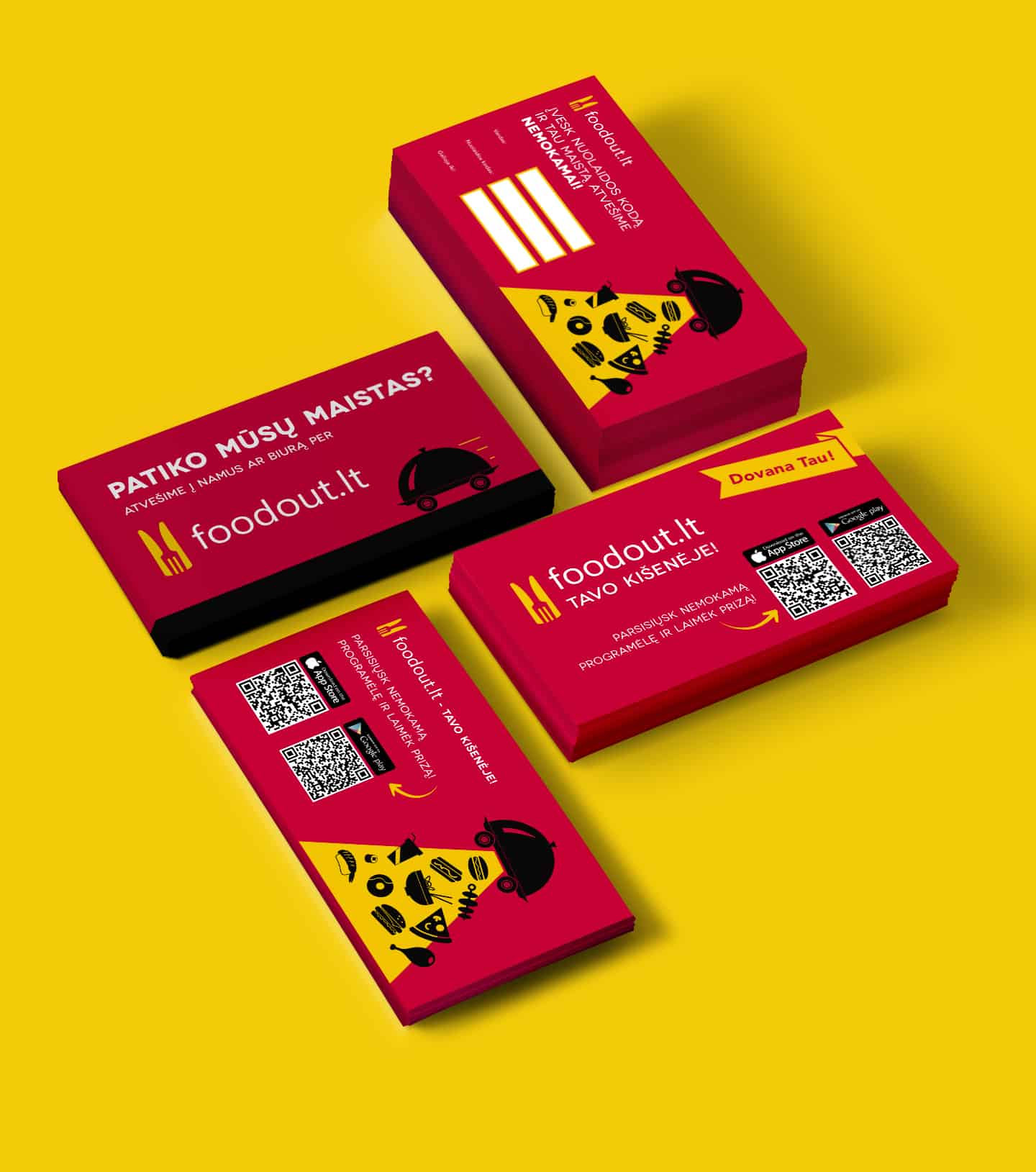 The cover of the menu is a photo that reflects the wide selection of the dishes that can be brought to "Food Out"users in Lithuania.

– Milda Čepulkauskaitė
The contents of the menu is divided by kitchens: Italian, Japanese, Chinese food and so on. Each of them are represented by different icon.

– Milda Čepulkauskaitė
The second page of the menu includes a little info graphic describing how easy is to get the food delivered by this company.

– Milda Čepulkauskaitė
The T-Shirt in my opinion looks very cool. The serving dish – UFO was created to go with the whole vibe of the brand. It covers food and delivery in one image.

– Milda Čepulkauskaitė
About Milda Čepulkauskaitė
Milda Čepulkauskaitė is a 27 year old graphic designer living in Vilnius, capital of Lithuania. Her first introduction to Photosohop was when she was 16 years old when her friend showed her a "cool new software". Since that day, she never let it go. She specializes in logo design, branding, web design, print design and recently started to work with video software as well namely the Adobe Premiere and Adobe After Effects. She is a proud self-taught designer and she learned everything throughout her experience. You can find more of her works on her Behance profile or website.