Ford WRC RS160 Concept by Ken Nagasaka
At this point, Ford has only been sitting out WRC for a couple of seasons but there is one such person who already really miss the blue oval. This person is Ken Nagasaka, a designer who dreamed of a car that would bring back Ford to WRC. It is called the Ford WRC RS160, his concept takes all the features of a rally car. Read on as we bring you his Ford WRC RS160 concept in this article. Enjoy!
The goal of Ford WRC Concept RS160 is to stimulate the potential market by introducing new type of affordable hot hatch and appealing in WRC. It will also contribute to enhance Ford Brand in the compact car market.

I approached from three aspects, which are competition in WRC, consumers in the market, and applicability to video games. Those are necessary to be considered to achieve the goal.

For the best performance in WRC, this vehicle has following features.

Ideal mid-ship engine layout (1.6L inline 4 cylinder turbo engine by WRC regulation). it helps to realize the aero-efficient proportion and the best maneuverability.
Wings are integrated into each fenders which create down force to each wheels effectively.
Efficient cooling system (Radiator in the front, and turbo intercooler is in the roof end)

For the consumers and spectators, style is very iconic and memorable enough to get attention from potential consumers. I put some new light weight sports image that looks athletic and agile, not just like muscle high performance super sports. Functional parts are visualized by the accent blue color. They are unique to entertain spectators.

On the video game, it stands out and characteristic to attract players. There's room for replacing parts and customizing color coordinations as well.

Tools

Sketch: Photoshop
3D software: Autodesk Alias
Rendering software: Keyshot
Physical model: Resin

- Ken Nagasaka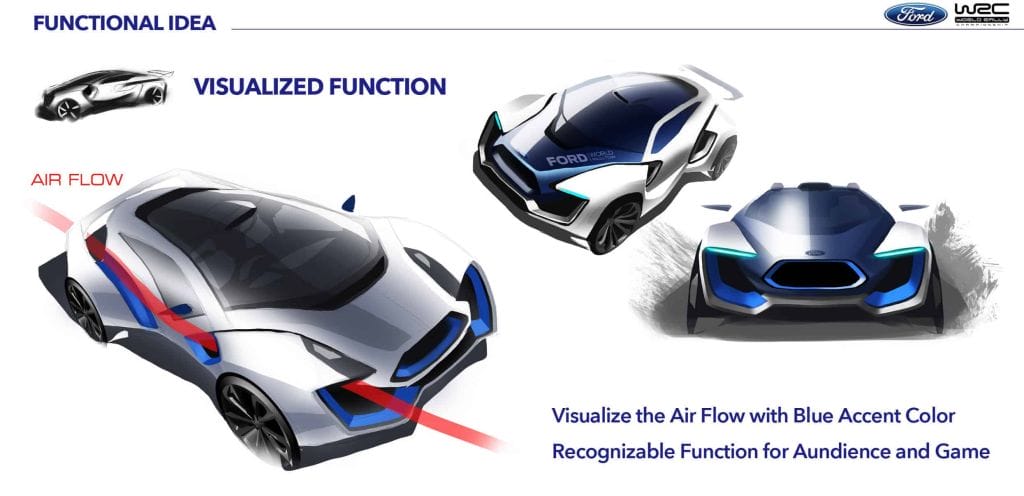 About Ken Nagasaka
Ken Nagasaka is an automotive designer currently working for Toyota in Japan.  He majored in industrial design at Chiba university, Japan. Also, he participated in transportation design major at Art Center College of Design in Pasadena, California. You can see more of Ken's works on his Behance profile or website.