GLPA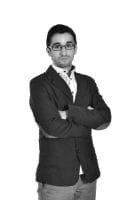 Gabriela Lizette is a Mexican psychologist who focuses on the important role of the parents and the professors in the education of the children. The objective was to realize a logo and a complete visual identity allowing to reflect elegance and strength at the same time.
My client had a personal logo as monogram of his initials G-L. The idea was cool, but the logo was the only thing she had. So i decided to rebrand the logo and work on the whole design. Speaking with my client, i understand quickly that minimalism was the accurate design for her.
I focused my work on the typography (choosing a Didone style) and make it the heart of the project.
The color i needed to use was the purple. So, i worked on a light purple that can fit perfectly with the elegance of the typography. On this beautiful purple, i used a gold color for the type to reaffirm the elegance of the project.
I always start my works on paper. It's the easiest way to express my ideas. After several logo explorations, i understand that for this project, simplicity was the key. That was in this moment that i decided to work only with typography and not with a pictogram or symbol. When i show my first proposition to my client, she was directly agreed with the way i took.
The feedback i receive is positive and they understand my work. When people look to the project, the are identify my client even if they don't know her. She is simple and strong at the same time. And i'm very happy to managed to get the message across.
The most important thing i learn from this project is that simplicity is elegance !
For me, a beautiful single logo doesn't make the whole design. It's like putting the Eiffel tower alone in the desert. It's beautiful but it doesn't make any sens.