Research shows that most people cannot stay positive when they are in HIV positive. So, today's feature is a design for HIV campaign that will help in educating the society about HIV. Let us take a look at Edward Yong's artwork in this article. Read on and enjoy!
This is my degree program final project and its call HIV Awareness. According to my research, most of the people can't stay positive when they get HIV positive because the society is misunderstood about them. This project I'm trying to create a campaign to educate the society, let them have a general knowledge about the disease and encourage them to give support to the patient.

HIV positive patient need care and friends from the society and hug is the easiest way to deliver the message. The campaign logo is inspired by this simple movement, and merge with the iconic HIV red ribbon and love.

– Edward Yong
For efficient communication to the public, poster and billboard is designed by strong typo and simple image to deliver the campaign message and event detail.

– Edward Yong
Event booth is design to easy people visit; leaflet is carrying the basic information and message we need to deliver to the society. Peoples can redeem free gift in this event once they show out the QR code in the smartphone app, or finish listen to the short event introduction by the event staff.

– Edward Yong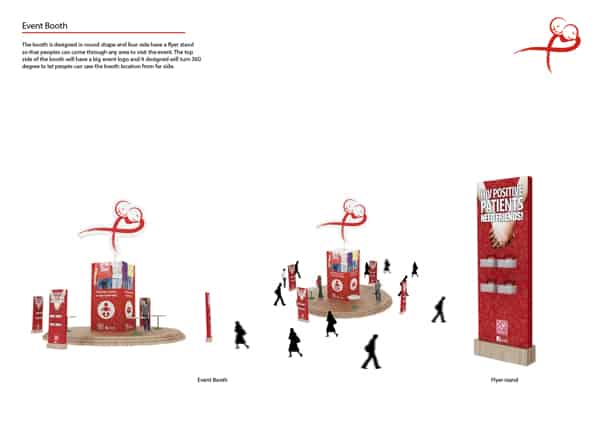 Facebook fan page and smartphone app is created for easy people get news and information from us. Smartphone also allow user to make donation to the World AIDS Fund anytime and any amount they want.
– Edward Yong
About Edward Yong
Edward Yong is a young designer freelance wedding photojournalist from the land below the wind Sabah, East Malaysia. Currently, he is based in Kuala Lumpur, working with one of the Malaysia's pioneer level graphic designer. You can find more of his artworks on his Behance profile or website.