Today's feature is not just the usual photography style that you will see. It is more on having a sacred theme with a dark twist. It is about a dark Holy Mary created by Richard Terborg, a portrait photographer. Read on and enjoy!
I met Viviane many years ago when we were added to a project together as photographer and stylist by a designer friend. The project never launched but we always kept in touch to see what each was doing. So at some point after we few years we both said: "Why don't we ever shoot???" This started a 30 min brainstorm through Facebook chat. We both wanted something very stylized. She suggested something like a "holy mary"? Then I came in and suggest something darky holy mary. And the idea was born: "The Holy Sinister Mary".
"Never burn bridges. If you meet someone interesting and a project cannot continue with that person. Keep in touch. Keep looking what that persons up to. You never know when your paths may cross."

At first we had some issues getting the shoot to launch. The night before the official shoot, the model/stylist had a little accident and fell from her bicycle and had a big head injury. Yes, this can happen to anyone. We had everything built and planned and a team ready to rock, but we had to cancel everyone. Took a deep breath, regrouped and re-planned. It took another 2 months before we could actually shoot it.

"Things don't always go your way. Don't get discouraged, don't give up. Keep trying until you do what you wanted to do."
– Richard Terborg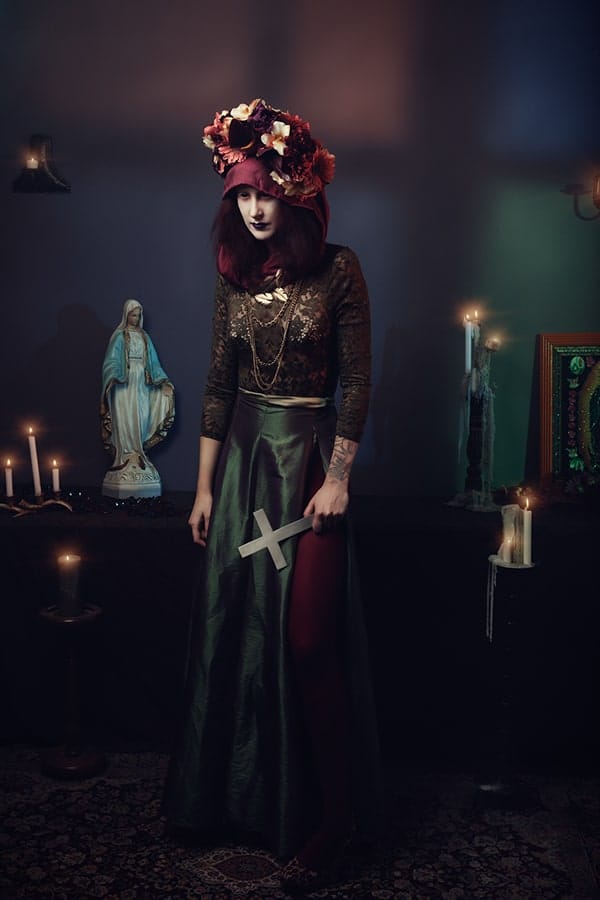 The Idea
As soon as we had the boundaries for the shoot – a "Dark Holy Mary" – my brain could start filling in the pieces. *building a box to think in isn't always a bad thing. My mind automatically went to something I've wanted to try for ages: building a set with stained glass/window. I've hitchhiked through Europe a few times and always visited old churches. I just love how the light hits the stained glass to form a marriage of colors inside of the church. So it was on to building one, because I couldn't find a window cheap enough or transportable enough. And I couldn't find a church to shoot in. If I cant find it, I build it!!

I got out some polystyrene, my wife and a knife. And she started cutting out little windows in the poly. Then we stuck some translucent foil and gels to the little windows. And I had my stained glass window. This is what we call a GObo. (Go between object, it goes between your flash and subject or background in this case). On to the rest of the scene.

All this I was communicating back and forwards with the team! By this time I had seen the styling as well and knew what color palette the stylist was using. So I decided to build my set in the same hue she had her clothes in. This, because we wanted that stylized look. I went to the paint store and got some soft deep purple color paint and painted the walls.
On the floor I had a piece of carpet I once bought at a thrift shop for another project. It has kinda of a holy feel and was the same tone as my backdrop so we left that in. Lastly, I wanted some height in the scene. So I rolled in a table and threw a baroque style cloth over it. Trying to keep everything in the same color palette. Besides the design of the set, I needed props to fill it. So out went the casting call on my Facebook- looking for anything holy! Crosses, paintings, statues and I got a few hits back. Went out to get those.
– Richard Terborg
The Light:
This one was interesting. In the first shots I had the Elinchrom ELC 1000 left of camera up high tilted down. With the Rotalux 100cm Deep Octa in front of the model.
Camera right had the stained glass, behind it a Elinchrom RX One to shoot through it bare bulb.
Camera right also had a Rx on with a small Portolite 60×60 softbox. I love these little guys for an extra fill. But don't really like using them as main lights. Almost no control in the light spill.
Here are the lighting diagrams for this shoot:

So after shooting a set with this setup, I wasn't really satisfied. I was missing the ambience. I know the ELC has a killer 300watt modeling light in there so I switched that on and turned off the Skyport Trigger. And after firing one shot, I was sold! So I changed the white balance on my camera to counter the yellowish feel of the light. This doesn't matter much when shoooting raw, but I like to see it on my display. So I switched on the rest of the modeling lights and we had instant ambience with all the candles. The rest of the shoot was a mix of ambient light and flash light.
– Richard Terborg
The Gear
Elinchrom ELC Pro HD 1000 – Fotoflits – Rest of World & Check out my Review
Elinchrom D-Lite RX OneNL – Fotoflits – Rest of World & Check out my Review
Rotalux 100 cm Deep Octa – Fotoflits – Rest of World
Rotalux 175 cm Deep Octa – Fotoflits – Rest of World
Elinchrom SkyPort Trigger
Canon 5D MK2
Sigma 50mm F1.4

The Team
Set Design/Photography: Me
Photographer Assistant: Jobke Rensen
Styling/model: Vivian Kramer Gezegd Freher
Assistant Styling: Anne van Driel
Makeup artist and hairstylist: Jet van Dijk
– Richard Terborg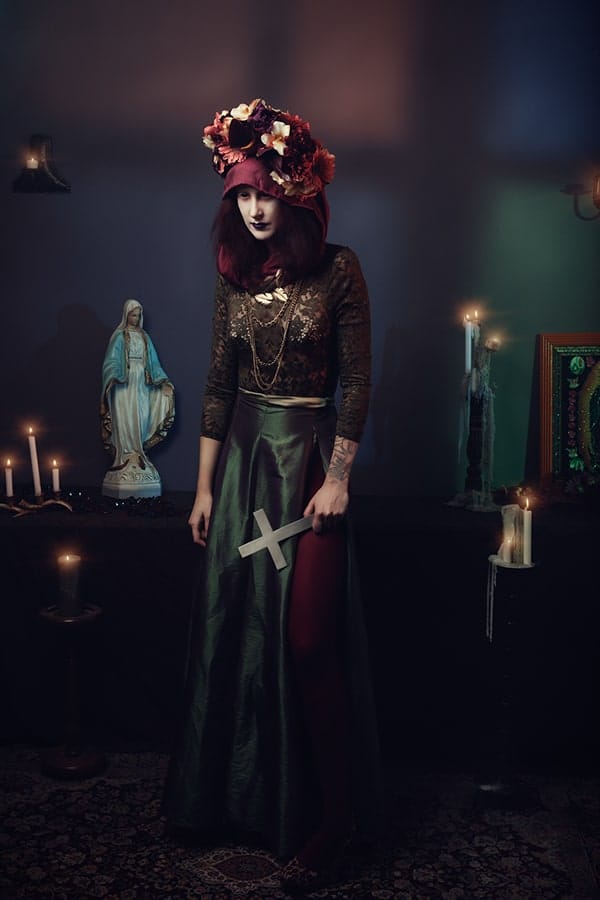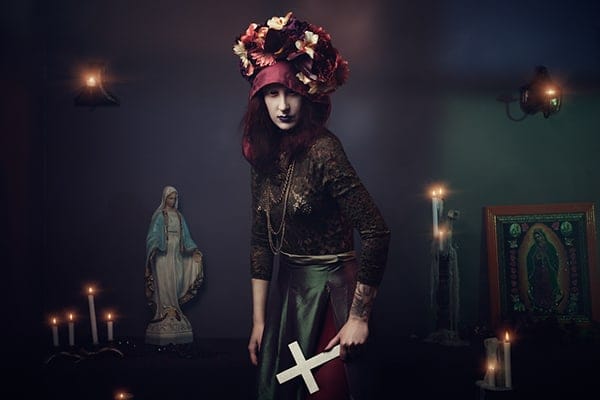 About Richard Terborg
Richard is a Conceptual Fashion, Portrait and Fine-Art photographer. His background in media and design helps his overactive brain keep up with the many things he does at the same time. Add a drive for getting people to 'stop talking and start doing', and you've got Richard Terborg in a nutshell.
His experience as a multimedia engineer gives Richard the sharpened ability of finding the most creative solution to every problem. By specializing in everything the media world has to offer, he taught himself the art of multitasking several ventures at a time… and rocking them.
Immersing himself into the world of photography is no different. His growing affinity for directing, producing, casting, arranging models, building sets, collaborating with other artists, to shooting and post-production makes continuously learning and growing within his craft a force of habit. His unconventional mixture of evocative and editorial photography makes working with him an experience you take with you on all your endeavors. Not to mention his highly contagious energy that will make you feel on a caffeine high without the caffeine.
However, a camera is just a camera. The people/clients he connects with and their stories are the drive behind the popularity of his work. High engagement with every person behind the camera makes the work in front of the camera seem effortless. The core of what he does goes beyond taking a photo: he tells a story through his images by bringing people together and motivating them to collaborate and create.
You can find more of his works on his Behance profile or website.