The initial idea of the project, was to design a 300 square meter family house of four bedrooms, living room with fireplace, dining room, kitchen, bathrooms, utility and an open garage. The main concept was to create a space that has a simple shape with sights, which make the surrounding landscape merge and become one with the building.
The two-storey white façade with black-framed windows residence, has a geometric shape, providing thus a pure and modern look. It has a solid relation with the nature with large openings, terraces and the big yard, making the transparency flow and reflect into the house itself. The purity of the exterior lines are carried also into the interiors, which makes the house have generously-sized interiors defined by an overall minimalist style, all optimally connected to the outdoor. Although the house is simple and clean in its shape, the wood in some parts of the facades and wooden decks in the yard, makes it look cozy giving the house a warmer and comfort appearance. The large openings maximize the amount of sunlight exposure, bringing a natural atmosphere to the inside. Trees in the yard keep the residence surrounded by vegetation which make shades and in the summer create freshness by blocking the solar heat.
Another significant part of the residence is the glass structure which rises from the ground floor to the top of the house, which is a cube extracted from the volume of the residence, forming an inner garden that gives life to the interior of the house. Also from the outside the glass structure breaks the flatness of the house as a design element.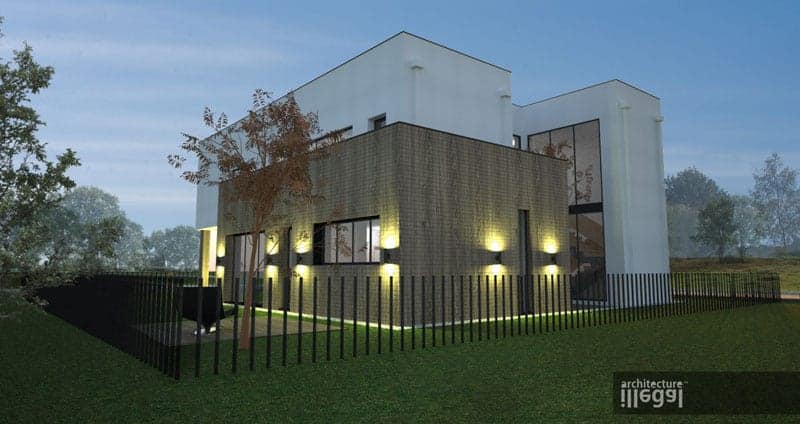 The interiors provides a relaxing, calm and spacious environment, incorporate only the primary and required functions. The hallway that leads to the elegant wooden stairway, provides the element of mystery and surprise in the entrance, making the entry more dynamic by separating the entry area with the living and dining area. The lower level provides a big living room, followed by the kitchen, dining room and the fireplace all together, making it a common space with the perfect views to the back yard. Also the lower level situates the bathroom and the technicality room near to the open garage. While the first floor has the master bedroom offering the bathroom and wardrobe, three other bedrooms and a bathroom which encloses also the utility. In order to emerge connection to the nature, the master bedroom has a terrace and each bedroom offers expansive views to the surroundings.