Howe Farm
This is a side project I made as an exercise and to deepen many aspects involved in modeling / lighting / texturing. Some modifications were made to the original project, just to have fun with furnitures and vegetation.
Howe farm is a new farmhouse in Buckinghamshire. The entire project is focused on quick construction and efficiency. The house is built using a combination of modern methods of construction together with traditional building methods for cladding and finishes. In response to the local farm buildings the house is clad with black stained larch fixed board on board. The farmhouse has been designed with an open plan living, dining and kitchen space that opens out to the farm with views to the rolling countryside.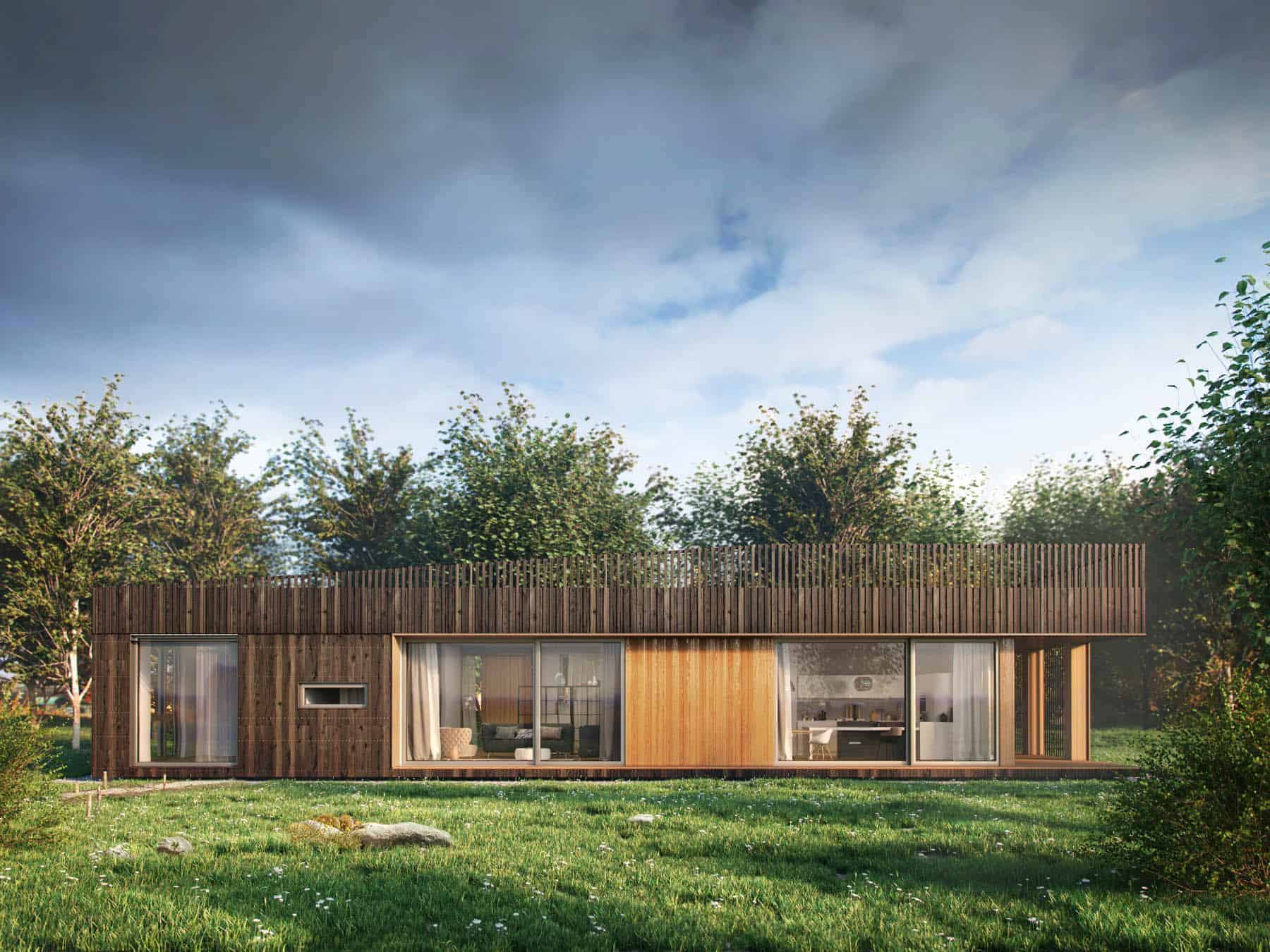 Diving into the observation and photographic analysis of a building brings us to really feel its essence, especially when we have pictures that portray it over time, as the weather conditions change. For me this is a continuous way of observing reality. I appreciated the details of this project realized by IPT Architects and I found the building very inspiring.
Starting by imagine it placed in a different natural environment and in different lighting conditions, the idea of ​​recreating this environment comes from the desire to deepen the lighting process and the creation of materials for wooden surfaces.
For this project I used 3ds Max as modeler and Corona as render engine. For the modeling part, images of plans and sections were used as guidelines, then following the photography, detalis were added progressively. I usually start with the structures, then add partitions and finishes, just as if I had to really build the building. The interior furnitures are a mix of custom made models and commercial models. I had fun styling the interiors differently from the original project.
For the vegetation scattering I used Forest Pack, playing with various preset and placing some extra models. I wanted to immerse the building in the vegetation. There are different levels of vegetation, you can find short grass, mid-size bushes and tall trees, all placed in a specific position, in order to create nice contrasts with shadows.
The lighting part was the more interesting to me. I started with a standard sun/sky system, then switched to various combinations of lights to have more control on the mood. In the end I finished to add an Hdri image to get more vibrance in the scene. Exploring and making comparisons was a great way to experiment with exposure, colors, contrasts.
Lighting and shading come almost concurrently for me, so once choosed a lighting mood the process is to find the right balance between materials complexity and light properties.
Some post production comes at the end, but non so much in this case. It was just some levels and curves adjustment.
The feedback that people have given about this project has been incredible, I received many praises. my greatest satisfaction is having inspired with my images. I believe that this kind of approach, this way of going deep with details and mood is the better way to learn and to communicate emotions.