Initially brainstormed and designed internally at ECR Software Corp. My task as in-house designer was to create this website experience for Ignite 2016 Retail Success Conference. Originally this was made up as the primary venue for an Industry-Specific Conference geared to Retail leaders, executives, decision makers and visionaries who use ECRS' Retail Software System, Catapult® and products. Here I present to you the principal conference website for Ignite 2016 Retail Success Conference which provides ECRS clients with enlightening, refreshing, and empowering insight into solutions for optimizing retail performance.
The brainstorming process began internally with ECRS Marketing, by establishing the goals, moods, and aesthetics that would make this a conference to be remembered and talked about for years to come by ECRS' clients. "Ignite" was chosen as the name of the conference as a metaphor for a new beginning, to spark new possibilities for our clients, principally the CEO's of the Retail Companies that use our software and to learn how they can better optimize their retail performance with all the available products ECR Software Corp has to offer and the insight from ECRS' own Thought Leaders and Individual Creators behind the products. The Mood of Ignite 2016 was inspired by the idea that this 3-day conference would be filled with enlightening, refreshing, and empowering insight into various solutions. This in turn is then reflected in the mark and colors used. The Typefaces used are Quicksand Pro for Primary Text and Roboto for Secondary and Copy text. White for the letters was used to create a feeling, a tone more-so that participants could expect to experience ⎯ a fun, modern and formal environment where they will learn all the technical prowess that ECR Software Corp has to offer to their loyal customers so they can optimize their retail performance.
At ECR Software Corp, we have a talented Marketing team with a brilliant marriage made up of a graphic designer, editor, and social engager. As Principal Graphic Designer on the project and at ECR Software Corp, most of the visual language of the conference was geared and lead by me, although all decisions were made as a team. Therefore, a ton of brainstorming was involved primarily using a pen and paper during the initial process. Once brainstorms were hashed out, concepts were created principally in illustrator evolving the original pitch ideas and visual language into a tangible, functional, and beautiful form. The design for the site did go through about 3 different versions before finally being established in its current form.
Software used was Adobe Illustrator for initial conceptualization, and Adobe CC's Muse and WordPress to create the final product.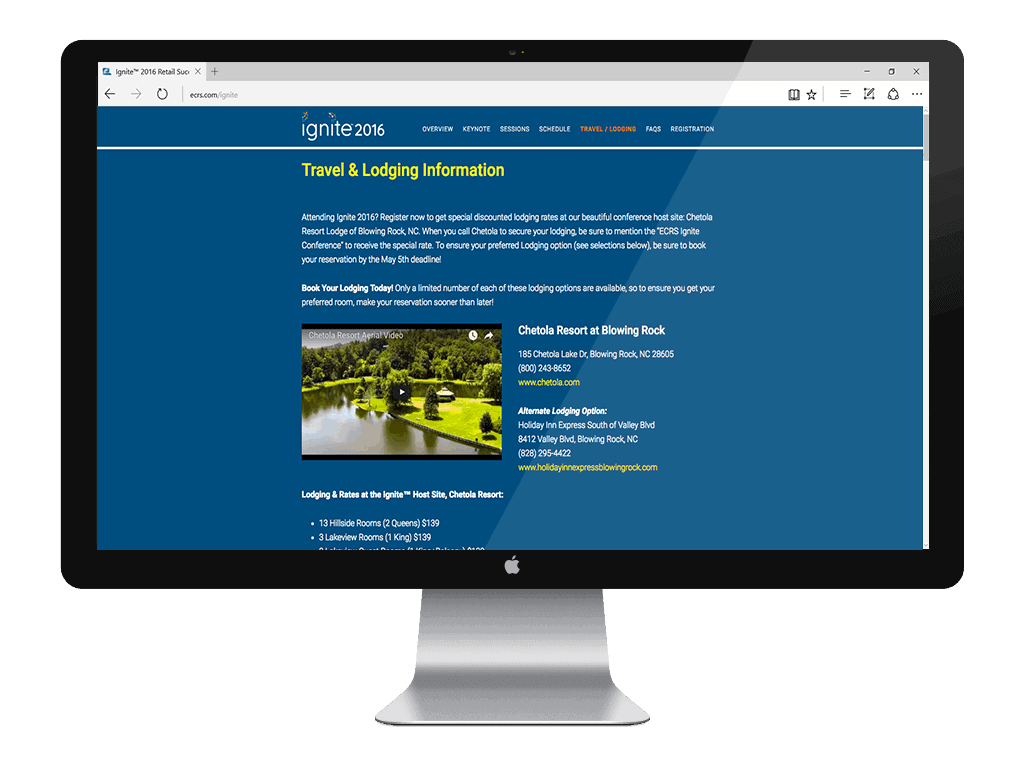 So far the responses from ECR Software Corps. clients and others have been a lot of stellar feedback and excitement to attend the conference which just so happened to be this week of June 13th-15th. Many Retail leaders, executives, decision makers and visionaries who attended this conference have responded that they can't wait to attend next year's Ignite Retail Success Conference.
What I've learned from this project was the experience of creating my first Corporate Industry-focused Conference, I've designed before an academic conference in the past and the feeling of creating the visuals for the whole campaign are both the same ⎯ Exciting and Exhilarating. Along with this the honor to be showcased on a site that's built to inspire fellow designers and creatives like myself.
Thank you for showcasing a demonstration of my work.
-Andrew Nelson-Redondo, Creator of A Design Studio