Looks like the Comic Superheroes are taking over the world! Recently, we showed you Batman v Superman. Now, it's Ironman vs Ultron! Juan Manuel Orozco's project is a new design inspired by the fight of Iron Man vs Ultron in the new Avengers Age of Ultron movie. He made this fan-art project for a poster of an exhibition charity Game Art and Music.
My project started with the recent activity in Florida Game Art And Music (GAAM) they make an activity every year for the charity. Last year, they invited me to be part of the GAAM fan art exhibition – the last year's theme was Final Fantasy and this year is the Avengers. So, this year I was part of the GAAM and I made this project for the fan art.
-Juan Manuel Orozco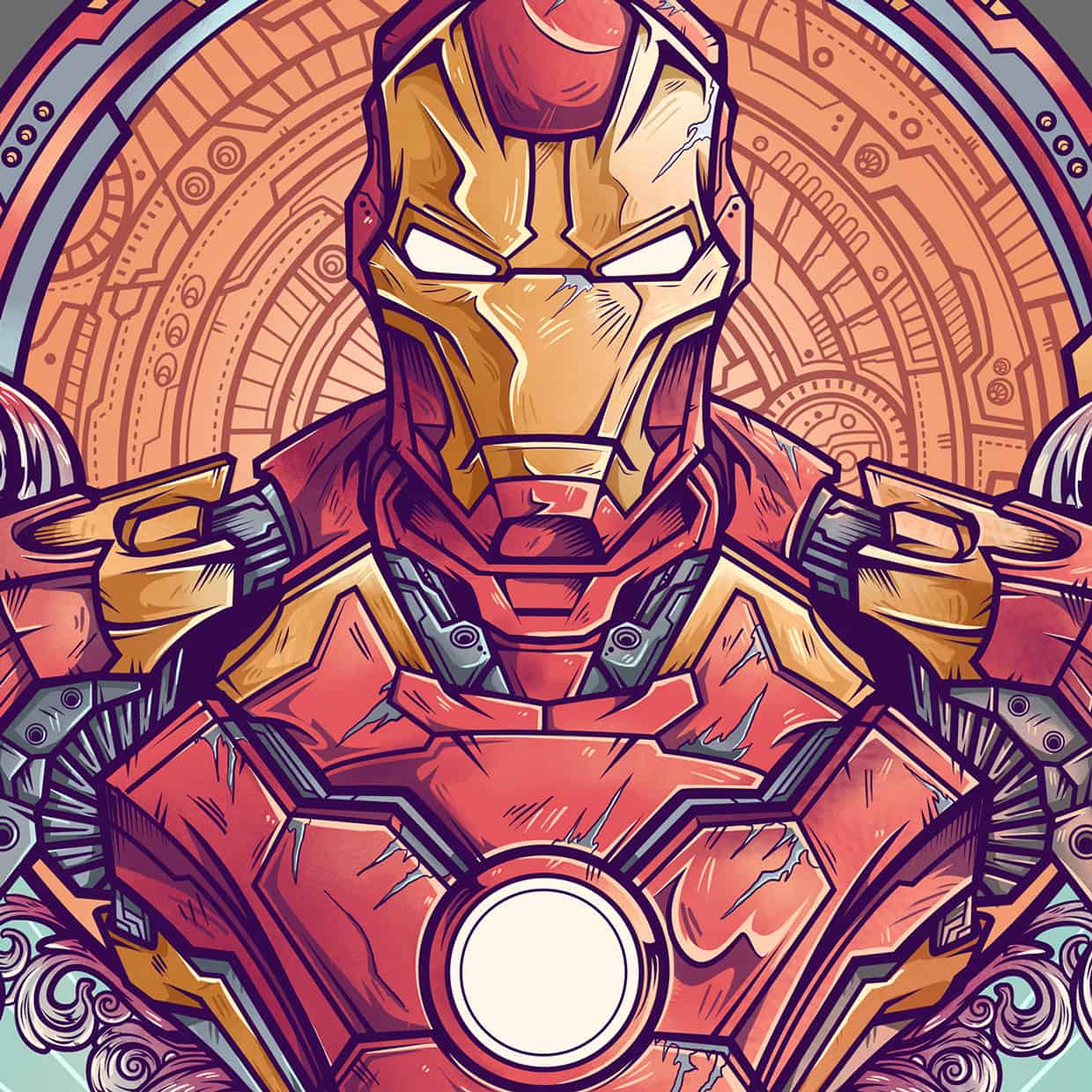 How did you come up with the design?
Well good question because at first I had nothing special in mind, was a little blocked because I didn't had clearly what I wanted and i had many ideas, so the process was after a few sketches and concepts I had in mind, until I found the spot with the idea and the concept that was the confrontation between the main characters in an opposite composition.
-Juan Manuel Orozco
I really love the tattoo style, the framed, art noveau and detailed projects. My style is like vector style illustrations, with a lot of details and colors, I really love make designs similar to tattoo compositions, with frames, ornamental stuff and really detailed.
-Juan Manuel Orozco
My best advice is work hard, practice a lot, investigate, make always ideas, make a good portfolio share it and receive feedback as well as the exposition using blogs, behance, websites of inspiration, graphic books among others, but more importantly it sounds cliché is to love what you do enjoy it, make plans and be in constant production is the key, what you need to do is create always projects , never give up and always try to improve.
-Juan Manuel Orozco
About Juan Manuel Orozco
Juan Manuel Orozco A.K.A JML2ART is a 23-year-old young graphic designer and illustrator located in the small country of Costa Rica. He is a young entrepreneur who grew up with crayons and brushes with a passion for the world of art, illustration and all the geek and gamer world. Video games became one of his biggest inspiration for his artworks. Juan Manuel has taken several courses in painting/illustration. Most of his knowledge has been acquired through practice and his eagerness to develop and improve his craft. Last year, he won the Behance Portfolio Review. Juan Manuel has worked with a variety of foreign customers in countries like Switzerland, USA, France, Brazil and others. He has worked with famous brands and companies such as Threadless, TeeFury, Design By Humans, Rage On, Shirtpunch and Juniper Networks. See more of his works at Behance or DeviantArt.