Let's go! Vilnius is an adventure walk for kids and teenagers to know the city better. The comic story is about two kids looking for their lost dog and going through some streets, churches and parks of Vilnius and on the way getting into some troubles. This was published with the collaboration of Vilnius tourism office and publisher "Aukso žuvys".
It's called "Let's go! Vilnius" because it's a walk through Vilnius. It's an adventure story and readers can also get some documentary information about some parts of the town. Two friends, Aiste and Simas are looking for their lost dog and go thorough streets of Vilnius old town, passing historical places and discovering legends and other curious parts of town.

– Akvile Magicdust
It was a commissioned work by Vilnius city council, tourism office. We worked together with publisher "Aukso Žuvys" on the scenario – we had to include certain historic places of town and it supposed to be like a route. So we built this fiction story around it. Together with publisher Sigita Pūkienė, we brainstormed what is the identity of this city. For example, it was and still is known for Jewish culture, so in one part jewish heritage – bagels appear; a few churches and ghost legend is told; a few famous characters known between citizens for their extravagance are woven into the story. My attention is always caught by writings on the walls and Cathedral square is not just historical part, it is also used as a spot for skateboarding… So we blended all these different viewpoints and got this integral story.

– Akvile Magicdust
Usually I work with acrylic paint but in comics there is a lot of corrections, like text changes and sometimes even scenario, so I chose to make it digitally, I drew everything with my wacom tablet. I grew up in Vilnius, I love and hate this city. I know all the corners of it and I like to spend a lot of time in the street when the weather is good. Drink a beer next to one of the 2 rivers running through the center, go on bike or skate. Just hang around with friends and eat ice cream in some of the forgotten small secret old town yards. Or wander in very old cemetery in the night taking pictures. I always prefer to go out to the street and do something in real life than stay at home stuck on facebook. So it's a bit about all that – going out and seeing what can happen.

– Akvile Magicdust
One of the biggest challenge was time. I had to work quick and comic is a medium that takes a lot of revisions. The last week before giving it to print I was working really long hours checking small details… and still I am not very happy with my work, I could be more finished. But maybe that goes with all the comics that I've made. I can't say how many revisions we made. I was constantly drawing and sharing the process with my publisher and we changed things many times, for the better result, clearly.
Another challenge was to find a "middle way" between the council and us. They wanted a bit softened, conventional version and we had to take some parts out.

– Akvile Magicdust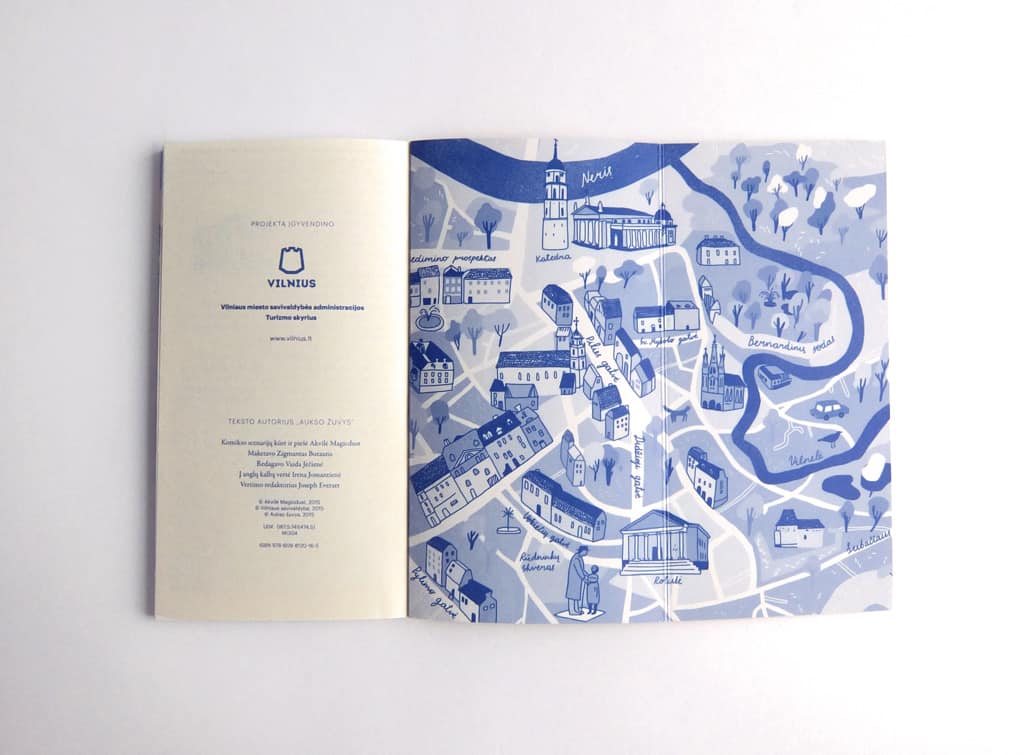 About Akvile Magicdust
Akvile Magicdust is an illustrator and comics maker based in Vilnius, Lithuania but differently from the reserved Nordic mood. She uses a lot of tropical colors. She sees her drawing style as naive but the stories behind these illustrations are not always so innocent. You can find more of her works on her Behance profile or website.