Jaqueline Vanek was represented by an agency called BDV Management till they sadly had to close. This agency represented photographers and models. One day her agent sent her this Swedish young girl, she was only 18 years old even if she doesn't look like it on these pictures. Jaqueline didn't have a lot of time to plan the shooting, just one single day, all came out very and it all came out spontaneously.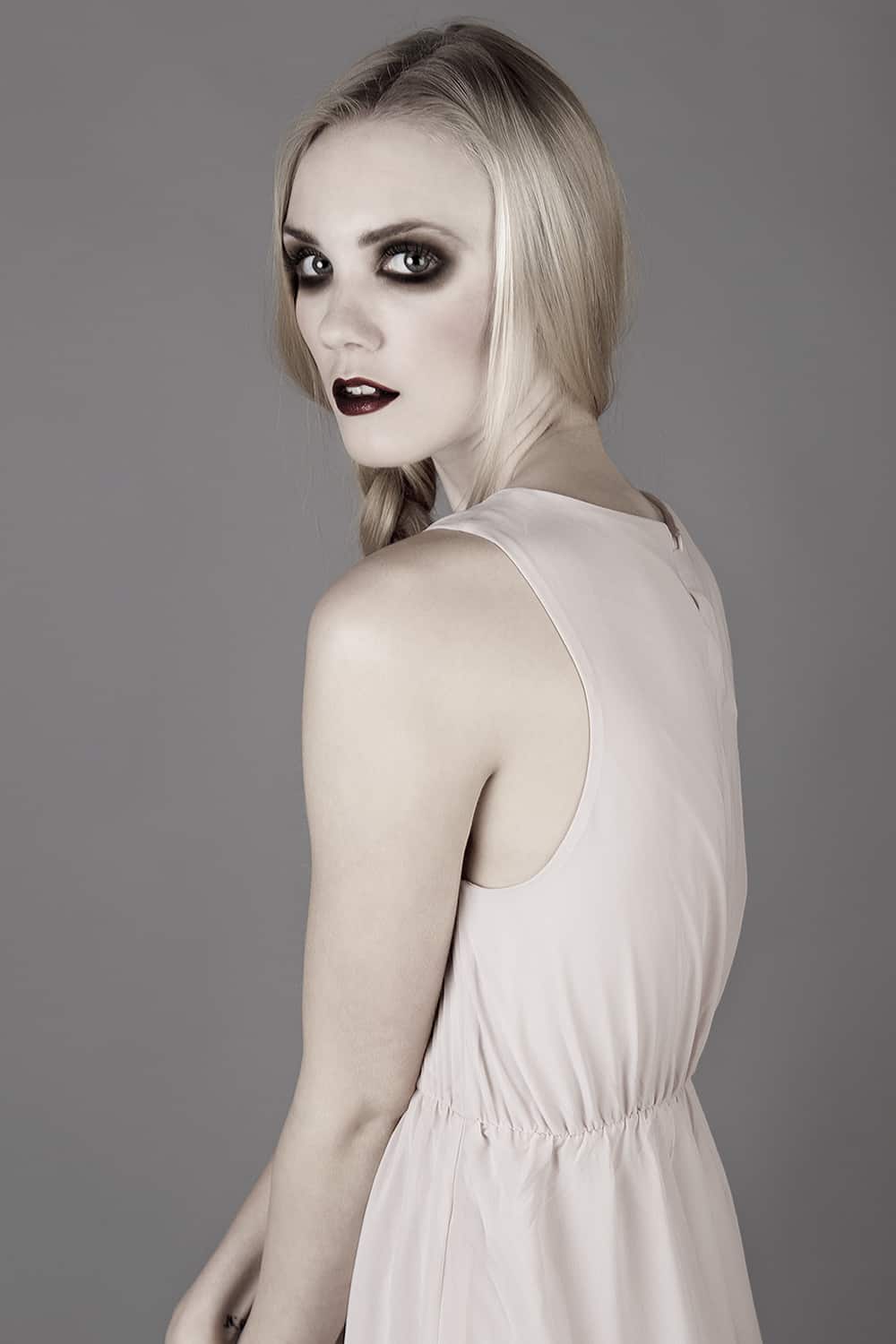 Same morning, some hours before the shooting, I was out for shopping and took with me the couple of dresses appearing in the pictures and in that moment all ideas for the pictures came across my mind. The pictures came out pretty interesting and we decided to give them a try to send them to some online magazines. Finally we had some luck and they were published one month later in an online magazine called hacidMAG.
-Jaqueline Vanek
I've never been into a lot of shiny and vivid colors. I love b&w photography and giving my pictures a could touch, let them appear kind of melancholic and/or keeping a dark soul. I mostly find my inspirations in music and life itself, also the Nordic design and fashion style is very inspiring to me.
-Jaqueline Vanek
Never try to copy others, never try to be someone you are not. Try to find your own style, the one you feel comfortable with and creative. And most important, the arty world is very hard one and needs a lot of work and dedication, never stop trying and insist to reach your dreams instead of giving up early.
-Jaqueline Vanek
Right now the camera I am using is a Canon EOS 1-D Mark IV and the lenses I use the most are Canon Zoom Lense EF 24-70mm 1:2.8 L, Canon Zoom Lense EF 16-35mm 1:2.8 L and Canon Macro Lense EF 100mm 1:2.8. But, when I took these pictures I used a very old Canon EOS 350D with a really bad standard Canon Lense 18-55mm, huge surprise that the pictures came out that nice!
-Jaqueline Vanek
Photography & Styling by JAQUELINE VANEK
Model EMELIE
Makeup & Hairstyling by JULIO ROMERO
About Jaqueline Vanek
I was born August 27th, 1984, in Villach, Austria, and I currently reside in Madrid, Spain. My creative studies began in 2003 led to Sculpture as a Senior Technician in Fine Arts, Casting and Moulding. In 2005 I became involved into the magical world of Photography ending three years later as a Senior Technician in Fine Arts and Artistic Photography and with a MA Degree in Digital Fashion, Portrait and Advertising Photography. At the end of 2011 I began my studies in Design with a MA Degree in Graphic Design, Web Communication and specialization in Art Direction. Currently I combine my work as photographer and designer with managing my own independent clothing brand Obnubil.