Mobile app "On The Wings of Angel" – make a child's dream real
"On The Wings of Angel" is an app we created for Christmas Charity Event in 2015. Since then, the app became popular in Ukraine, providing people a unique opportunity of easy way money donation. As for now we have decided to make the redesign of the mentioned app by 2018.
We know that nowadays people are full of doubts, therefore we made the donation more convenient and «red tape»-less. We have created avatars for kids, describing their stories and dreams. When you are scrolling the feed, you get a unique choice whose wish you would like to fulfill, donate in easy way and see how dreams are coming true!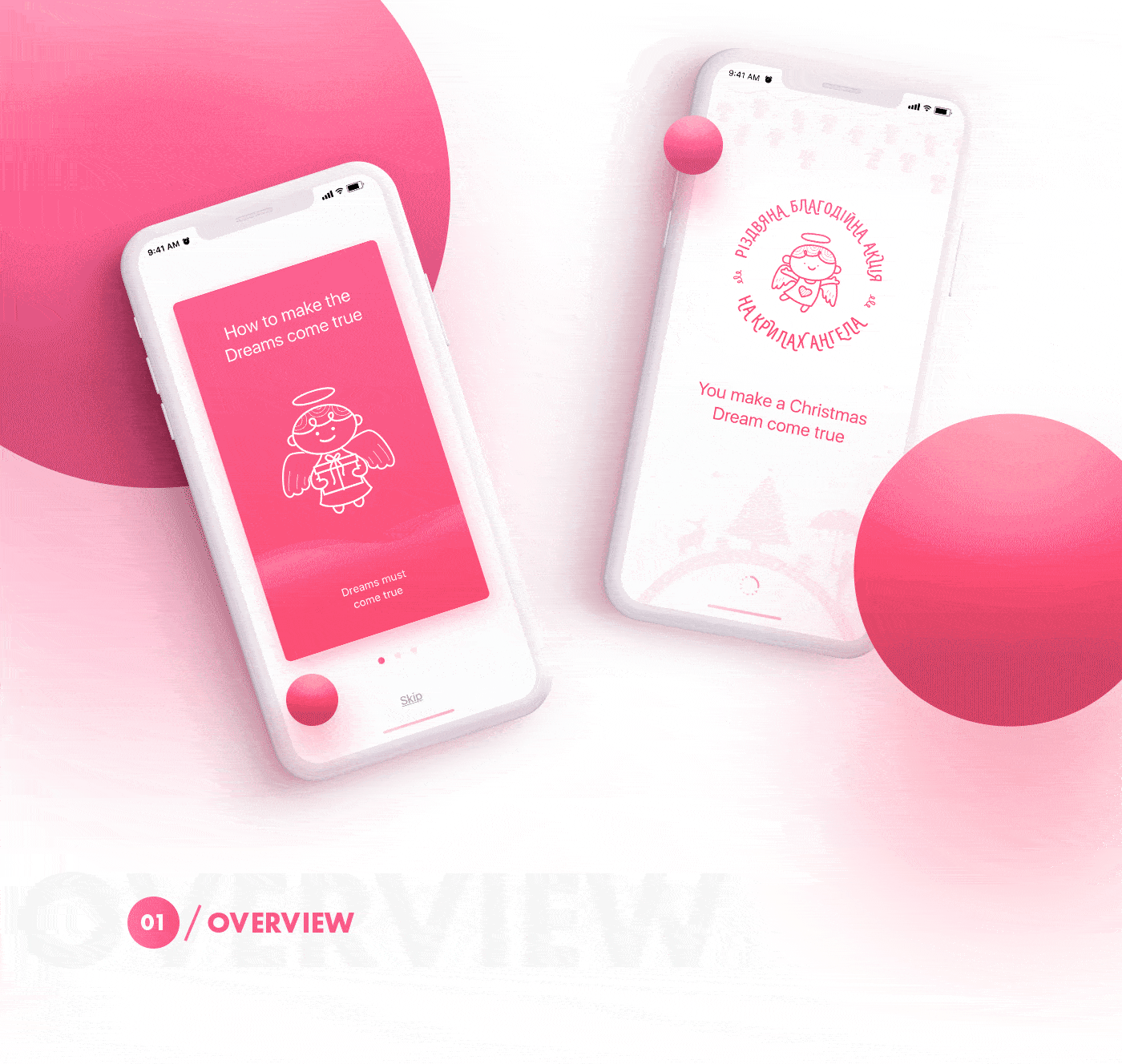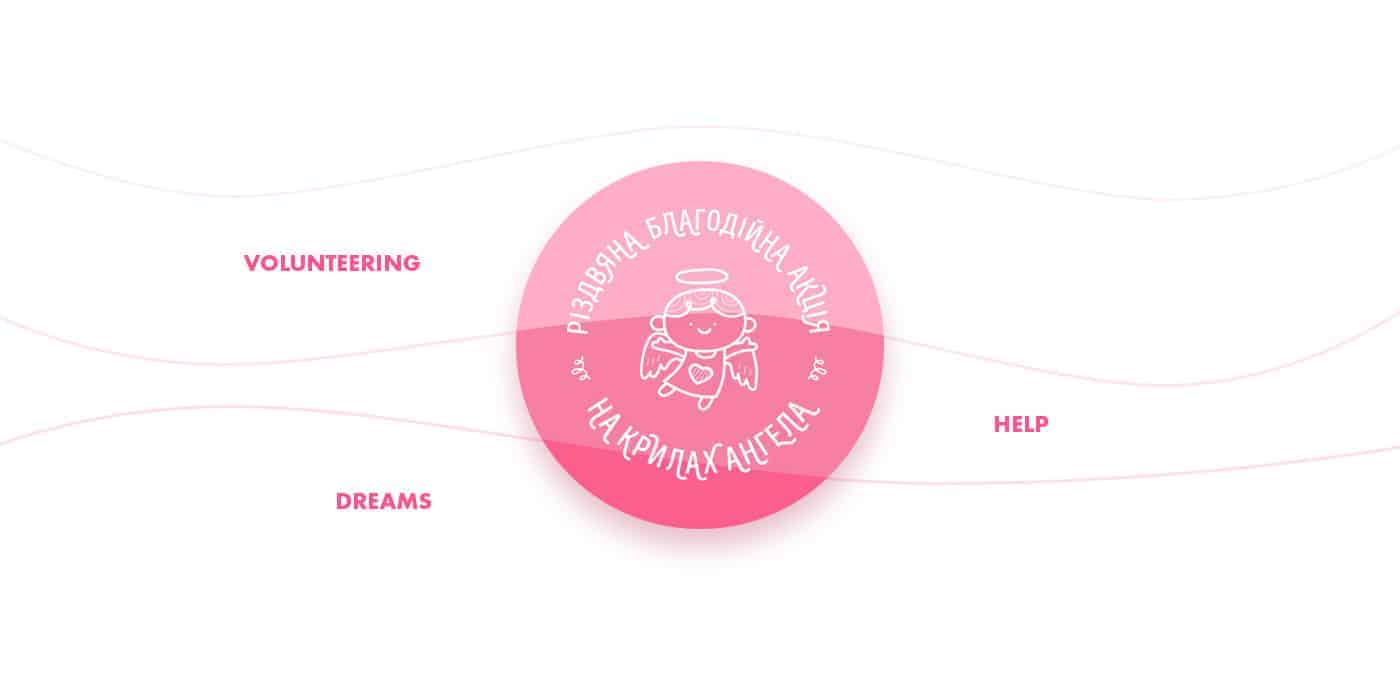 Many of us are willing to help people who are in need but there are a lot of difficulties to overcome. Our world is full of swindlers who are trying their best to take an advantage of indifferent people by raising money through fake philanthropic foundations. Also year by year due to our business and family routine it gets harder to have spare to check among hundreds of organizations how your donation will be actually used or take participation in any upcoming charity event.
Our solution has been created after deep market researches considering current demands, abilities and desires. We have developed the mobile application which makes a charity donation to be done within minutes. Availability of our app in Apple Store and Google Play proves that it is completely safe and certified.
As a first step we have created a "Mind Map" with high-fidelity prototypes which allowed us to study our researches precisely and as a result give an answer for such kind of questions as: "Is the app user friendly?"; "Are there any errors along donation process?"; "How easy the information about any organization can be found?"; "How fast you may find someone to make a wish true?".
We are aware how it is hard and costly sometimes to implement someone's dream within a single donation. Therefore, we took care that our users will be able to donate a 1 UAH as well. We will make dreams real with our common efforts!
If you want to be sure that app gives only positive feeling during selection, viewing or donation process you should provide good visual structure along. To achieve that we have developed contemporary and functional UI design. The app interface has been created with special, unique approach. We used tender shades of red and pink colors as the app expected to be used in time of Christmas. To bring special holiday mood we have added adorable Christmas illustrations as well. The app icons are not only matching with the overall design but also remain its usability.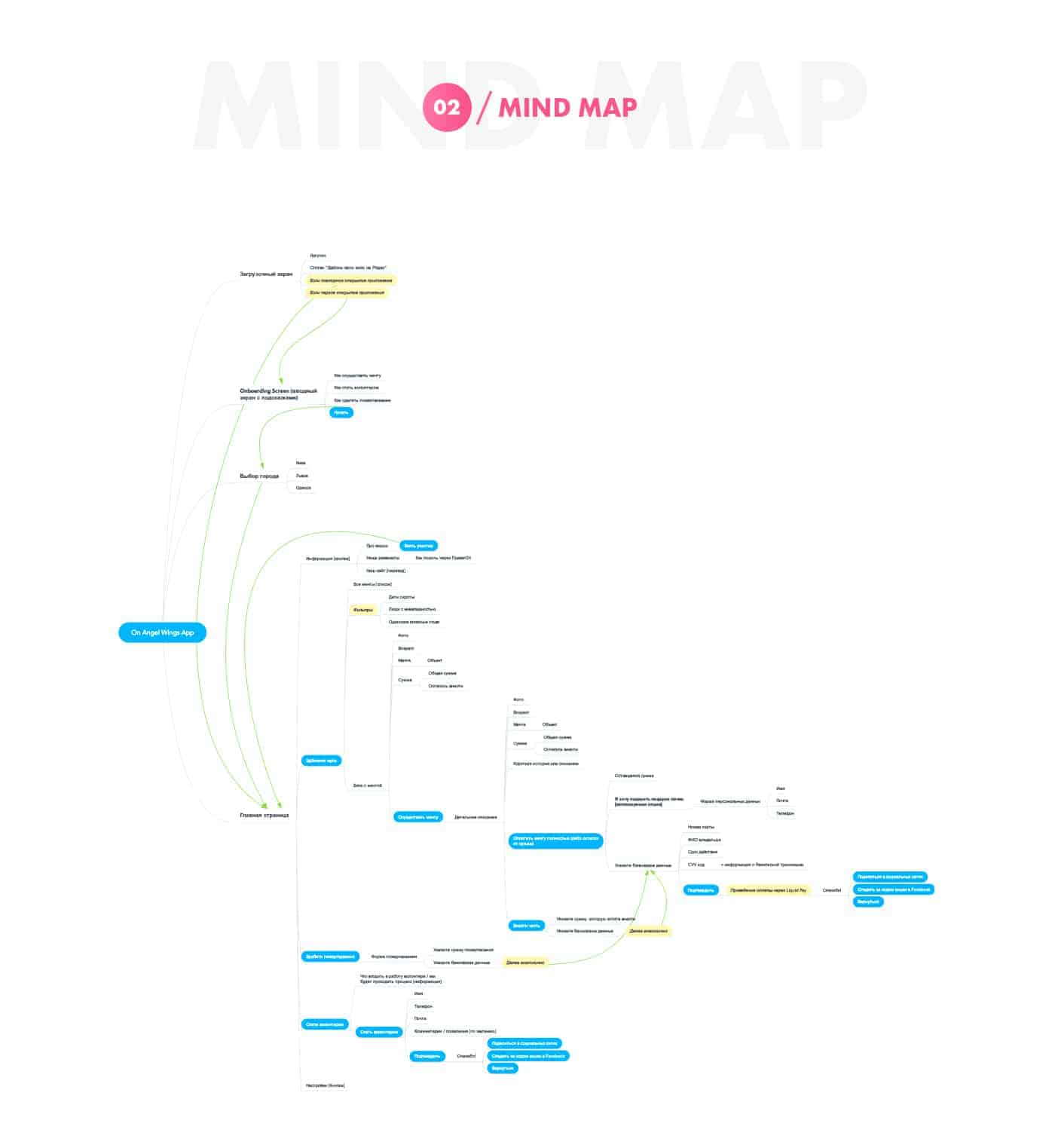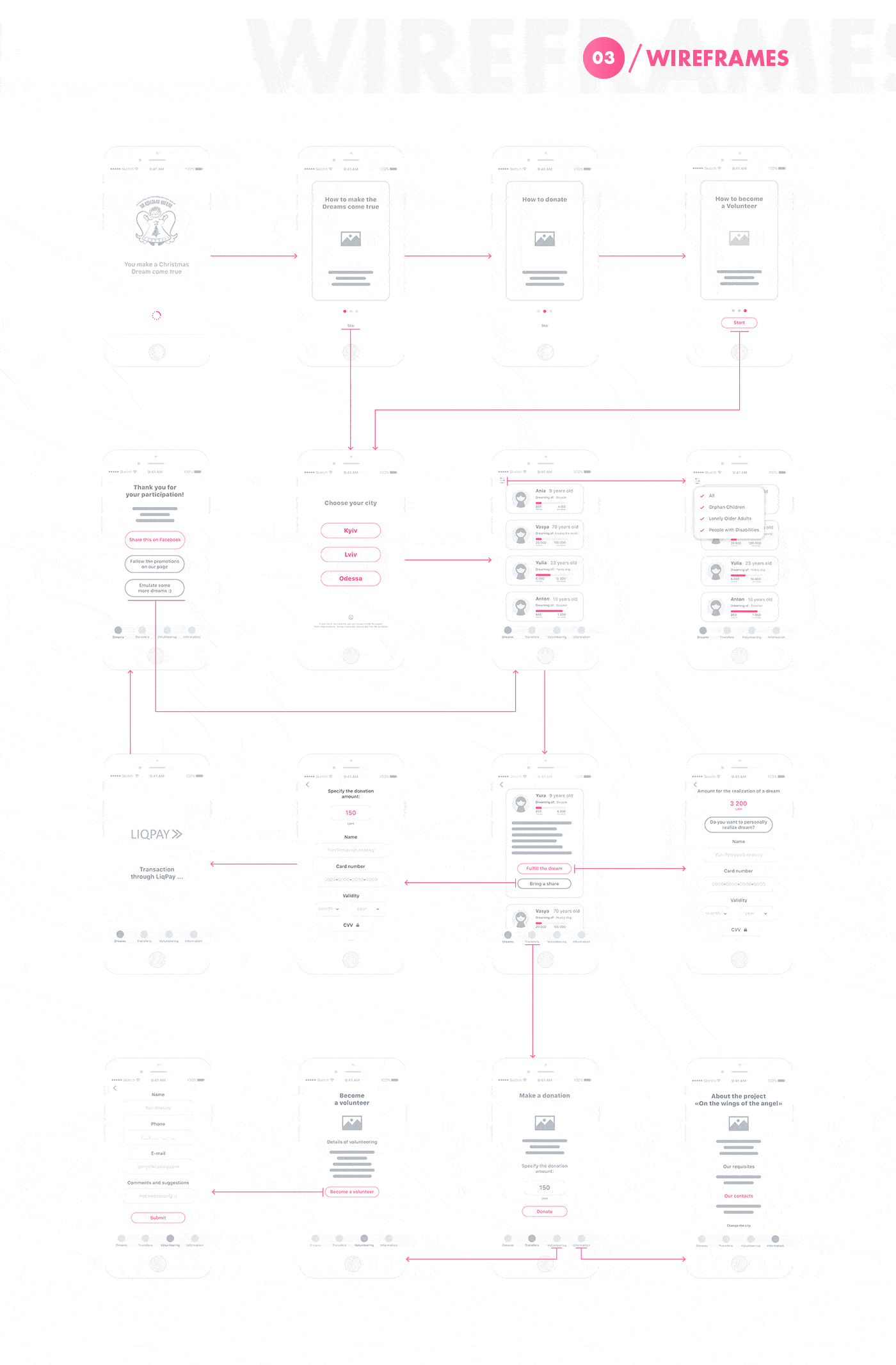 As for illustrations and icons we have been mainly using Adobe Illustrator CC as it allows you to create magnificent illustrations without any image quality lose. We have also done the reassessment of the logo to get it more updated and user-friendly.
For the "Mind Map" development the on-line service https://www.mindmeister.com/ has been in a great use for our entire team to succeed all the goals we have set. As for prototypes and screen design we have used a batch of programs as Sketch app & InVision which provide the excellent result in the shortest terms.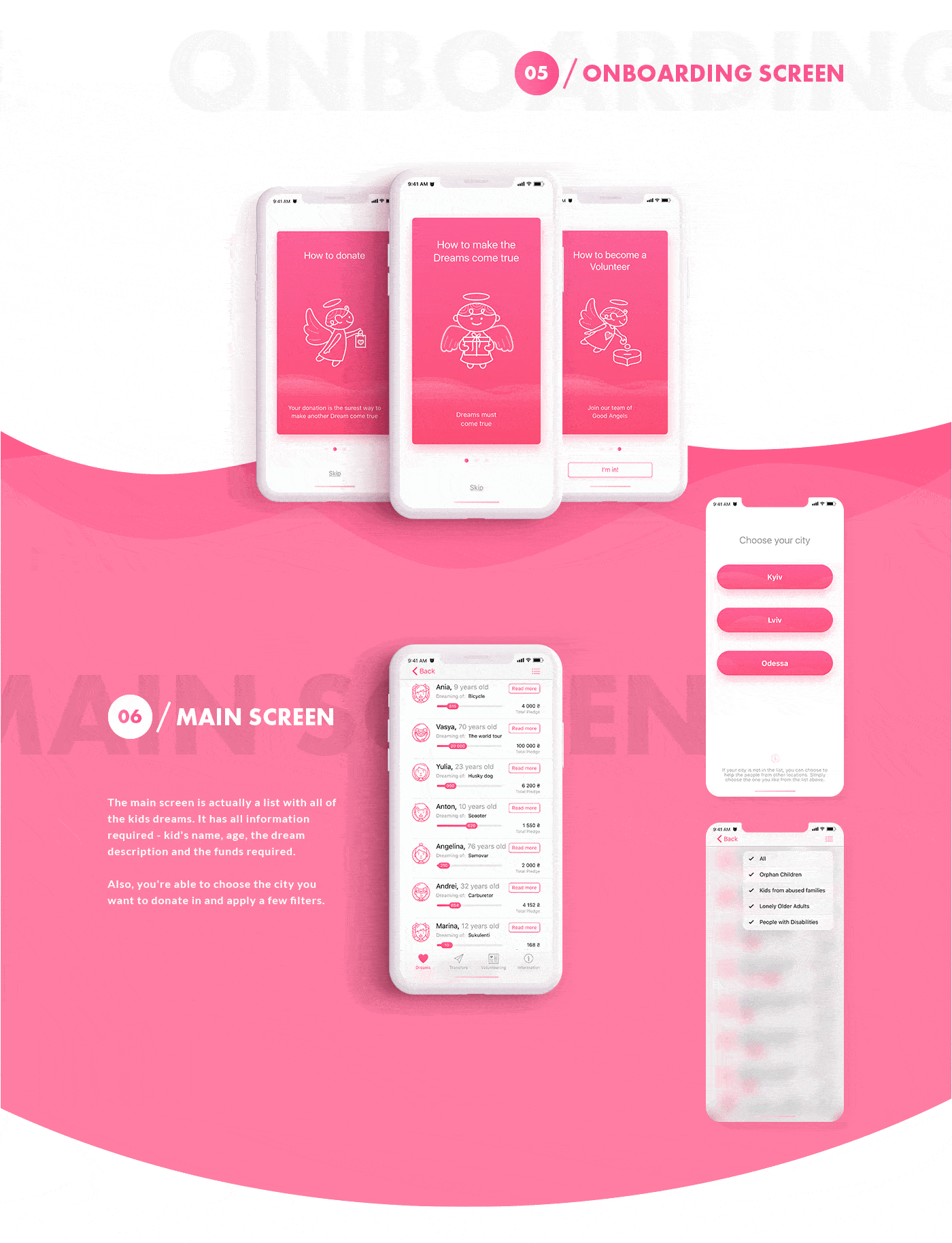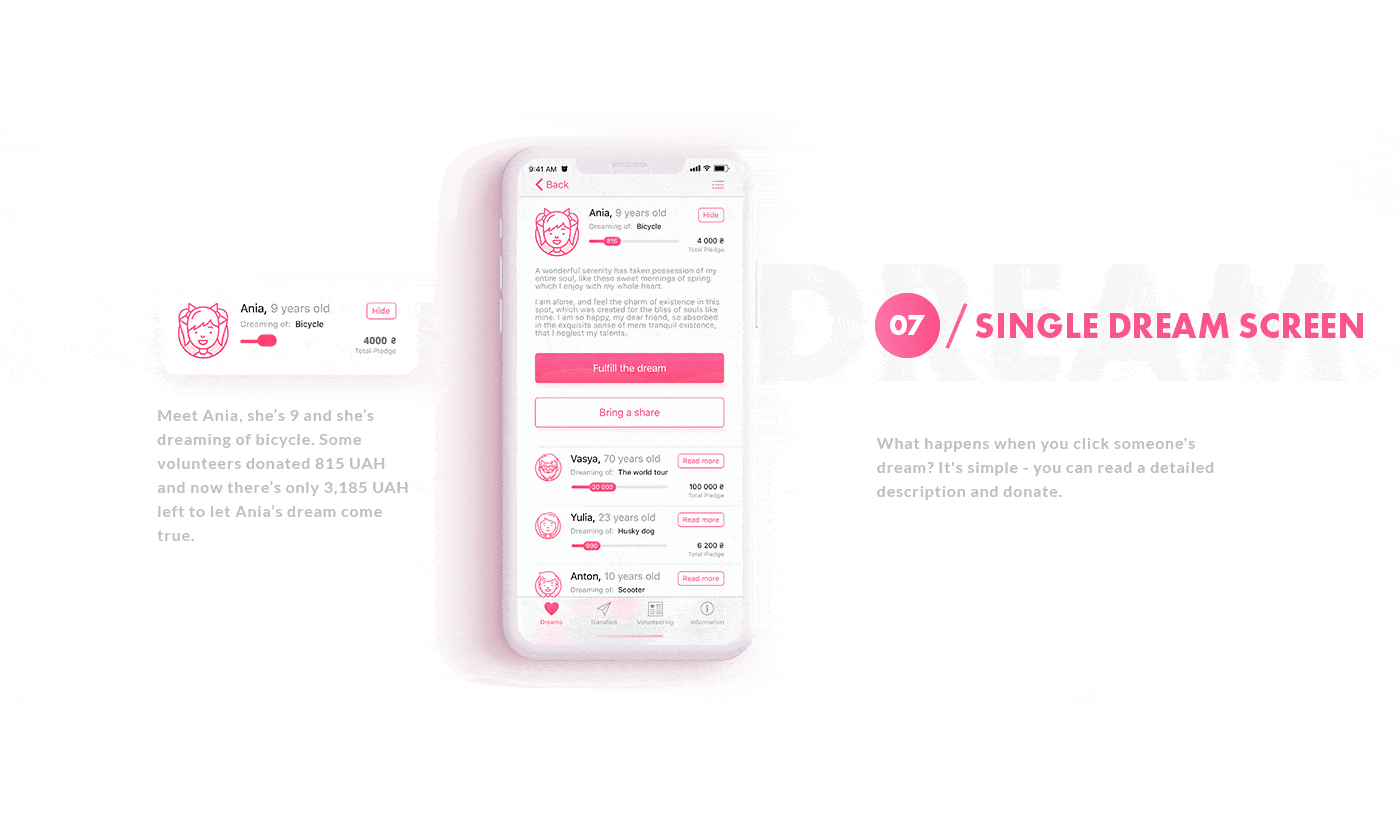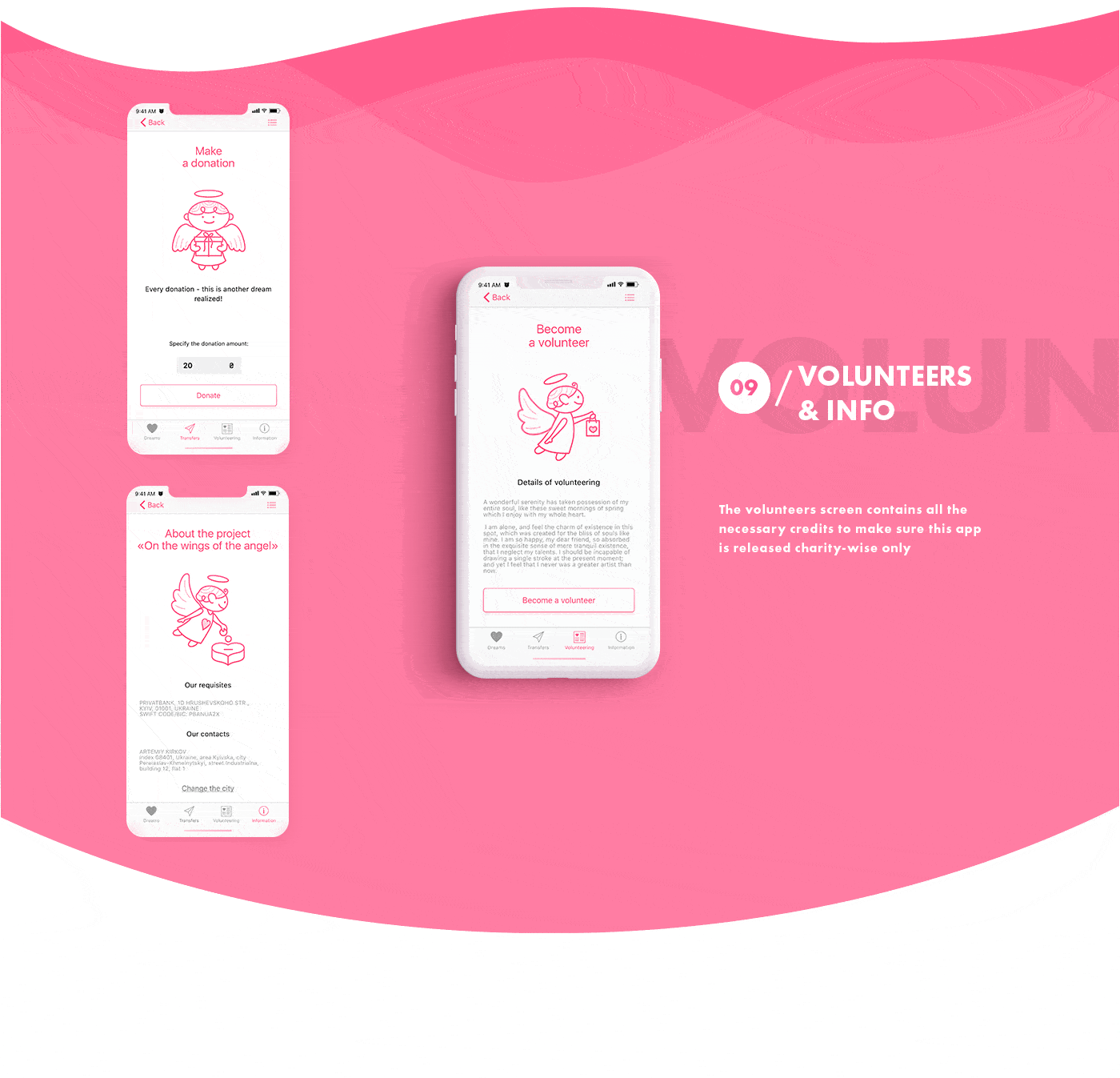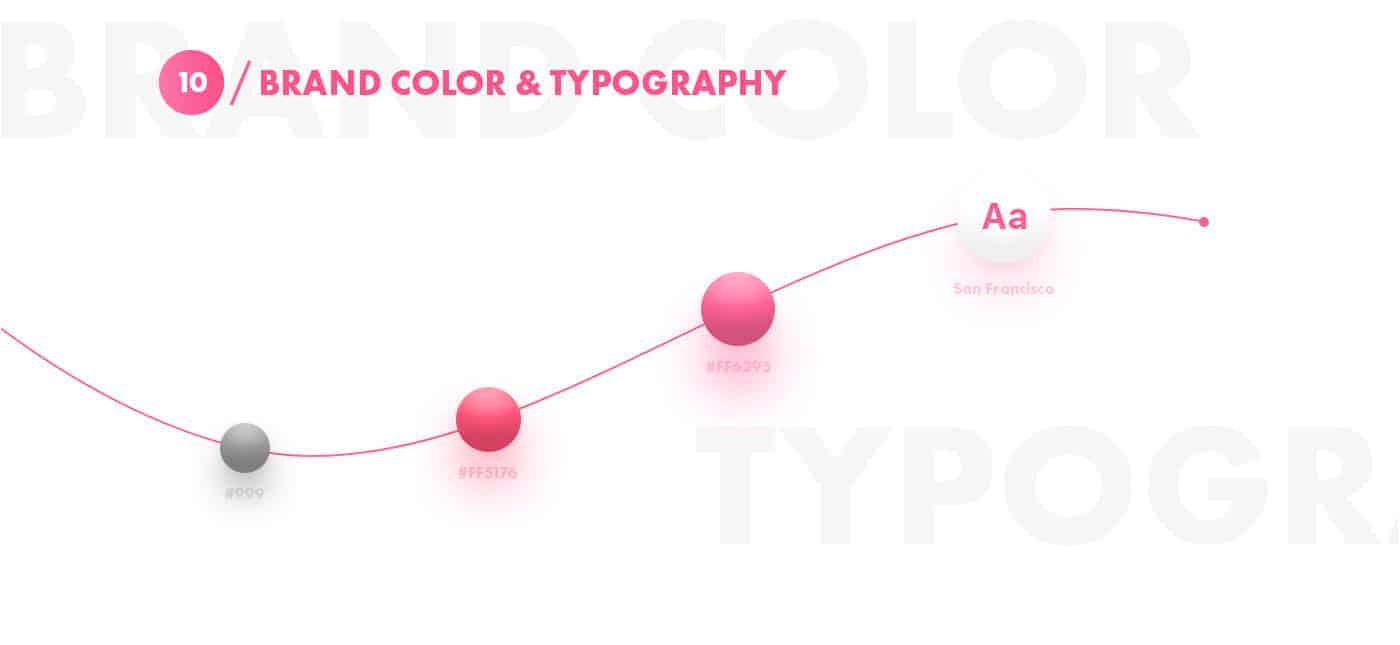 We had a great experience of cooperation with a group of testers who provided their sincere feedback and helped us with the final steps to make the "On The Wings of Angel" app complete and ready to be used on its fullest.
Every single time when little dreams are coming true we can see the actual result of the efforts we have invested. Children smiles, parents acclamation and friends support makes our hearts beat faster and faster. You have a chance to see the result we have succeeded by the company link: http://bit.ly/2M2i1hr. We will be pleased if you check the video and photos of the great work we have done.
To see the dreams list and get broad information, please download our mobile application "On The Wings of Angel" in the Apple Store (https://apple.co/2ODcjB2). You can see the result of this event on the official website of the campaign hillsong.com (http://bit.ly/2M2i1hr).