Moby's Book Of Boba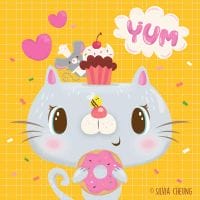 A boba drinks recipe book for children! Moby the mascot teaches you how to make the most delicious drinks in the magical sea world! Written by my client who is an entrepreneur and marketing professional. She was the owner of a tea house and created all recipes by herself. She invited me to illustrate the book.
I have designed the logo mascot and packaging for a tea house and she came up with an idea of a recipe book for kids. The style is modern, fun, kawaii and ties back to the original character, a narwal named Moby. Since Moby and his friends live in the magical sea world, I have used a lot of blues & turqoise mixing with lots of pop colors to give it a super fun vibe that caters to young readers.
I have done all the works on Adobe Illustrator. The process is rather straightforward, it starts from sketching ideas, reviewing with my client, and final coloring & styling. My client sent me a lot of pictures for inspiration. After narrowing down what would work for the project, I started to sketch out a few options for the book cover. There's some discussion between us, bouncing ideas and deciding on which option to move forward. After that, I went ahead to color. Multiple color palettes were tested, my client brought them to show different audience to obtain feedbacks.
People really love the main character, Moby the narwal and his sea creature friends. They love the concept of a recipe book targeting young audience. Kids definitely love it but grownups also find it super fun too! The project is currently on Kickstarter and my client is very confident that we will make it happen!
To learn more about this project, please go to Kickstarter via this link: https://www.kickstarter.com/projects/kimlecreative/mobys-book-of-boba