Virtual Reality is a rapidly growing technology that may soon be integrated into our daily lives. Taking full advantage of this opportunity would mean to advance the existing primitive model, into one that will provide comfort, convenience, and a desirable aesthetic that allows users to fully immerse themselves in the virtual experience. Oculus Bridge sets the bar for the next generation of VR devices. Taking advantage of the flexible properties of the clean and minimal shell, Oculus Bridge sits securely on the user's head, as it is ergonomically designed to fit snug, allowing the user to assimilate seamlessly into the virtual realms.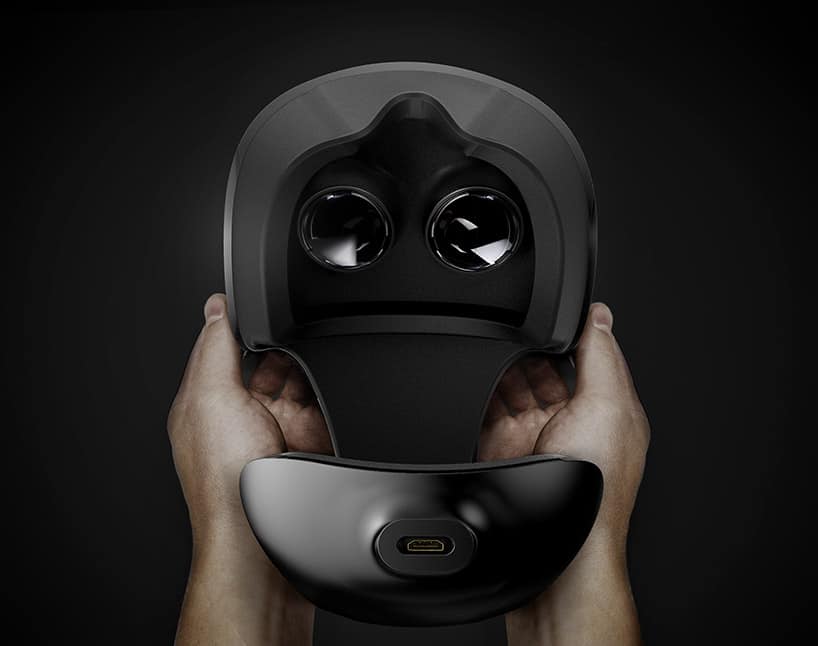 Andy strongly feel that VR devices are truly a new breed amongst different products out there — a true hybrid of technology and traditional equipments that people are familiar with, such as glasses and goggles. The style and problem he wanted to solve went hand in hand, he wanted to design a VR device that was easier to put on and take off, while creating a more modern aesthetic that better represents the VR technology; opening doors to limitless possibilities. Andy choses a single shell construction that integrates components for a clean and sleek aesthetic, which uses the flex nature of the outer shell property, naturally creating flex and fit for the user, as opposed to the straps and adjusters that are found on current devices on the market.

– Andy Kyusik Uhm
Disciplined with a traditional industrial design approach, Andy tackles almost all of my projects beginning from traditional hand sketching. He feels that hand sketching helps me to come up with ideas faster and more freely. Once the sketches give a good direction, Andy will take them into a digital platform like photoshop to further define and refine surfacing and details. Photoshop is a tool he uses to visualize what the final product will look like before committing to a final model, which was later built in Autodesk Alias. Final renderings were created by Keyshot and retouched up in photoshop.

– Andy Kyusik Uhm
People reacted to this project with a lot of interest, and enthusiasm. Andy feel that the rapidly growing interest in the VR market, combined with a new approach and design, created a positive response to the project. He consistently learns that there are always so much opportunity to further improve many of the designs that exist in today's society. Even though technology continues to progress, Andy finds much merit in taking what's new, and reintegrating the new elements into things that we find familiar; welcoming fresh ideas to be integrated into our lives.

– Andy Kyusik Uhm
About Andy Kyusik Uhm
Andy is an industrial designer based in Los Angeles area. He enjoy to surf, build things, and design beautiful and functional designs.
He is passionate about the process of creating designs that can empower user in different ways, and change how they view and use certain products or even themselves. In his design process, he is most interested in how aesthetic and function relate to each other and work in harmony.