Mei Tan's project centres around a series of textile prints inspired by the abstract art trend, which was getting increasingly popular and graced the catwalk of several renown designers in previous seasons. She wanted to create textile prints stemmed from that inspiration. Prints that are wearable for adults, yet are fun, playful and have a unique aesthetic that stands out from many other commercial prints typically seen in stores.
My background is in textile design and I was just starting to freelance at that time. In hopes of expanding my portfolio, I wanted to have these patterns printed onto fabric, made into scarves or garments and photographed on a model. Due to the lack of time (albeit self-imposed) as well as my wish of keeping expenses to a minimum, I decided to illustrate my own model. I did a digital drawing of my husband a few months before that and it didn't turn out too bad so I thought I'd give this illustration a red-hot-go. It ended up looking pretty good!
-Mei Tan
Colours play a huge part in my design. By understanding that colours exude a certain mood, I knew that I had to come up with the right palette of colours which could convey playfulness and sophistication at the same time. I started with the darker, more wearable shades, then gradually adding complementary colours, bright and eye-catching accents to the palette. There is a comfortable tension and play in contrast not only evident in the colours, but also the strokes of the brush and shapes of the motif. I believe that the element of contrast makes a print more interesting to look at!
-Mei Tan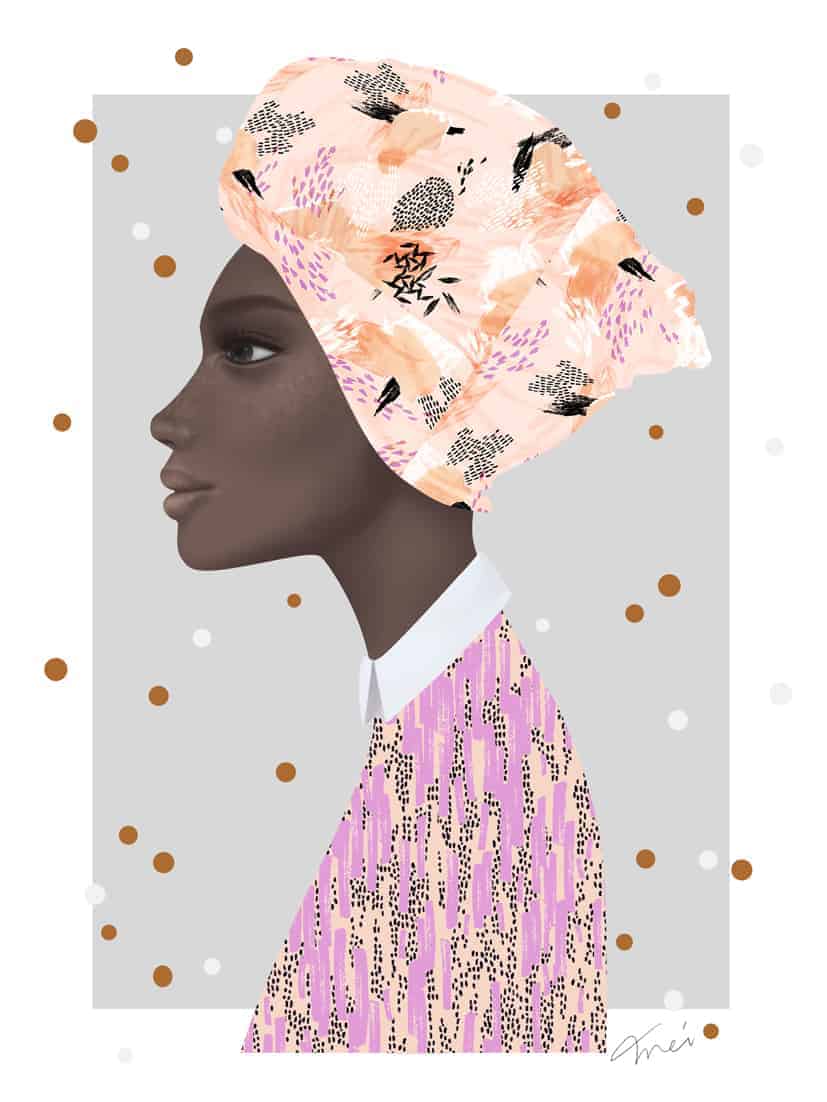 I started by creating varying textures with my brush and colour pencil, which were then scanned into the computer and made into individual motifs. Some textures and shapes were made directly on my trusty Wacom tablet into Photoshop. So it was a mix of using traditional media and computer aided design programs to create the patterns. The illustration of the lady with the turban and shirt were completely drawn in Photoshop with my Wacom.

– Mei Tan
There are some really lovely comments on Behance, where I posted this project. It\'s nice to have a general feel of what this particular online community is drawn towards and appreciates. It serves as a useful tool for a freelance designer that is trying to get their work discovered and noticed by potential clients. You quickly learn what draws a crowd and what doesn't. Sometimes it's the most unexpected design/ project that gets a lot more appreciation compared to others you originally thought would fare better! So it's taught me to not discount any of my designs I think are not that great. Who knows it could be the design that causes the largest stir of excitement!

– Mei Tan
About Mei Tan
Mei is a Malaysian born, Melbourne based freelance textile designer. She was an avid science student through most of her formative years before deciding to pursue a career in design. A capable illustrator, she could spend most of her time sketching feminine elements, such as florals, at work. Yet on the same day, enjoys challenging herself with a heavy weightlifting session at the gym. Though her work revolves around colours and patterns at all times, she finds it interesting that she would often be found in plain, if not monochromatic, clothing. With an excellent eye for detail and styling, her passion lies in fashion, homeware, childrenswear and producing prints on any hard or soft accessories.