Please Come Back Tomorrow by Esther Goh
The project Please Come Back Tomorrow by Esther Goh was commissioned by Singapore-based creative studio Do Not Design to work on an illustration series for their upcoming publication. The zine Dear Vol 1: Lost & Found collects, archives and immortalises in print, all things fun and unique, celebrating the little oddities in everyday life. Since it is a zine that everyone should be able to relate to, the theme given to her was - Merlion's day off.
As an introduction, the Merlion - the half-lion, half-fish chimera - is the national symbol of Singapore. Trademarked by the Singapore Tourism Board, there are currently only five official Merlion statues in the country. The most popular one would be the 8m tall Merlion and its cub, both of which can be found in Merlion Park in the city centre. These two spew water as part of their unique features.
Please Come Back Tomorrow. Imagining it as a hardworking citizen, it means the Merlion has been offering its services since the 70s and has seen the country develop rapidly through the years. So that led me to think - if you were to see him as a real being, what is he like? What does he do on his day off? What are his quirks? Is he just as Singaporean as all of us? For the first illustration, I focused on his workplace that is the Merlion Park. On the morning they disappear, everyone is puzzled and at a loss for words as they stare at the empty spots, tourists and locals alike. Then we find out about his real identity in the next piece; his true form (still a Merlion) is revealed underneath a two-piece suit which he then sends for for a quick dry cleaning, despite how he is dripping wet all the time.
-Esther Goh
Like all most Singaporeans, the Merlion is a foodie who is willing to travel for good food, and showcased in the third illustration are popular local dishes like nasi lemak, laksa, chicken rice and roti prata. In the next piece, it turns out that he is a tourist himself, having been at work all year round. He makes use of his day off to explore the country and visit places of interest via the Mass Rapid Transit (MRT), one of the public transport systems.
-Esther Goh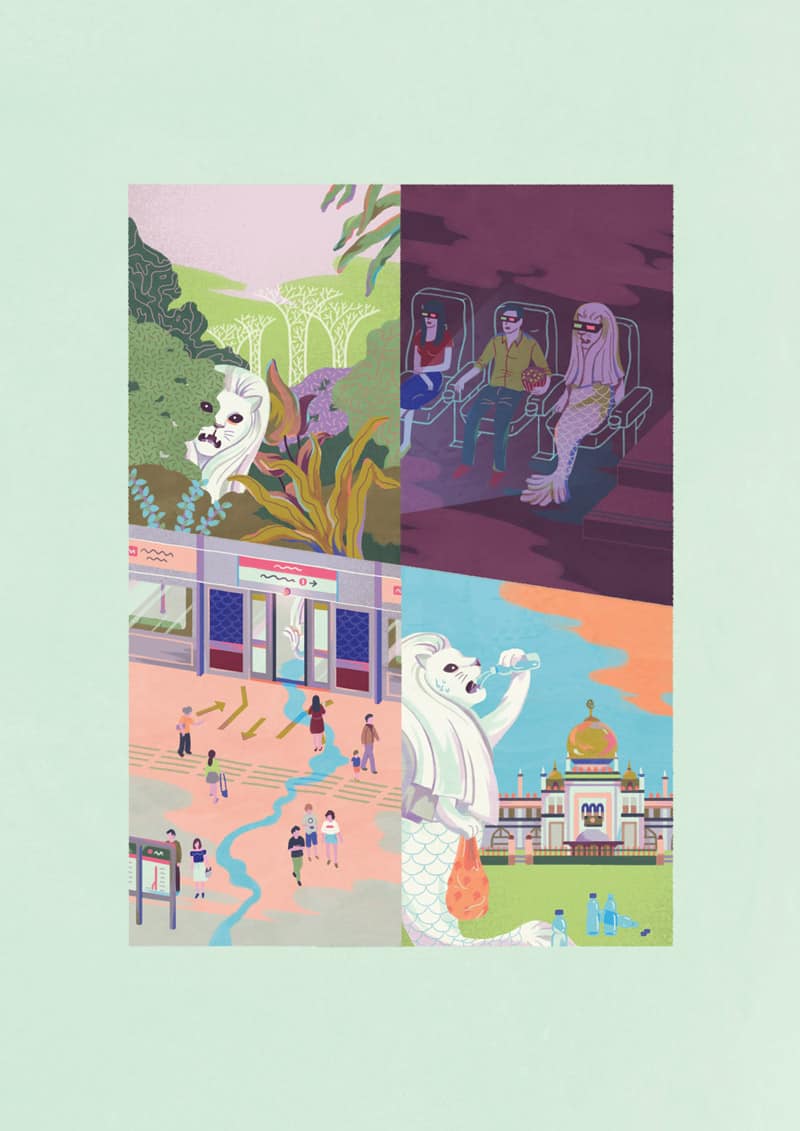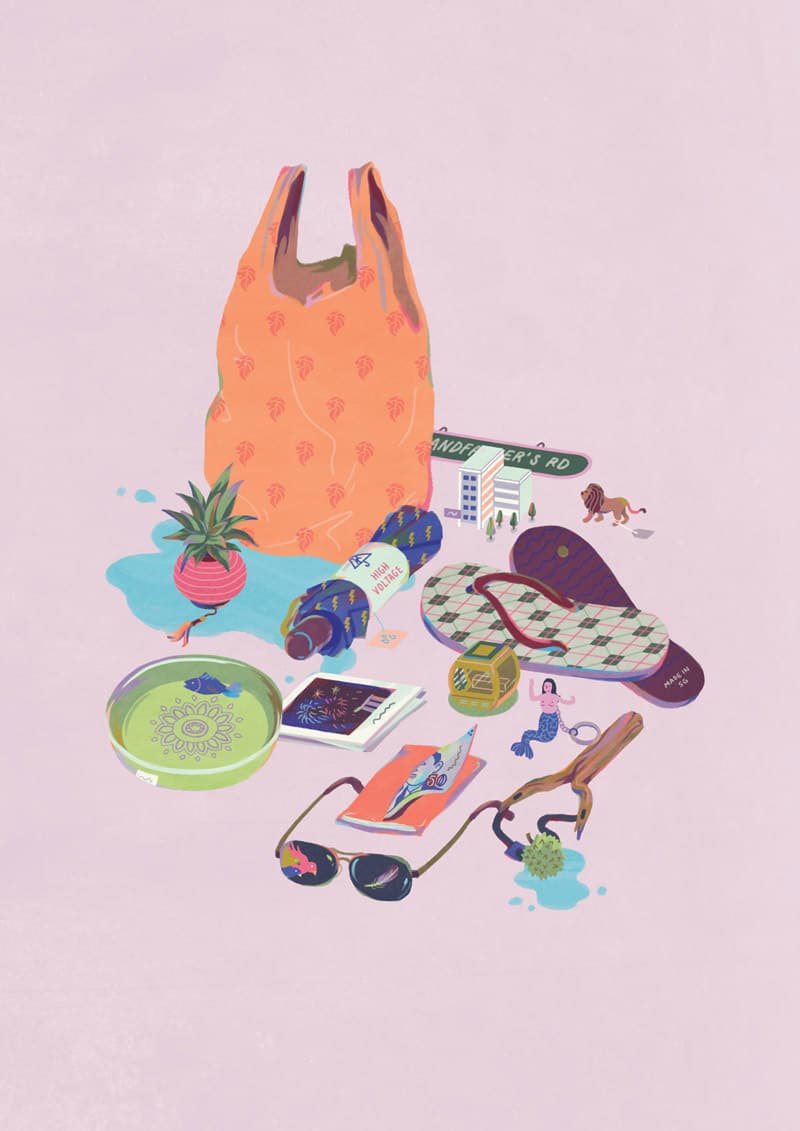 There was a period I think in the 80s and 90s when supermarkets and smaller businesses used a generic but iconic plastic bag printed with Merlion head symbols. Throughout the day the Merlion collects all these items, many of which contain subtle clues to different aspects of our culture. The pattern on the slippers is a reference to the old-school floor tiles from my old office in Joo Chiat. The pack of tissue (and $50 note) points to a common habit of putting it on a seat in a coffee shop in order to "reserve" it while you go off to order food. But in a way it also symbolises economic inequality in this first world country.
-Esther Goh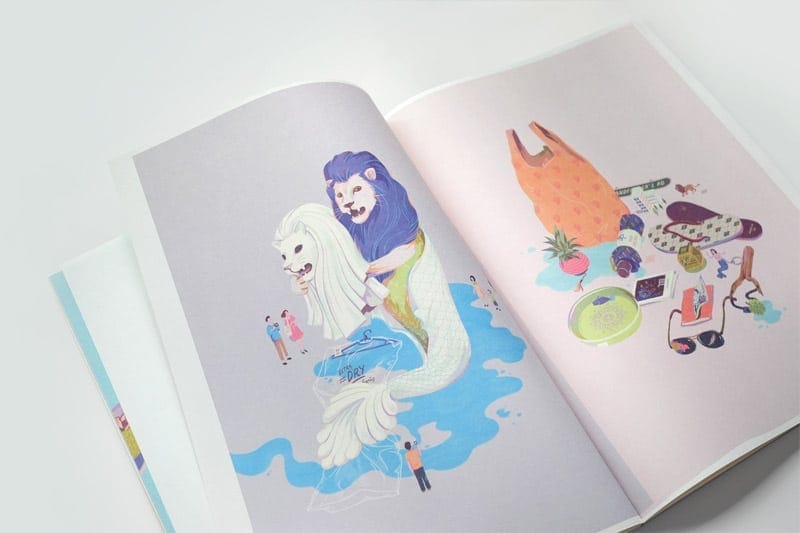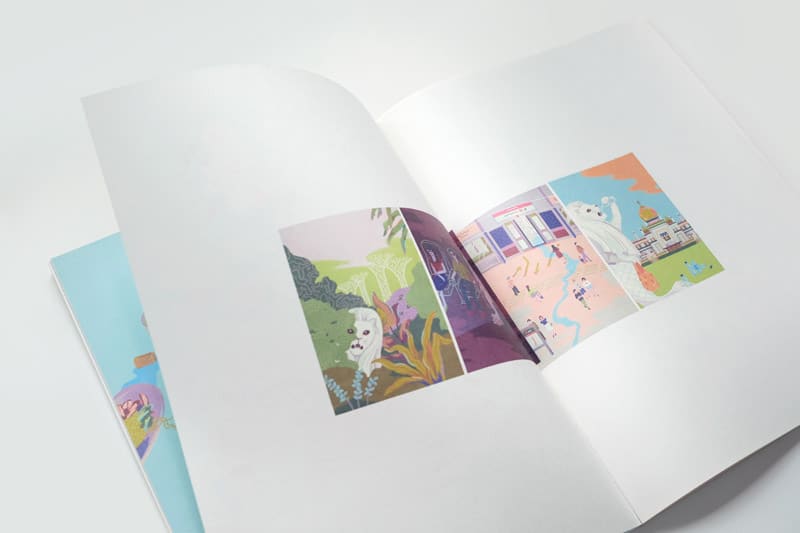 I'm not the best at technical drawing or anatomy, so I tend to make up for it by playing with the composition, scale and using a lot of colours. I usually pick colours by trial and error, clashing them together to see if they fit, and also to determine the mood. I think the most interesting part of my illustrations lies in the details. I draw inspiration from very talented creatives like Micah Lidberg, Mario Hugo, Team Macho, Tadanori Yokoo, Sachin Teng, Pon-chan, Monica Ramos, Kaye Blegvad, Lilli Carré, just to name a few.
-Esther Goh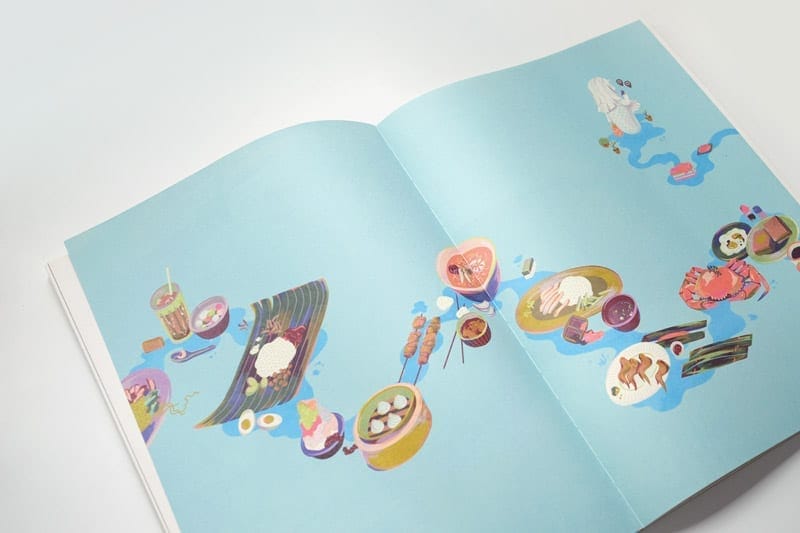 Fellow practicing artists would probably already know this. I think people who aspire to be artists should experiment often and realise it's totally okay to fail over and over again till you get it right. As an artist, it's so important to have integrity, so try to find your unique voice and purpose. Own your work and be proud of it. Lastly, speaking from experience, push yourself to do go the extra mile for your art because it always pays off.
-Esther Goh
About Esther Goh
Esther Goh is an illustrator and designer whose ideals and aesthetic sense have been shaped by her experience in the areas of interactive design, branding and print. Often characterised by a satirical and surrealistic approach, her work revolves around the juxtaposition between reality and fiction. See more of Esther's work at Behance or her website.