This project by Brazil based student Felipe Vale and Renata Alves was for their webdesign class to complement thier learning and studies about html and CSS. It's basically an academic work, with no profit or a real restaurant, it was made to showcase their skills, so they can improve and give their best in the future projects.


Our Webdesign teacher gave us the briefing so we followed the steps she wanted from us. We invented the "La Pasta Restaurant". Actually, La Pasta was the same name of a restaurant we made in another class, so we brought it back to create this website. The clients are very sophisticated and with good taste to traditional Italian food. This place is comfortable, cozy and has a family environment. Also, a traditional and rustic decoration. We started by the colors. Red means elegance and leadership. Beige brings calm and a classic thing to the ambient. The logo symbol is a kind of spaghetti mixed with a little vintage tie. The name "La Pasta" is simple to be easy to memorize and means "The Spaghetti" in Italian.
-Felipe Vale and Renata Alves
We made a search on Google and Behance for "simple sites" and we started to draw on paper some fast ideas because we didn't have too much time to develop the project, so we get inspired by the images we were founding on the internet associating with the ideas our teacher gave us.
-Felipe Vale and Renata Alves
We think our design is simple and easy to interact with the user. Despite of design, we can't forget our focus is bring the client to our restaurant, it's all about the food and the sensation you can feel while you're eating delicious meals.
-Felipe Vale and Renata Alves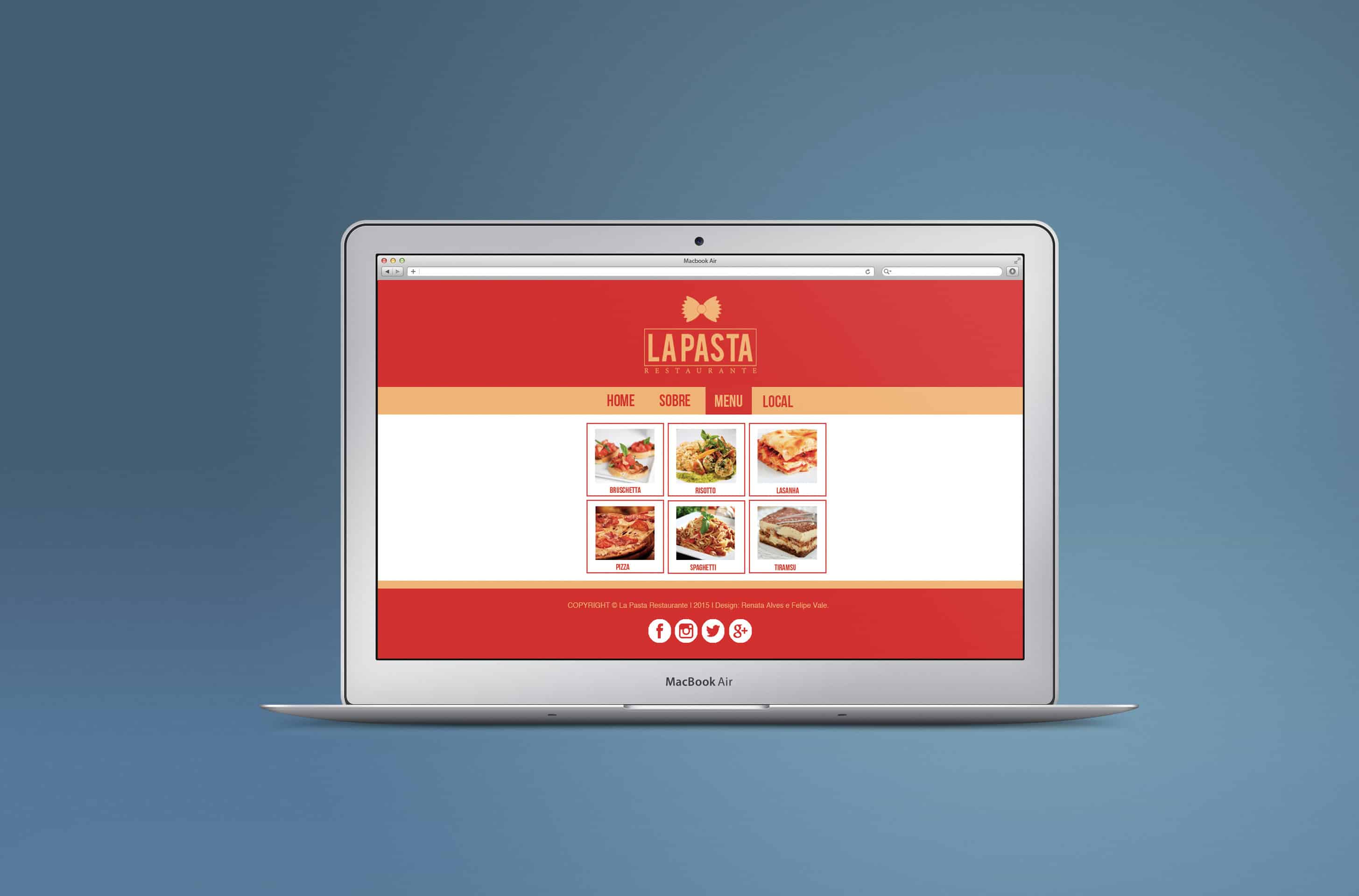 Felipe: I'm a quiet person who loves vintage, nature and pop stuff. Some of my inspirations to make my design works and art are Malika Favre, Salvador Dalí, Mark Ryden, Van Gogh, Roy Lichtenstein, Andy Wahrol and Katy Perry. I love how these people can make their colors and ideas explode.
Renata: I have some crazy style, I can't name it. It's just me. And I don't know exactly what inspires me but I think that is everything that catches my attention.
-Felipe Vale and Renata Alves
Felipe: Keep going on and believe in your art in your design or art. Don't forget you have to believe in your capacity, skill, inteligence and mainly in yourself to be great at what you like to do.
Renata: Do what we do is hard, we need to deal with our feelings and find inspirations to do the projects. What I try to do is always be better than I was yesterday, never stop training and accept positive and negative opinions.
-Felipe Vale and Renata Alves
About Felipe Vale and Renata Alves
Felipe Vale is a 19-year-old design student from Rio de Janeiro, Brazil. Felipe loves make drawings and illustrations and art history. Renata Alves is a 19-year-old and a design student from Rio de Janeiro, Brazil. Renata is completely addicted to tv shows and comic books. See more of their works on Behance.