The Designer's Survival Guide by Karim Fakhoury
Not enough sleep? Too much stress? These are what every designer has to face almost everyday but worry no more. Graphic Designer Karim Fakhoury created a survival kit for every designer - "The Designer's Survival Guide" . Included in the kit are various tools that can help designers with their problems, let's see what inside the kit!

As we know, the field of the designer has always been confronted to little disasters, which often can be prevented or at least minimized. Time, Stress and Sleep are aspects of life that require careful management in order to promote good productivity and creativity. The title of the book is "The Psychological Survival Guide for Graphic Designers", and I worked around these three aspects to represent the three chapters of the book. I kind of focused on giving the book a double-life by integrating useful objects that symbolize each chapter respectively.
-Karim Fakhoury
In the book, the designer will find; an hourglass in order to never exceed client deadlines again, a stress ball allowing to release frustration on something else than a computer, and last but not least, two jars of coffee beans just in case sleep is no longer a feasible option.
-Karim Fakhoury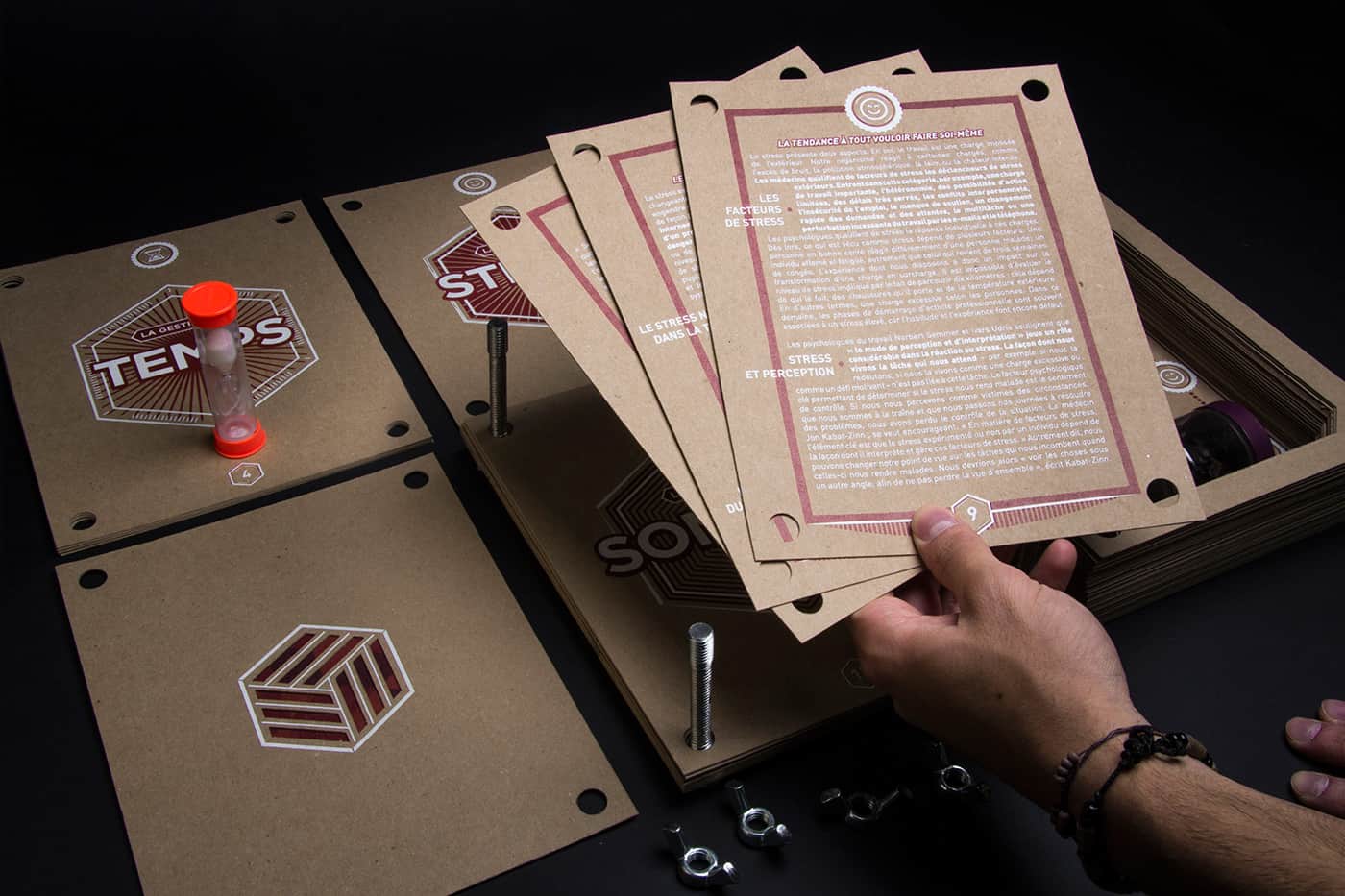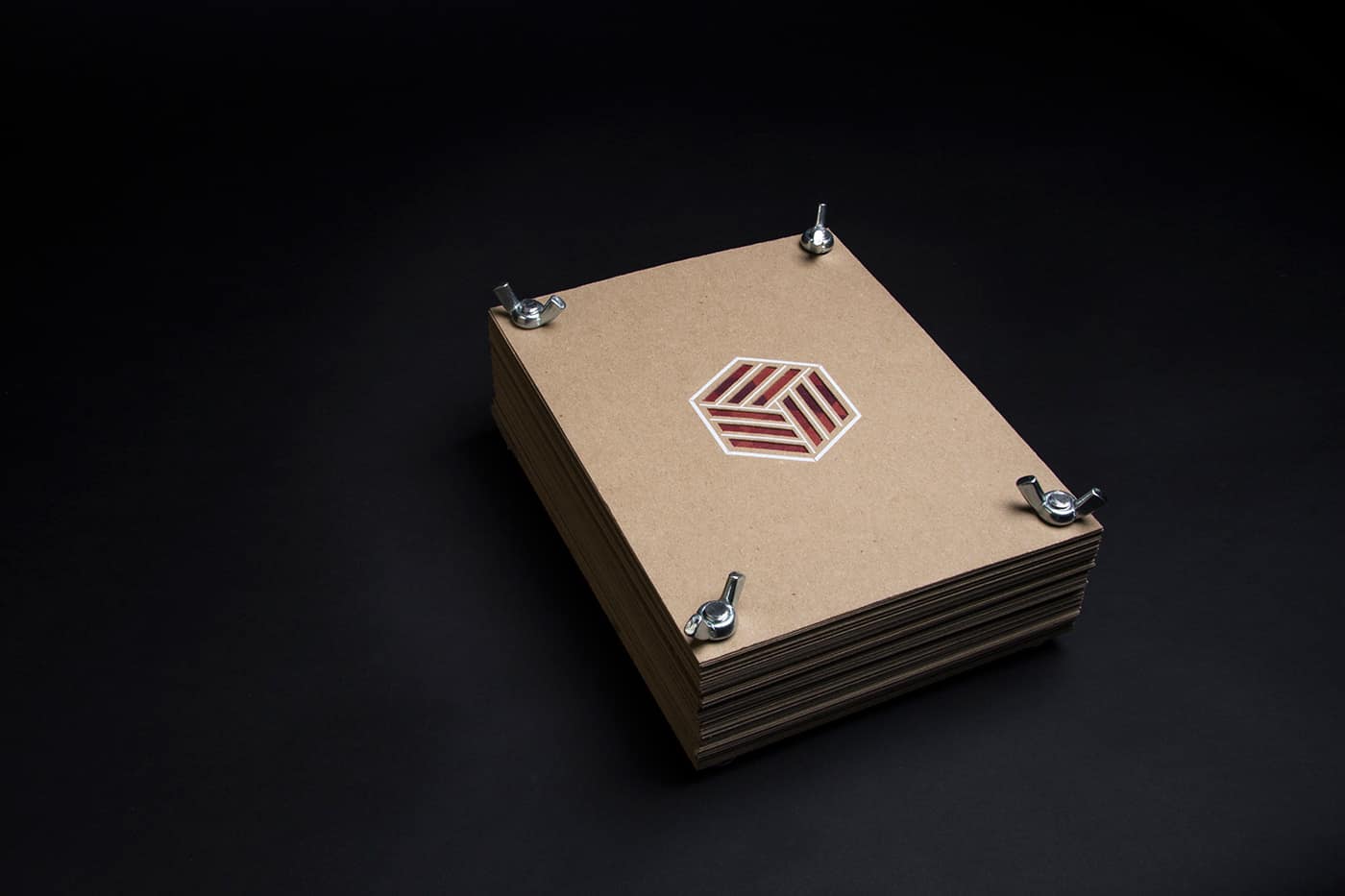 I basically wanted to re-think the way we interact with books. We got used to flipping the pages of a book in order to read its content. However, the idea behind this project is to encourage the reader to literally dig his way through the pages (boards) and wander into the different themes of the book making it more interactive and satisfying to experience. Once the bottom of the book is reached, the reader will have the whole book deployed in front of him, taking the expression "open book" to a whole different level.
-Karim Fakhoury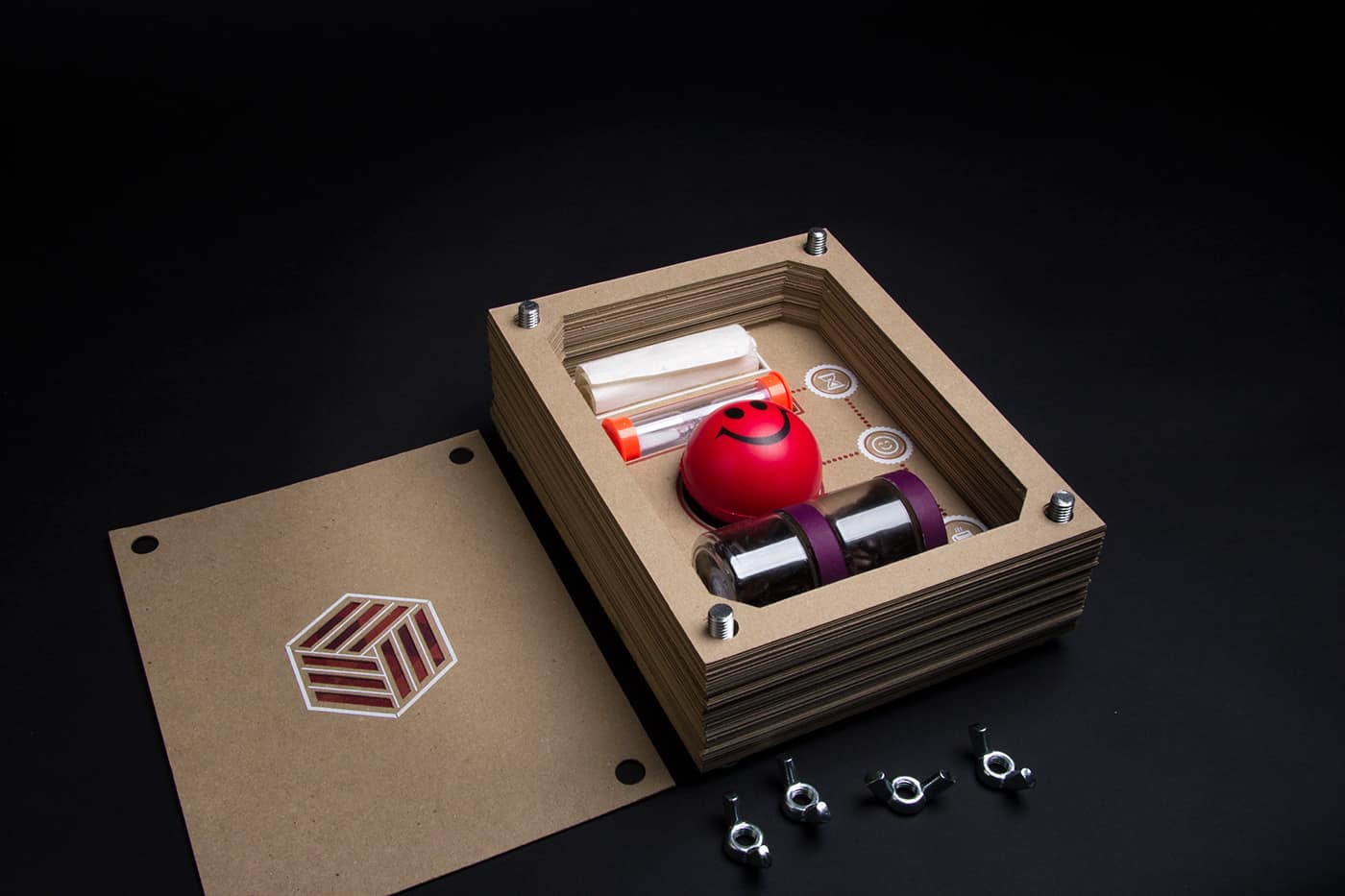 At first I sketched out quickly how I envisioned my final product in different looks, formats, and interactivities. I ended up proceeding with a cardboard looking box which responded the best to my expectations. I basically drilled four holes in the corners of a rigid wood board and placed four thick screws upside down that would serve as my base. I then designed and printed each page of the book on cardboard planks with white and colored ink. Later, using laser cut, I made holes into the cardboards that would fit the objects placed in the book. I also made holes in each plank's corners in order to adjust them steadily to the base. Finally, as an additional touch, I found that placing butterfly screws in order to hold everything secure was an interesting way to open and close the book.
-Karim Fakhoury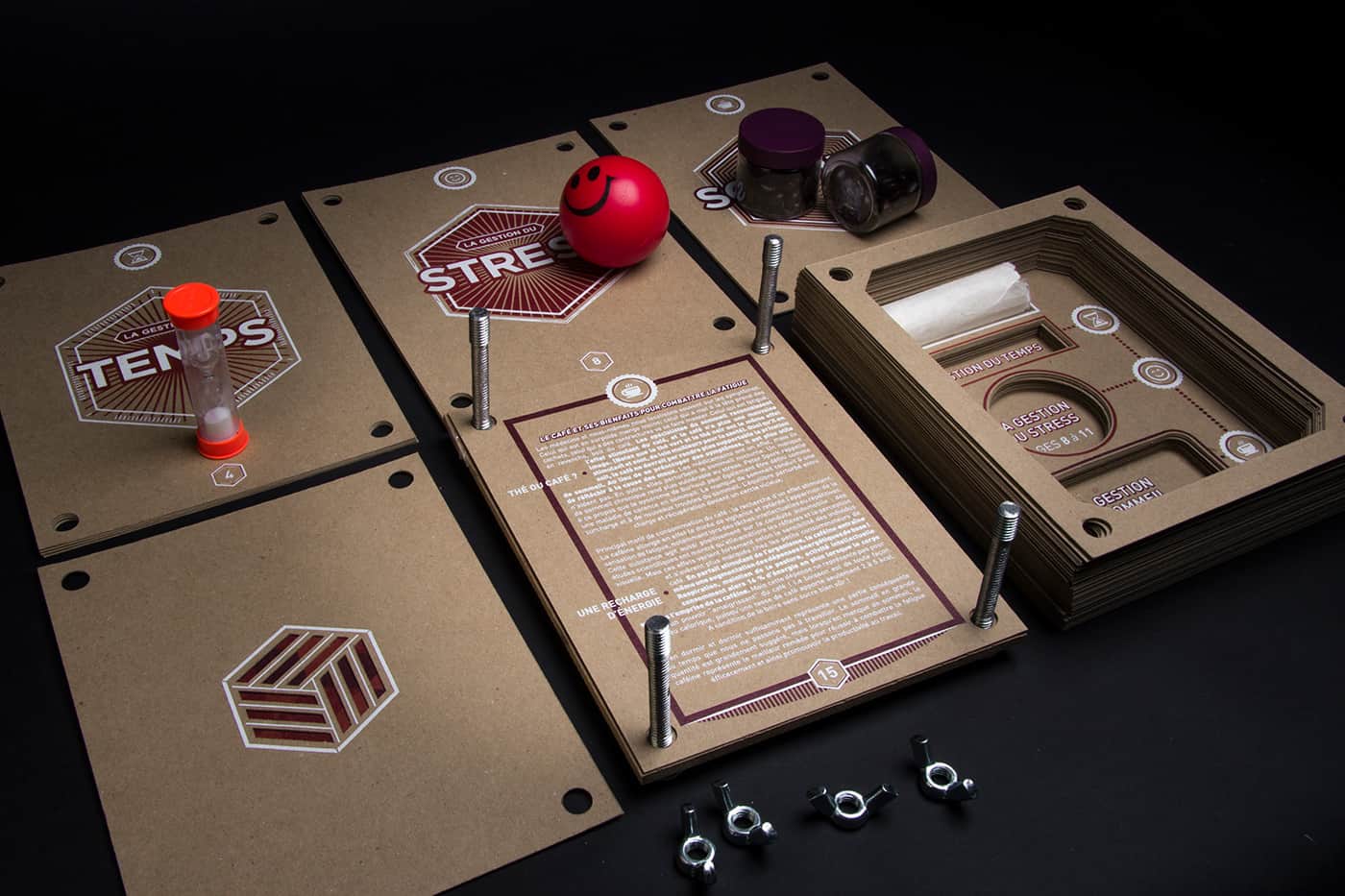 I actually specialize more in digital-art and photo-manipulations, but I consider myself very polyvalent as I find great interest in anything related to design and innovation. As for editorial design, I admire greatly the creativity behind the works of Jiani Lu.
-Karim Fakhoury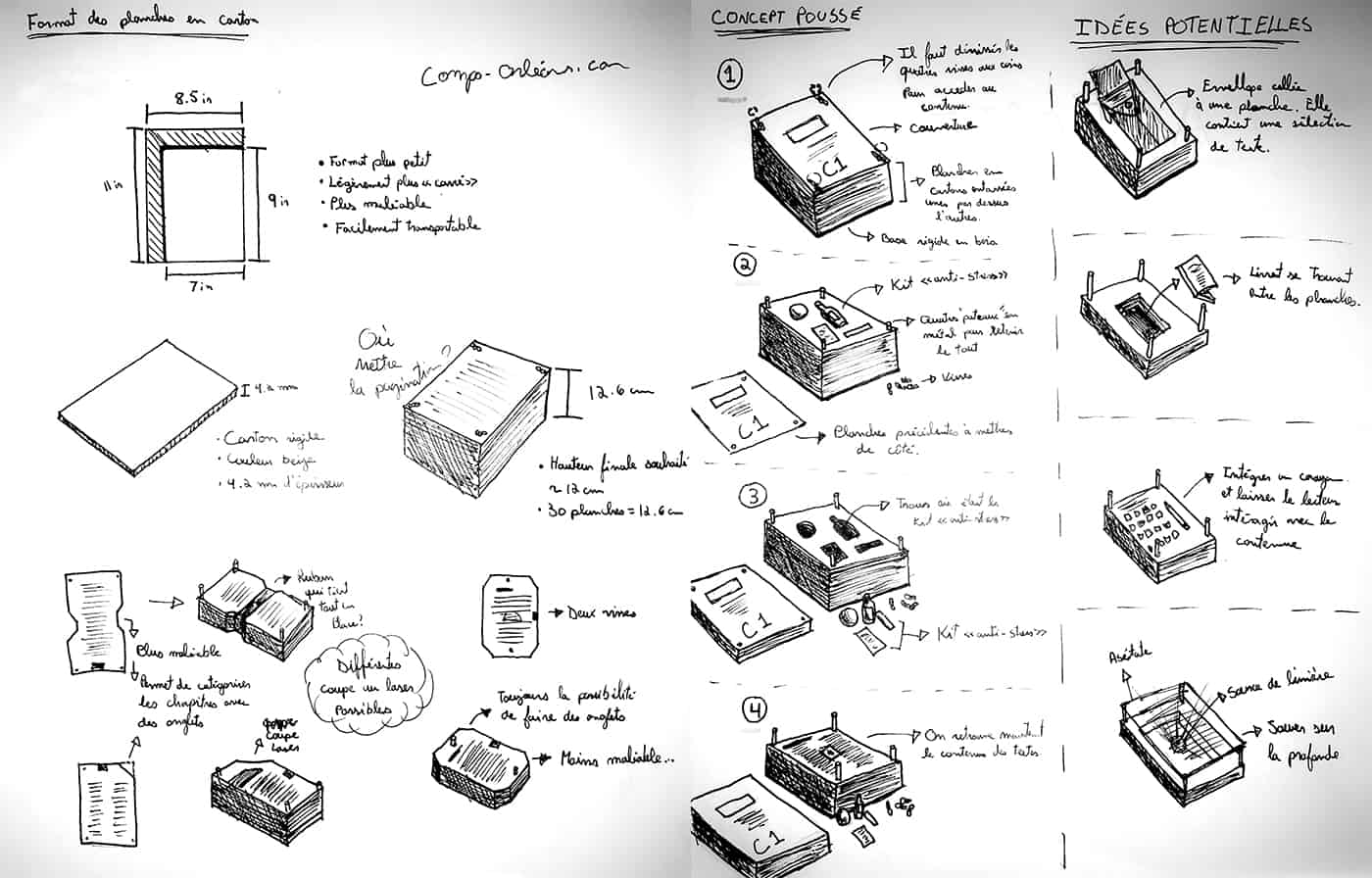 Replace "I don't know how" by "I will learn how".
-Karim Fakhoury
About Karim Fakhoury
Karim Fakhoury is a 23-year-old Designer and Illustrator from Montreal Canada. He's currently freelancing and working on personal projects as well as completing his last year of Baccalaureate in Graphic Design. You can find more of his work on Behance and on his website.