Illustrator Rafa Miqueleto was invited by New Content agency to design the summer edition cover of their WBeer magazine. They also created a poster and collectibles for subscribers. In one of the first pages, he was also gifted by a great article about the process. It was also published on his birthday which was a nice coincidence for a project that he had so much fun doing.


A friend who works in New Content suggested a cover with my illustration style. The agency found that paper art could be an interesting language to translate summer into a refreshing feeling composition. So they came up with some ideas, such as using a beer cup with shores and a guy jumping to swim. I appreciated it very much and brought some more elements to enrich the illustration. I thought we could explore a metaphor between the beer and seashores, combining them into the same flow.
-Rafa Miqueleto
The manual technics often demand another way of thinking, exploring and developing the project. Working with this techniques means trying to improve my handiness while having glue overall my hands and missing ctrl – z. As the main part of my business takes place in front of a computer I love to replace the computer and design software with a scissor, glue and pencils. For a moment it sets me free from all the technical equipment and let me create something with my own hands which is an incredible feeling.
-Rafa Miqueleto
Movement is a meaningful subject for me, so I often use angles and object approaches in order to give the composition an animation feeling. I also love geometric forms and typography, trying to incorporate those elements as possible as I can. Using papers with different surfaces, colors and weights helps me to enhance the tactile effect I always search for.
-Rafa Miqueleto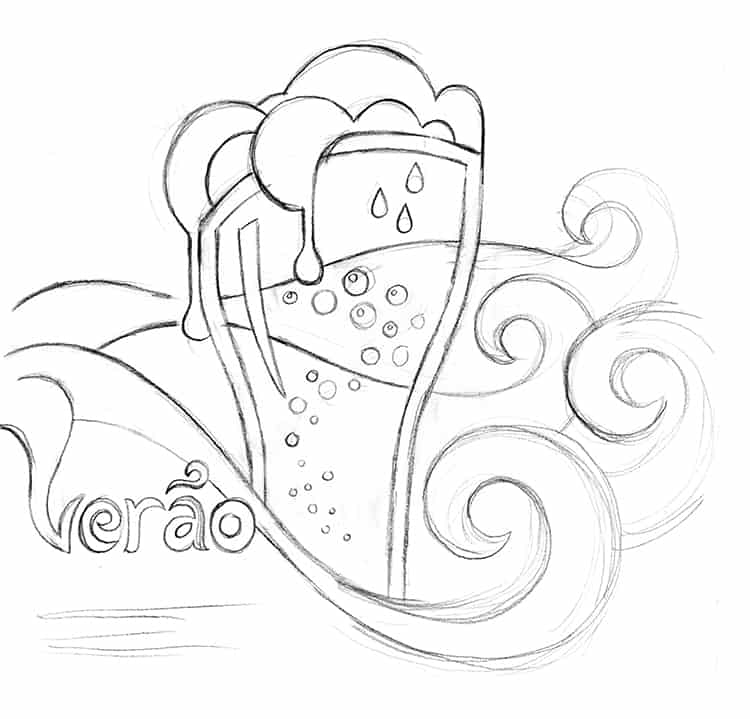 Here in Brazil I love the work of Renan Nuche (https://www.behance.net/renannuche), Fabio Yamaji (http://www.skerzocinema.com/) and Carlo Giovani (carlogiovani.com). The great paperart of Zim&Zou also inspires me a lot (www.zimandzou.fr) If I have advice is: simply do what you love without fearing failure. Everything is a new experience, there's nothing wrong with your process since you are creating something faithful to your beliefs.
-Rafa Miqueleto
About Rafa Miqueleto
Rafa Miqueleto is a graphic designer and illustrator based in São Paulo, Brasil. Since 2010 he works as Art Director for Estúdio Mol, a design-driven production company. Developing illustration, concepts for TV & cinema as well as educational/explanation videos, Rapha already worked for a wide range of clients. From drawing to cutting and assembling – as a freelance artist, Rafa is fascinated by paper collage and handicraft work. For him, transforming a digital illustration into a tangible experience is one of the best ways to free his mind. See more of his works on Behance or his website.