Sarah J Coleman's project is one of 7 pieces created for Diet Coke with Droga5 – part of their #ReTweetsOfLove ad campaign which saw real Diet Coke fans' Tweets being turned into physical objects and works of art! It was a great job with LOTS of variety…but only those three iconic colours to choose from of course. She got to see her work turned into T shirts, notepads, a real live Coke Can, prints and an iPhone case.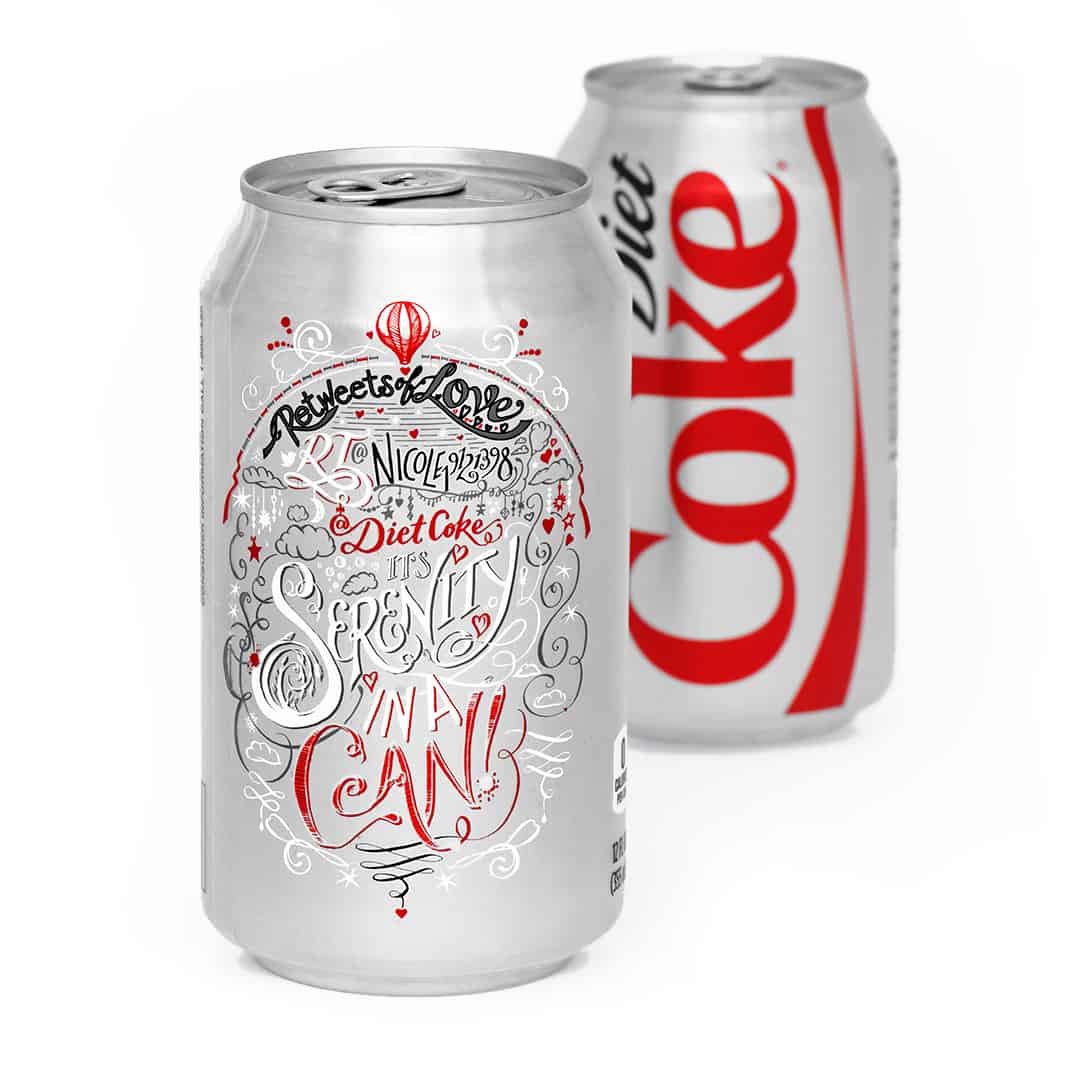 By thinking about the lady who'd tweeted in the first place, Googling her a bit, seeing what she liked, was into; her style, what she did for a living, to have an idea of what she might like herself, aesthetically. Then going back to the Tweet and what it was actually saying. It wasn't plain sailing – there were some thorny issues on which the client and I disagreed, such as me including sad faces in the poster which mentions running out of Coke (lost that one), and my desire to correct the grammar and punctuation on one of the Tweets – I felt whatever the brand was Tweeting should be perfectly correct (won that one)!
-Sarah J Coleman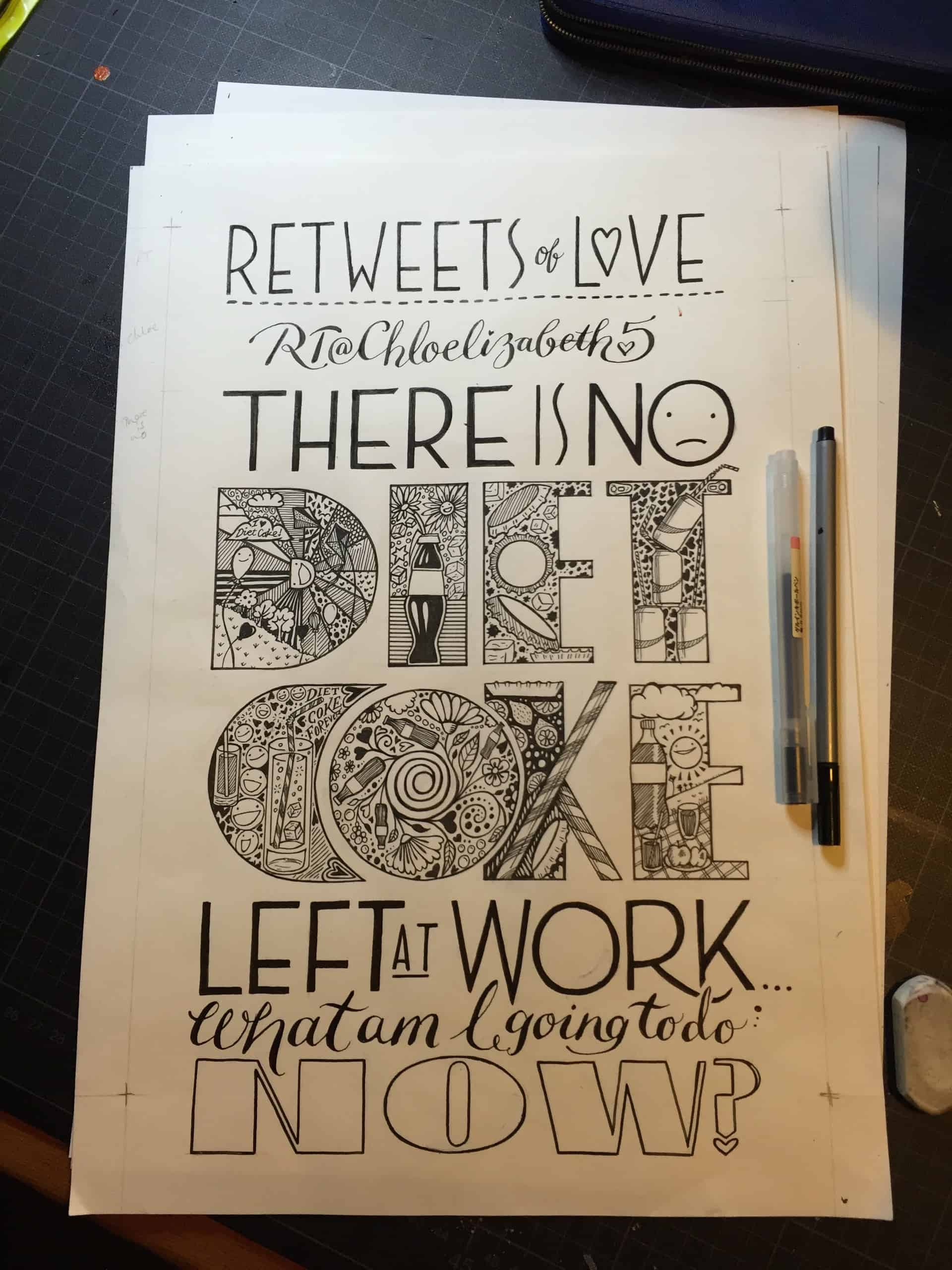 I have been a professional lettering artist and illustrator for more than 20 years and was one of the originators of type-as-image, and decorative, illustrated lettering, during which time my work as constantly evolved and moved. So it's sometimes difficult to be able to put that history in a nutshell, but I usually tell people it's organic, irreverent, dark, silly, scratchy, changeable, energetic, made by hand, and there is a lot of it: to quote Marian Banjes: 'Eclectic while still personally identifiable'.
-Sarah J Coleman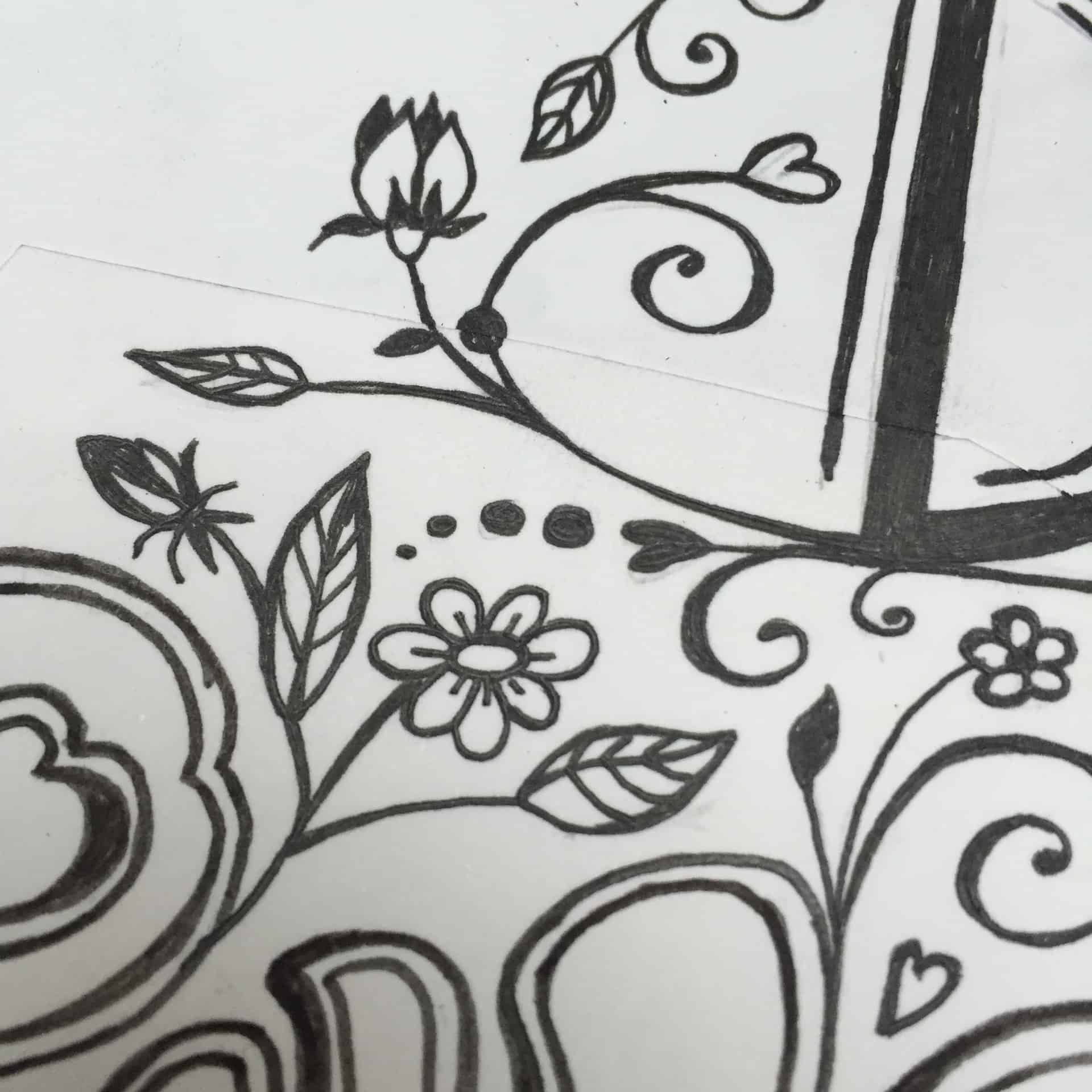 My inspirations at college included Gerald Scarfe, Holly Warburton, Melanie Tomlinson, Ian Pollock, Marshall Arisman, Emily Brontë, Neville Brody, Kay Nielsen, many more. These days I'm inspired be people who are very, very good at what they do, whether that's illustration or not – actors for example who are subsumed by every role they play, someone like Leo DiCaprio or Olivia Coleman (no relation!); writers such as Ian McEwen whose work still has the power to make my cry when I finish one of this books, and new writer Ed Garland who I've worked with many times; musicians – Annabel (lee), new and brave; Venetian Snares whose work is so fabulously ornery that you either adore it or hate it; electronic pioneers like Four Tet and µZiq who've remained creatively prolific and relevant despite very long careers, Sage Francis who writes poetry as hip-hop and has built a hefty record label from scratch. Ray Caesar who turned the darkness of his former job into breathtaking pieces of art.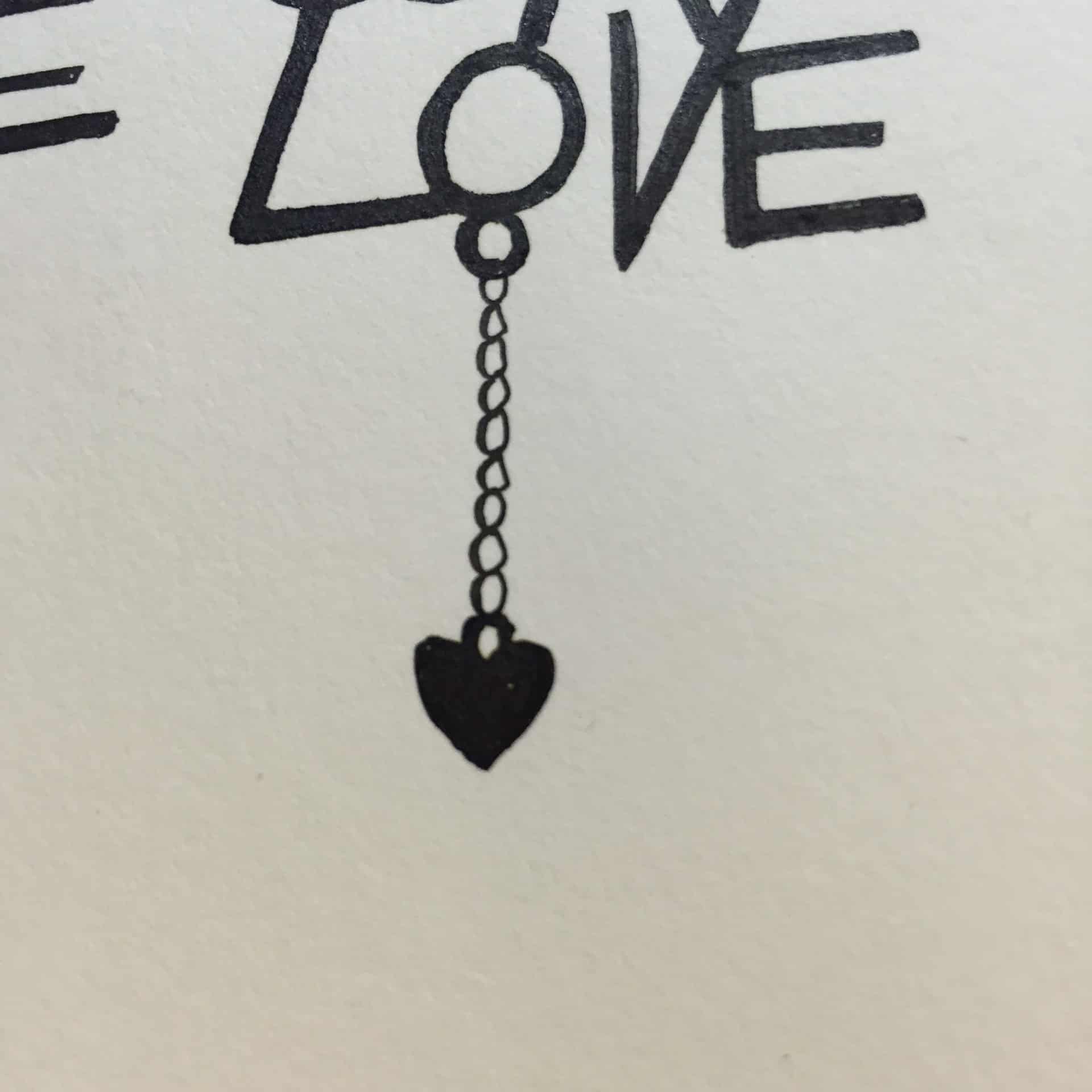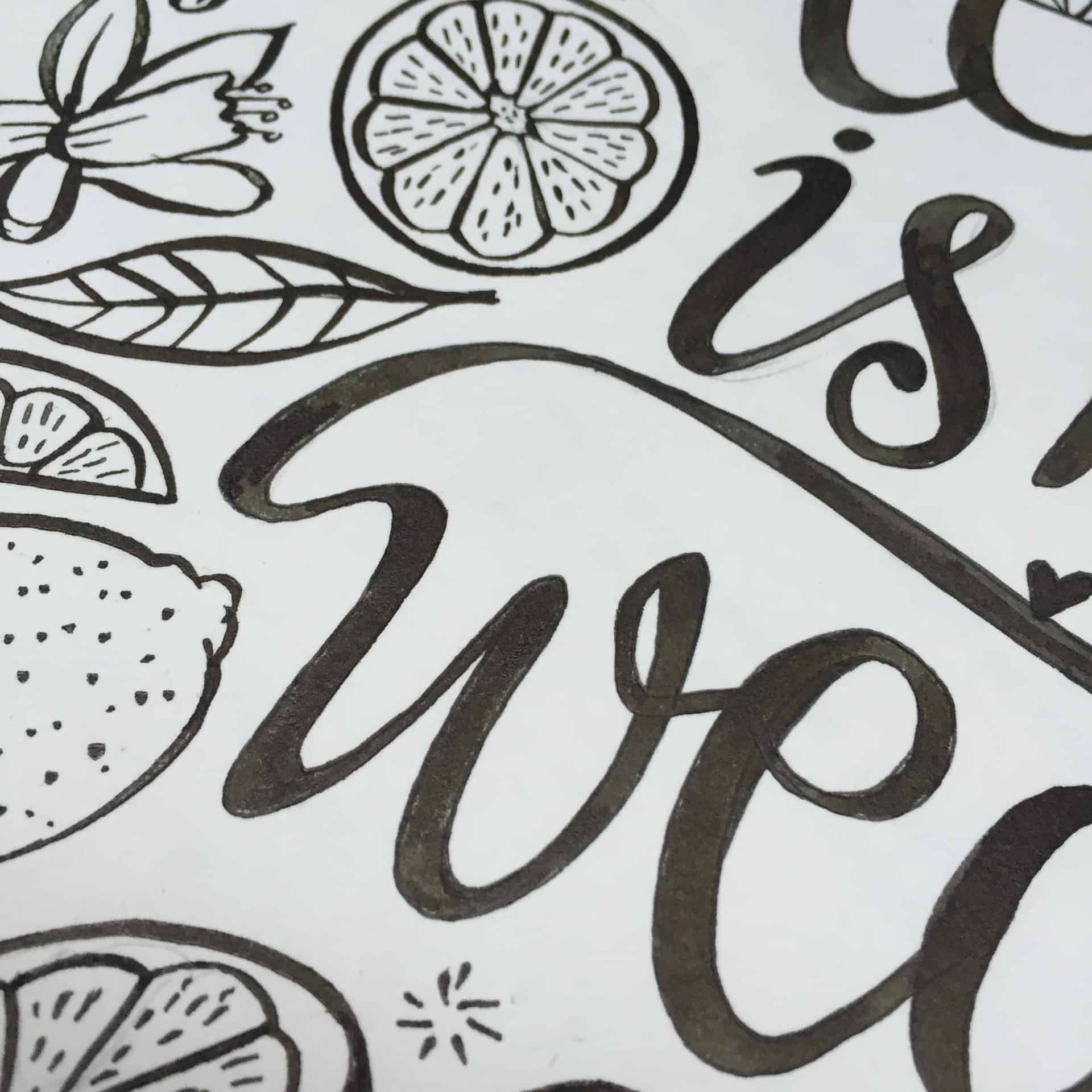 This applies equally to the plumbers, builders, chocolatiers, craftsmen and printers we work with – anyone who knows their craft, and continues to work on it, never resting on their laurels. That's how I aspire to be.
-Sarah J Coleman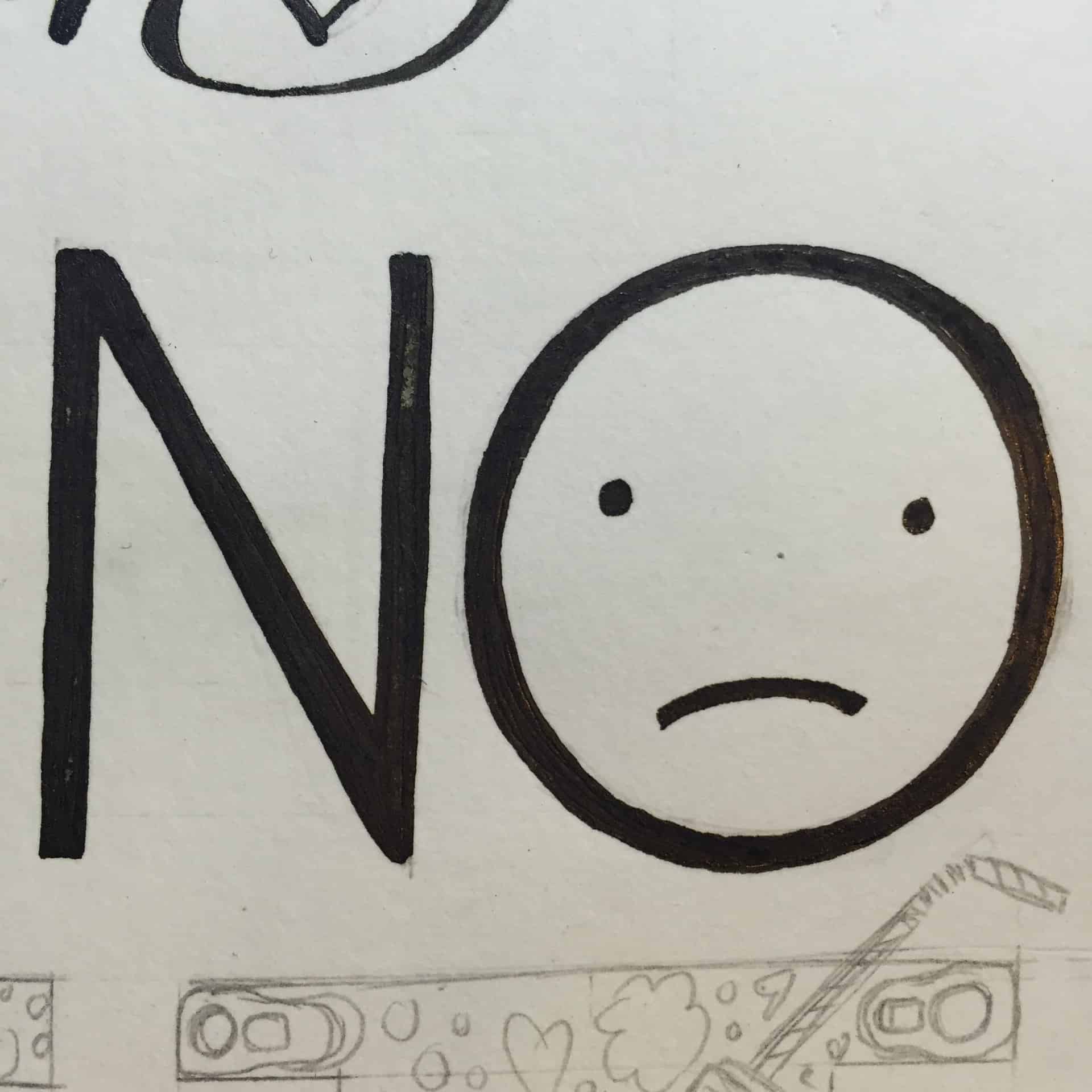 Get your college or studio to book a showing of our new film 'Stupid Enough', which is all about creativity in business, and the business of creativity!
-Sarah J Coleman
Sarah J Coleman will be giving a talk about her work at the Apple Store Covent Garden, London, on Feb. 23rd at 6pm. It's an open event and anyone can come along.
About Sarah J Coleman
Sarah J Coleman is recognized as an early pioneer of hand-drawn type and lettering as image, Sarah has spent her life creating words and pictures for an international client base, with around 400 book covers to her name (she's stopped counting!) With solo exhibitions both side of the Atlantic, she has expanded into murals, installations, music, gallery shows, chocolate and pirate radio, with a bewildering collection of adventures along the way. Her first short documentary 'Stupid Enough', made with her partner on the nature of creativity in business, was premiered in Austria in the autumn of 2015. Clients include: Playboy, Radio Times, Tiffany, Coca Cola, TWBA, Leo Burnett, Macy's, Starbucks, Toyota, Crayola, Kelloggs, Co-op, Wall Street Journal, Washington Post, New York Times, Crabtree & Evelyn, Cadbury's, Unilever, Sage Francis, Saatchi & Saatchi, Folio Society, The Natural History Museum and all major US and UK publishing houses. See more of her works on Behance or her website.