Milos Milovanovic was commissioned to design a packaging and branding/emblem for Grisalon Agroindustria and their Sub-brand called Mesa Baja. Mesa Baja is flagship brand for line of sugar cane – based organic and biodegradable products. Grisalon Agroindustria is development of agro-industrial and marketing agro-organic products.
GA is a family owned and leading agribusiness company in the department of Quindio (Colombia) whose mission is to develop and sell innovative agro – industrial products from the materials that are usually found in the coffee region of Colombia. Mesa Baja Packaging contains 100% Organic dehydrated sugar cane juice/powder (panela). Packaging bag is 100% biodegradable and 100% recyclable.

– Milos Milovanovic
When revitalizing brand identity, I tried to keep their visual essence in a traditional and vintage way and the main goal was to create a branding image that reflects the richness of the land of Colombian region and to reflect the importance of the farmer as well. Their hard work is the platform to renew forces, create convictions and grow the passion and commitment to their identity and tradition. Emblem is created in main and alternate option, featuring a farmer. Packaging and identity is designed in traditional, handmade style approach, which gives it vintage characteristics.

– Milos Milovanovic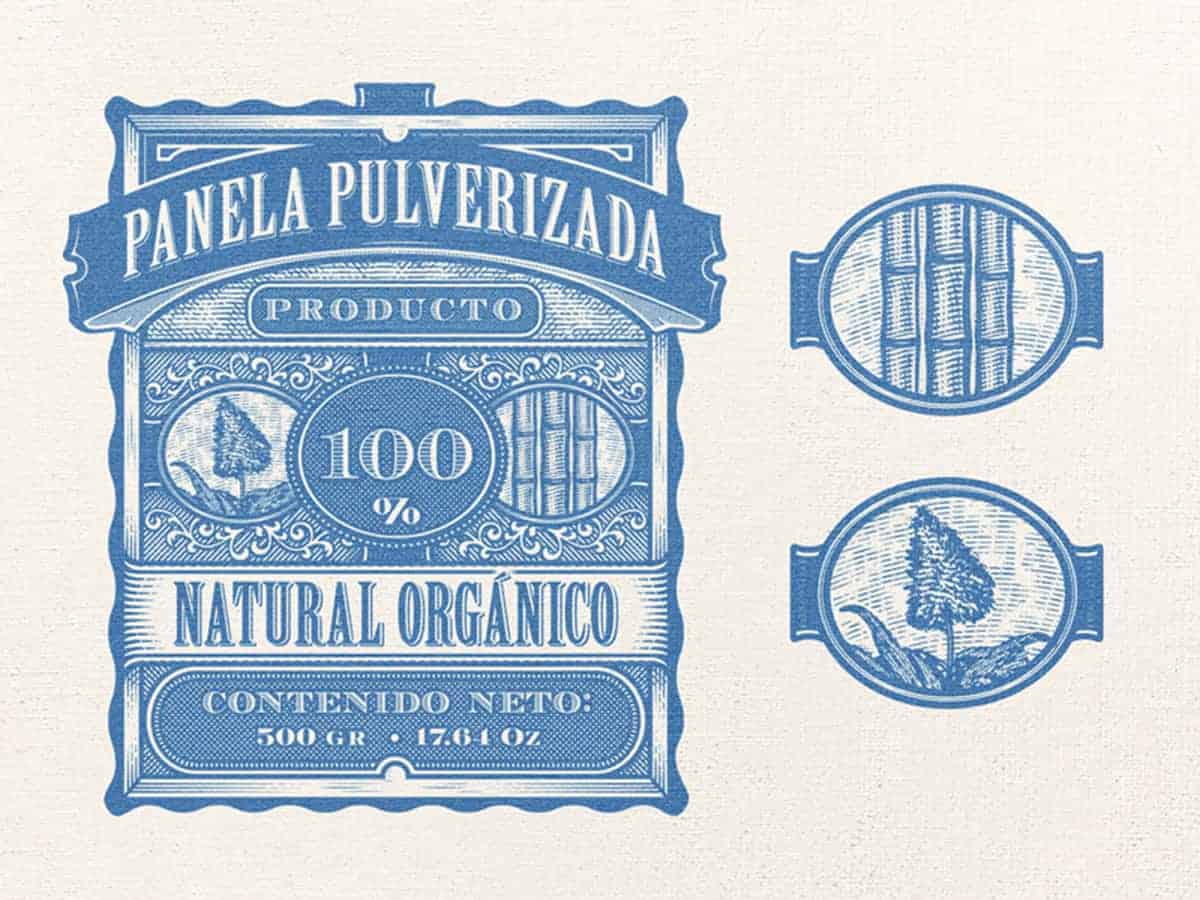 I started with pen and paper and finished the project using combined technic. In this project process mostly is used drawings on the paper as base and then scanned. After that, I refine them in the Adobe Photoshop, precisely the farmer character and the small illustrations of Sugar Cane and Sugar Cane flower. Next step is importing the drawings into Adobe Illustrator, where I polish it and do the shading, but this time with the mouse. Some things I can't achieve with the tablet in Illustrator, so I just got used to do the shading part with the mouse. Lines feels more organic to me that way. It is a bit more time taker this way, but the final results are quite pleasing.

– Milos Milovanovic
As far as I noticed, the feedback were mostly positive. Luckily, I had an opportunity to work for such a great people, who gave me a complete freedom to approach to the project, where I could boost my creativity. This particular project helped me to improve my style and to attract more potential clients. I learned and I was inspired with the background process of sugar cane powder production, how difficult the process is to make a product like this and how much actually is our importance of the farmers, their dedication and hard work, to bring us an organic product to the table like the Mesa Baja is.

– Milos Milovanovic
About Milos Milovanovic
Milos Milovanovic is a freelance graphic designer based in Serbia. Most of his design work tends to lean on the illustrative side with vintage/retro feel to it. The main focus of his craft is to reflect essence, culture and personality of each client, to create interesting illustrative pieces, including logos, emblems, labels and packagings.