Tomasz Lechociński's project "Artificial Life 1.0" was created for fun and exploring new techniques of modeling in 3D. He thought what would happen if nanobots could form artificial animals that would look like their live counterparts. So, let's his vision!


I choose under water animals for start of the series because I'm fascinated with this kind of life forms. I love fact that some of the animals spend their entire life roaming through the oceans They portray our longing for peaceful life and total freedom, even though we know that life in the oceans is hard struggle for survival. Maybe the surrounding mass of blue light water gives us – humans this false perspective?
-Tomasz Lechociński
I came up with this particle/blocks generated surfaces of animals because i'm fascinated with shapes created from particles. It is very nice way of creating complex images that draw attention. There is something mesmerizing in
-Tomasz Lechociński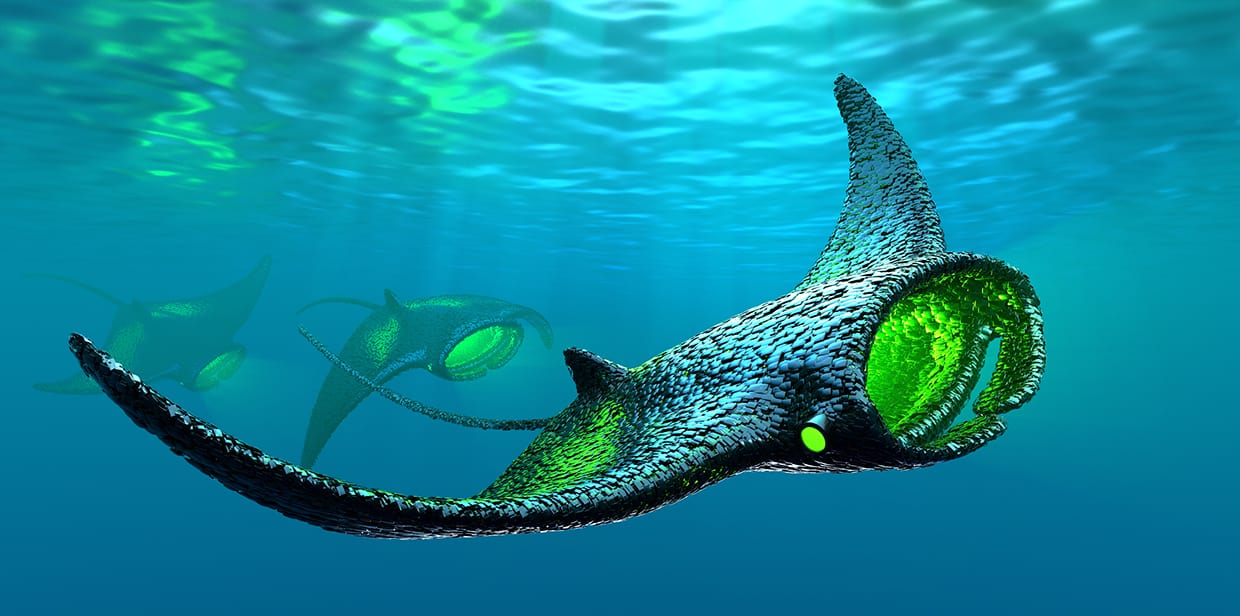 I was curious if I will take animal silhouette and recreate it with particle will it be recognizable anymore? Will we have the same feelings looking at this kind of transformed shape as we have looking on a real life creature? Does familiar shape translate regardless of material used to create animal?
-Tomasz Lechociński
My favorite artists that artwork are constant inspiration for me are: Lee Griggs (He is a master of particles and other complex images), Warner McGee (Master of great characters), Teodoru Badiu (Master of strange characters), Omar Seneriz (My pack shot rendering guru), Tim Cooper (Great talented packaging master).
-Tomasz Lechociński
Be brave and watch a lot of other people works, don`t copy it but try to do your on as complex as your favorite artworks. Learn something new every week. Try to find and watch new tutorial of your favorite software. Don`t be afraid to experiment with new software – new tool brings new ideas. Dowlad trials and give it a spin… maybe you will find new techniques? Try to sketch ideas on paper or in sketch app like Autodesk Sketck Book Pro, The Foundry Mischief , or Artrage they are much better than old Photoshop ! Have fun with your work and smile a lot ?
-Tomasz Lechociński
About Tomasz Lechociński
Tomasz Lechociński is a 40-year-old Białystok, Poland based artist. He studied architecture in Bialystok University of Technology. There he have first contact with 3d – 3DSmax and CAD programs. Back than interior visualisation was in early developing stage and it was new emerging technology. After graduation in 2000, he worked in several advertising agencies where his drawing skills help him become a graphic designer. While time passed, he used more and more 3d in his work. His adventure with MODO started in 2009 with MODO 401. Immediately, he fell in love with this software and started to using it in his day to day work and in his free time to do general 3D modelling and rendering. Thanks to his MODO skills he could take many freelance projects of product modelling and visualization, it let him do things that previously were not possible with traditional 2d programs. It opened a whole new world for him, in 2010 he became an authorized MODO instructor, and after a while he became a writer for Tutsplus.com. He's currently working as a 3d generalist and a freelancer looking for work on creating great character and cool illustration using 3d and photo retouching. See more of his works on Behance or his website.