Once you pour the sake to this sake cup, you'll smell the refined fragrance of Yoshino Cedar in the air, and will you bring back a slight sense of good old Japanese scenery. Kazuya Koike's "Yoshino Sake" is composed of a small sake cup and sake bottle. It is made for enjoying Yoshino cedar by the five senses. Earthenware and ceramic sake bottle for warming sake or glassware sake bottle for cold sake, and to each sake bottle, a small sake cup made of Yoshino Cedar is attached. The cylindrical shape, in tribute to the Cedar, is designed for the modern lifestyle.
The botanical name of Japanese Cedar is Cryptomeria japonica. This means "Secret Japanese property". In addition, This kind is different from other Cedar and, in fact, is a Japanese endemic species. From the prehistoric age, people in Japan had incorporated Cedar into their life, not only as utensil tool , It had become widely used up to tableware, furniture, a housing part, a God tool and Buddhist altar fittings. Especially Yoshino Cedar is the high quality wood used to a pail or a sake barrel.
-Kazuya Koike
Because It needs to be strong high density enough for leakproof, Yoshino Cedar is planted with extremely high density in order to make annual ring width narrow. This process needs a long period of time. However from the mid 20th century, as the westernization had accelerated in the Japanese common life style, and Cedar not used very much. As a building materials, Japanese-Cedar was taken over by Import material. It led the plantation was abandoned and a lot of mountain ended up desolated.
-Kazuya Koike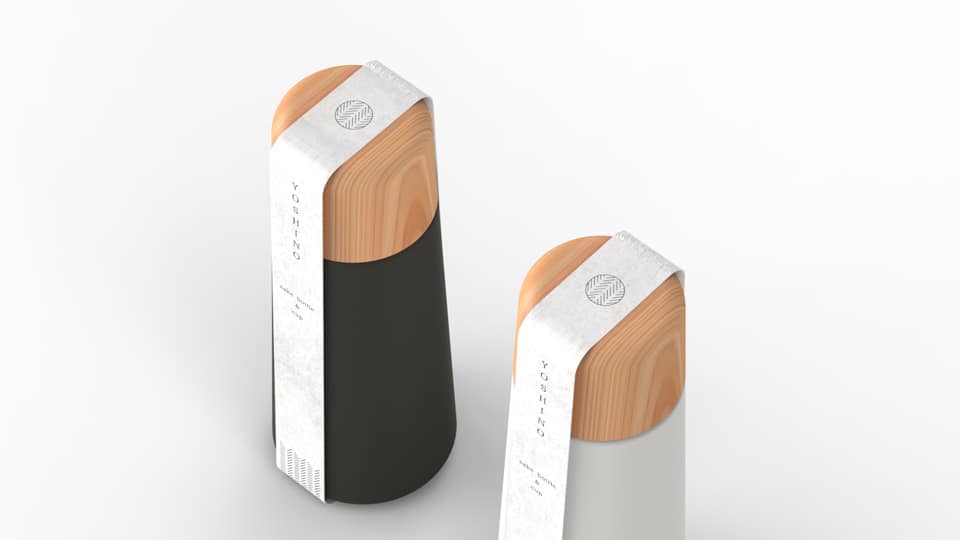 At first, I made some prototypes with hard urethane form and I was verified them shapes whether they are easy to use then sumirating by Rhinoceros and keyshot. A craftsman crafted wooden cups,and one of my friend as a ceramist made bottles.

– Kazuya Koike
Some people came over to my office to buy them from Europe (Spain, France). I thought the Japanese Sake culture is beginning to be popular not only in Japan but also in Europe. I guess Sake of Japanese old period had brought about smell of a cedar.

-Kazuya Koike
About Kazuya Koike
Kazuya Koike graduated in related product design at Osaka Design College in 2003. He was in charge of chief designer from 2003 to 2012 at Ideaco which is a design studio in Japan. While at Ideaco he won several design awards, including iF Design Award and Good Design Award. He established Doogdesign, engaged in many projects of domestic and foreign companies in 2012.