Erlkönig
That illustrations' series was created for the competition at the beginning of this year. I chose the poem "Erlkönig" written by Johann Wolfgang von Goethe. I wanted to convey this darkness and horror of this poem. In some way, it was another challenge for self.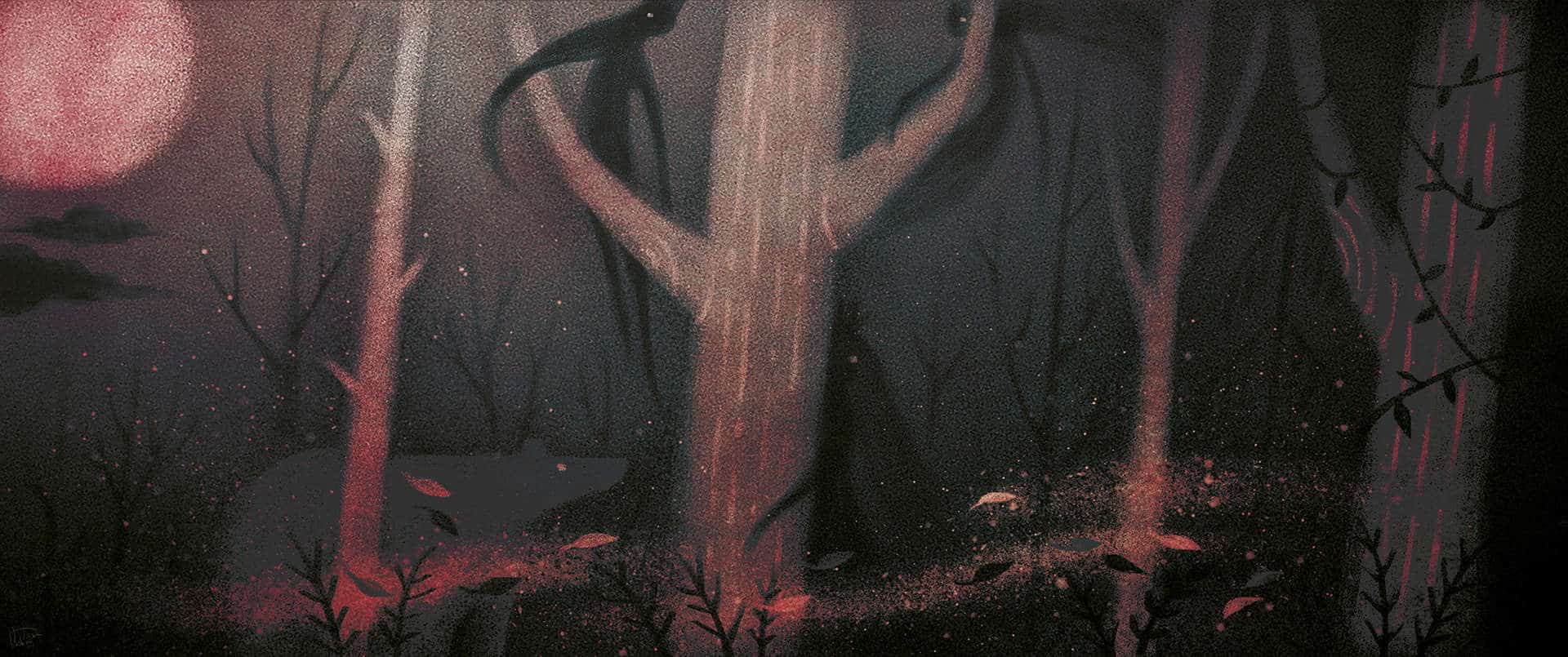 I've heard the poem many years ago at school and I still remebered that creeping horror that I felt in that time. This poem was one of the most scary stories for me. And that's why I chose Erlkönig for the illustrator's contest. I wanted people to be a bit frightened.
I have thought for a long time how to image Erlkönig. On the one hand he was talking with boy during the whole story. On the other hand, Erlkönig's just a ghost chasing the child. I wanted the audience to feel his presence. That's why I created Erlkönig smoothy and obscurely against the sky. You don't notice him at once. Anyway, he is in every pic during the sight moving. Erlkönig becomes so bigger and bigger with every new picture . As a result
he occupied the all space on the last illustration. I emphasized his power and his victory.
I also selected the color scheme based on the desire to make an accent on the gloom and anxiety. I think I succeeded. It even has some shapes of old tales and bloody myths.
All of my illustration begin with fast pen sketches. After that I draw in Adobe Photoshop. I tried different brushes to find the best one for my atmosphere. Also I had an experement with overlay of textures. Selecting of brushes and textures is my favourite part of work. This moment sets a tone for the next process.
Althought I didn't win at illustrator's contest, but I received a lot of good reviews for my project. I like people's felt that tension and horror in poem and in illustration too. I think It was exactly I wanted to hear. It was an amazing experience for me. I adore a lot the theme of horror, fear and mistic, but unfortunately I rarely create illustrations about it.
So, make an experiments and always try to top yourself. Don't be afraid to illustrate your favourite stories causing you living emotions. You can see my illustrations' series for another gloomy story - Lord of Flies - on my behance's page. And now I am participating in art challenge Drawlloween in instagram (dragon_madness).
I hope to see you again.