The history of tea is long and complex, spreading across multiple cultures over the span of thousands of years. Effective packaging design next to the quality of the tea is crucial in giving the tea lovers a pleasant experience. Today, we will be featuring a charming and brilliant work by Juana Alvarez, a graphics designer from Argentina. Enjoy!

Tealicious is a small Tea Shop in the heart of Florence, Italy.
Marcela, her owner and creator is a tea sommelier from Argentina, she is a truly tea fanatic and her idea is to share this passion with anyone who's interested in discovering a new world of colours, fragrance and flavours.
If you happen to be in Florence, in the Oltrarno zone, please go and visit her shop!
I promise you'll love her teas and you'll adore her!

-Juana Alvarez
For the label we decided to make one model that allows us to put inside all the different kinds of tea that Tealicious has to offer. The tea selection changes very often, depending on Marcela's creativity, thats why we've created this empty label where Marcela can write the name of the tea, specify the composition, clarify the time and temperature of the water, so the person who's making the tea at home always know what they are drinking and how they should prepare it according Marcela's indications, and in this way always enjoying a perfect tea!

-Juana Alvarez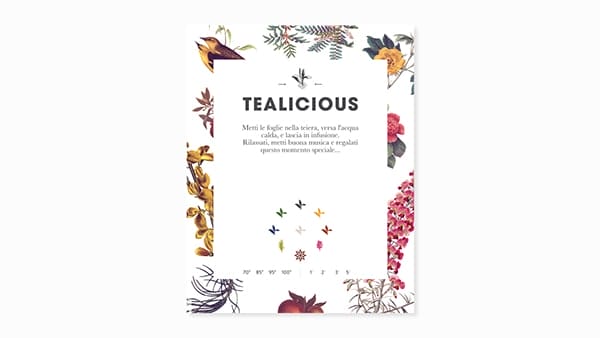 About the Designer
Juana is an Argentinian designer who started traveling and is now based in Florence, Italy. You can find out more about her in Behance or her website.